15 Little Ways To Treat Yourself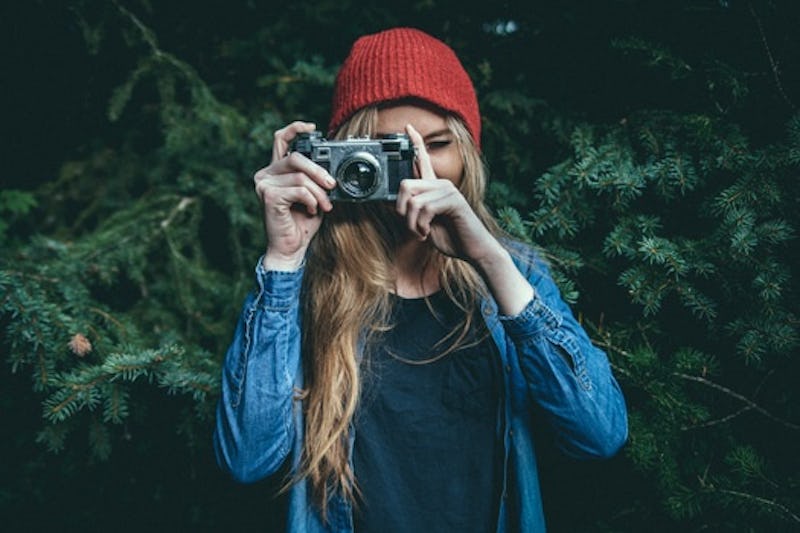 It's great to treat yourself to larger things in life, such as a dream vacation or a new car, but not all of us can have access to these amenities or find access without a build up of hard work and time. Thus, it is important to find joy and pleasure in the little things that we can do for ourselves with little effort, time, money or planning.
As a certified health coach, I work with clients on giving themselves care and love each day and in finding happiness in the smaller things that can have a huge impact on wellbeing longterm. The little things certainly add up, and it's nice to treat yourself to things that are simple, inexpensive and have the ability to become a regular habit. Between work tasks, social obligations and other people and responsibilities pulling at you, it's hard to find the time to give yourself something special, fun and relaxing that will instantly boost your mood and refresh you for the next day ahead. Put together a list of things that you can access right now and that will bring you joy, and make an effort to fit in those desires as though they were work appointments. Here are fifteen little ways to treat yourself that you haven't already thought of.
1. Visit Your Favorite Bakery
"It's imperative to budget for self-care items which can range from anything from a day at the spa to a visit to your favorite cupcake store," says Chicago-based therapist Chelsea Hudson, LCPC over email with Bustle. A weekly visit can be just what you need to end a workweek and get excited for the weekend ahead.
2. Draw A Warm Bath
"Treats do not have to be expensive, such as taking a hot bubble bath while listening to some soothing music and reading your favorite magazine," says Hudson. "Warm baths, especially with Epsom salt, are not only relaxing and therapeutic but can also improve mood," says Tessa Medlock, CEO and founder of Pearl Bath Bombs, over email with Bustle. Give yourself a full amount of time to really unwind and enjoy the soak.
3. Take A Nap
We often feel as though we don't deserve to take a break in the day to nap and rest, as we are so busy and it can be seen as a time suck. However, taking naps can rejuvenate us and make us even more productive. "Turning off your cellphone and taking a nap," says Hudson, will allow us to disconnect and focus on giving our minds and bodies a special treat.
4. Get A Massage
Yes, you can book a sixty minute Swedish massage in advance and consider that a "spa"day to unwind and indulge; however, you can also treat yourself in a less expensive and more spontaneous way, as well. On a lunch break or right after work, hop into a nearby nail salon and ask for a ten or twenty minute back or foot massage.
5. Send Yourself A Gift
"Picking some flowers and arranging them in a pretty vase," says Hudson, is a great way to bring beauty to a home or office, brighten the day and make yourself feel valued. Whether you are a flowers or chocolate person, send a box or bouquet to work or home with a cute message to remind yourself just how great and appreciated you are.
6. Buy Something Small & Unnecessary
A new workout shirt? A pre-sliced package of mango? A new lipstick color (as recommended by Hudson)? These things are minimal purchases that will often not dent your wallet, but can add an extra bit of pleasure and luxury to your day. Figure out something small you could use another item of, or maybe a snack food you have been longing to try.
7. Indulge In Reality TV
No judgments here. Take time to catch up on reality television to have a great laugh and that's easy and silly. Stay in to watch The Bachelorette with some popcorn and red wine. Better yet? Lather on a face mask and do your nails while watching. Whatever your "guilty pleasure" TV show is, allow yourself to relax and enjoy it. My personal favorite? The Real Housewives of NYC.
8. Do Something Quiet & Relaxing Alone
When surrounded by so many people all day, it's comforting to come home and have some alone-time to mellow out and do something creative, fun and calming. Write a poem, listen to music, read a good book, or even color in a coloring book to relieve stress and feel happier. Splurge on a vast book so that you're set with tons of options to choose from.
9. Do Something Ridiculous
It's hard to be good all the time! Doing something that is "bad" (in a positive sense!), can be a great way to treat yourself to something unconventional and special. If you love bread crusts, buy a loaf and just eat the crusts and throw out the rest, even if it's a waste. Or, play hooky from work one day to have a full on spa day instead.
10. Have A Dance Break
Taking time to let loose with loud, upbeat music and some crazy dance moves, can be great for the body and mind and can create an instant boost of happiness. Dancing is fun and can be a great workout, too. Giving yourself permission to dance like crazy (and preferable with nobody watching) is a great way to treat yourself to being silly and lighthearted.
11. Order In Delivery
Treat yourself to a night to not have to cook or worry about grocery shopping or preparing a home-cooked meal. It's nice to not always have to deal with dirty dishes and a cutting board. Order in delivery from your favorite local spot, that is technically within walking distance, just because you feel like being a bit lazy. Or, order in from somewhere more expensive to splurge on a favorite meal.
12. Play With Dogs
Studies say that dogs can boost our wellbeing, and while not everyone can own a dog, being able to play with one can be a special treat after a long day at work. If you own a pet, cuddle with your animal on the couch. If not, visit a friend or neighbor's pet or head to an animal shelter and get in a few hugs.
13. Get In A Burst Of Cardio
Experts say that just 30 minutes of cardio can boost health and wellbeing. Schedule a workout appointment in your calendar and stick with it. Exercise is great for your heart and it can boost endorphins, which are "feel good" hormones that combat cortisol and make us feel happier and less stressed overall. Plus, the effects can last hours.
14. Order An Expensive Juice Or Smoothie
After that workout, which may have been a treat in itself if it were in a pricy boutique studio class, such as a spin, HIIT, barre or yoga venue (which is definitely okay as a treat, by the way!), head to a nearby juice or smoothie bar and indulge in some greens, fruit, healthy fats and protein powders. Make a date with a friend for even more fun!
15. Go For A Long Walk Or Bike Ride
Experts say that treating yourself to a long walk or bike ride, especially in the warmer weather, can be really refreshing for the mind, body and soul, and it will also provide a source of activity to boost mood levels and heart health. Take that time to enjoy the fresh air, which can rejuvenate the body, get some vitamin D, and indulge your curiosity by exploring new sites and areas. It's OK to get a little lost.
We all deserve to feel amazing, so next time you're thinking about doing something from someone else instead of taking care of yourself, try one of these things instead.
Images: Pexels (16)