Why JoJo Fletcher's Hair Keeps Changing Lengths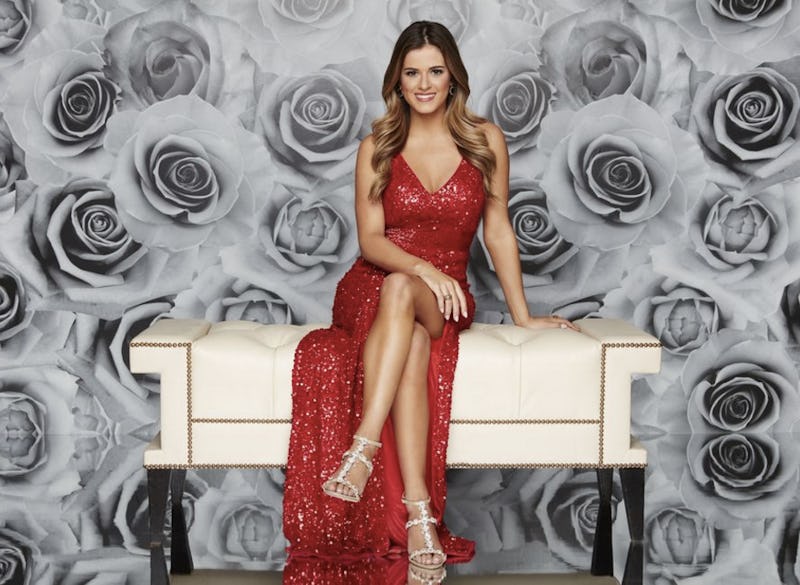 If you watched last season of The Bachelor and totally agreed that in addition to being adorable, funny, and seriously sweet, JoJo Fletcher was also seriously #HairGoals, then The Bachelorette might be causing you some confusion. It seems like her hair is constantly changing lengths, so what's the deal? Does JoJo Fletcher wear hair extensions? There is definitely something up here.
When season 12 of The Bachelorette premiered, Fletcher had her trademark long, brown hair. But by the time they ventured down to South America, her hair was noticeably shorter, going from below to just above her chest. It looked like she had gotten a fresh chop, and I was down for it — new season, new you. Makes sense. Plus, it was a little more edgy and fun, and showed off a different side to her. But then things got a little weird. You would see her start an episode with short hair, but by the rose ceremony, it would be long again. So what's going on? Does the show film out of order, meaning this is totally staged? No, don't worry — there's a much more simple explanation. She's wearing extensions!
Fletcher told InStyle, "If it is for a cocktail party or a rose ceremony, I sometimes do some clip-in extensions that give me a little more volume and length." If you were driving yourself crazy about whether or not the show was staged, rest assured — the secret to her changing hair has been solved.
But if you've been too caught up in the drama and haven't noticed her hair, let me remind you of how it looked before the show started:
Basically, just like it was on Ben's season. But then things took a turn for the shorter when they went to South America.
It's definitely shorter, but still so cute. But by the rose ceremony, it was long again:
So that's going to play mind games with ya. But at least we've solved the mystery — they are extensions, and whether long or short, she's still total #HairGoals.
Images: ABC