Marc Jacob Beauty's Air Blushes Are Coming Soon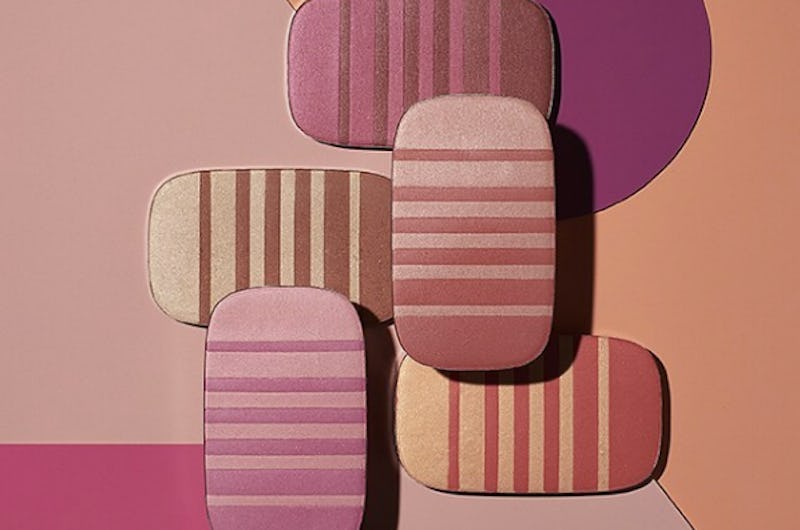 Trendy makeup products might be popping up all over the place, but this company is choosing to redefine the basics. Marc Jacobs Beauty created Air Blush Soft Glow Duos that are everything you could possibly want in a a blush. They're extra large, have double the color, and part of the cost goes to charity. Plus you can have them in your makeup bag super soon. Pinch yourself, because this is not just a beauty-lovers dream — it's reality.
If you're searching for a new blush, then look no further. Marc Jacobs Beauty created a new lager-than-life blush duo with two colors mixed into one. The formula is said to be lighter than air, 24-wear, and fool-proof, which sounds pretty darn great to me. According to the site, the new Air Blush Duo's pattern was actually inspired by a Marc Jacobs dress. That's means it's just as pretty to wear as it is sitting on your makeup table.
When can you snag this gorgeous duo, you ask? Well, the $42 blush sets aren't officially on sale until July 12. All five shades are up on the site to gawk over though. Believe me when I say you're going to need up until launch day to decide which colors to buy. They're all absolutely gorgeous.
See what I mean? It'll be hard to decide among all the gorgeous duos. Although 25 percent of proceeds do go to amFAR, according to the site, so you might just want to pick up all of them. Here's an up-close and person look at all your color options.
Long-wearing, fool-proof, and light as air are all really exciting words when it comes to makeup. Not only are the color perfect for the dog days of summer, but the formula is as well. It'll be nice to finally have a blush that can finally keep up with all the other 24-hour wear products out there.
I don't know about you, but I can't wait to get my hands on one of these beauties!
Images: MarcBeauty/Instagram