James Taylor Should Be The Next 'Bachelor'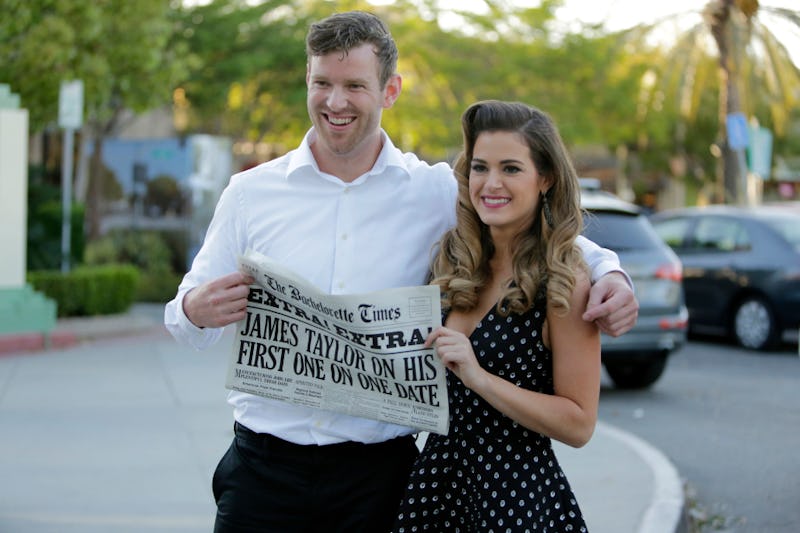 Well, we're officially into it on this season of The Bachelorette. With the big bad villain of the season gone, and JoJo having whittled her pool of suitors down to those she has a genuine connection to, Season 12 has gotten to the point of serious competition between the contestants. It's also that time of the season when we in Bachelor Nation watching from home can begin to make our predictions about who will be the next star of The Bachelor. So, will The Bachelorette's James Taylor be the next Bachelor? That's the topic of discussion on this week's installment of Bustle's Bachelorette podcast.
Sure, James Taylor certainly has that gentlemanly charm that could help him win over the hearts of America (even if it isn't what JoJo is looking for in her own husband). But, there's something about him that reminds me of Ben Higgins — maybe it's James' struggle with confidence where his fellow suitors are concerned — which can either be a good or bad thing depending on your opinion of Ben. I mean, it did help Ben claim that top spot. On this episode of Will You Accept This Podcast?, Romper TV Editor Allison Piwowarski and Bustle Entertainment Editor Kelsea Stahler discuss whether they think James Taylor should be the next Bachelor.
Of course, it may be a bit too soon to begin discussing who should be the next Bachelor star since there are still quite a few weeks before the season finale of The Bachelorette. But, chances are, the next Bachelor will be one of the men left in the competition at this point and, since Jordan and Luke seem to be the frontrunners for JoJo's heart, the next season slot will probably come down to James Taylor, Alex, Chase, and Robby.
Personally, if I'm going to be watching a whole season dedicated to one of these men trying to find love, I'm going to have to go with James. What can I say? His gentlemanly charm has already won me over, and I bet he would make for an entertaining and heartfelt season of The Bachelor. So, if that's the direction the show goes, I'm all for it.
For everything Bachelor Nation, check out Bustle's Bachelorette podcast.
Images: Greg Zabilski/ABC