How To Tan While Protecting Your Skin Properly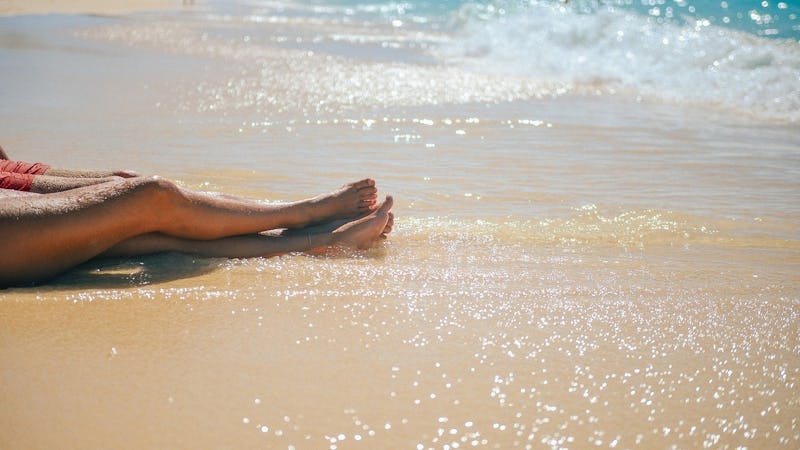 There's nothing better than a little glow during the summer, and even I, the palest person around, can appreciate how great a little bit of a bronzed glow makes me feel. But with skin cancer and sun damage always on my mind, I know an SPF is my best bet. And trust me — it's not just us super pale people who have to be worried. No matter your skin tone, you should always be loading up on the SPF every day, even if you don't think you'll be outside much or it looks like it'll be a cloudy day. I know I know, easier said than done. But these tanning lotions with SPF will help you glow responsibly and trust me, you need them in your beauty arsenal.
I'm kind of a self tanner junkie, and there's nothing I love more than trying new products out and seeing if they give me a realistic, long-lasting glow. And as much as I love my favorite tanning product, I had to wonder if there was an option out there that protected my skin and gave me a healthy looking summer glow. Turns out I didn't have to look too far, because there's a few amazing self tanners with SPF that you're going to want to try out.
Vita Liberata Self Tan Dry Oil SPF 50, $54, Amazon
Vita Liberata makes my favorite self tanner, and when I heard they had a new tanning product with built-in SPF 50, I had to try it. You spread on the oil, which is surprisingly hydrating, and it gives you a subtle instant glow. The more you use it, the deeper your tan gets. And while you're getting bronzer, you're also being super responsible and protecting your skin. Win/win.
Miracle Skin Transformer Tinted Beauty Balm SPF 20, $27, Jet
This product isn't a gradual self tanner, but it is a tinted SPF that will give your skin a subtle glow when you're using it. If you're planning to go to the pool or beach, this might not be your first choice. But if you're spending a day outdoors and want a little bit of a tan, this is a great choice.
Australian Gold Spray Gel with Instant Bronzer SPF 30, $11, Amazon
I know I know, this bottle kind of looks like old school tanning oil. But with an SPF of 30, it packs a serious sun protection punch. And its instant bronzer will make you feel like you're getting a tan even though you're actually protecting your skin.
Perfekt Matte Tan Body Perfection Gel SPF 30, $48, Dermstore
This matte gel is the only matte product on this list, so if you're going to an outdoor event and don't want to look too dewy you should go for this one.
Jergens Natural Glow + Protect Daily Moisturizer with SPF 20, $8, Amazon
The OG sunless tanner now has an option with SPF, and I couldn't be happier. This lotion will not only give you a subtle gradual tan, it'll protect your skin from harmful rays in the process.
With these options, there's no excuse to bake in the sun all summer long. You can have a golden glow and keep your skin safe.
Images: janeb13/Pixabay; Courtesy of Brands