9 Best Hangover Beauty Items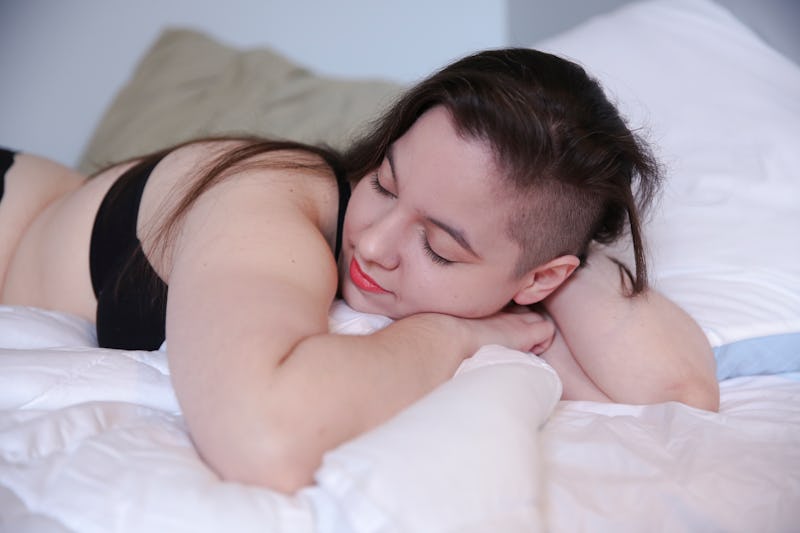 There is only one thing worse than waking up and realizing you're hungover — hauling yourself out of bed and braving the mirror. Who is that raccoon-eyed, swollen girl staring back at you? She looked so cute in her brand new Zara dress last night — what happened? Considering you have brunch plans and can't spend the whole day in bed nursing your headache, you need to treat yourself to some of the best beauty products for helping your hangover.
But why do we look so bad the morning after a night out? Drinking dehydrates you (this is why you're supposed to have one glass of water for every alcoholic drink, though I've never actually met a human being responsible enough to follow this rule), so when you wake up the morning after a night out your skin is inevitably dry from the lack of H2O and vitamins in your body. This lack of nutrients, combined with the fact that you were probably chugging sugar-filled vodka cranberries, causes your body to retain water and your face to swell.
Luckily, there are a few easy ways to combat your hangover-face (other than laying in bed and feeling sorry for yourself) and get you ready to brave the day.
1. A Super Hydrating Moisturizer
Kiehl's Ultra Facial Cream, $47.50, Bloomingdales.com
Kylie Jenner swears by Kiehl's Ultra Facial Cream, and considering her life is a whirlwind of late nights followed by early mornings — I trust her.
2. An Eye Depuffing Mask
Flashology FlashPatch Eye Gels (Pack of 30), $50, Dermstore.com
You're going to want to make your eyes look — and feel — a little bit less beady before you leave the house. Try this depuffing mask from Patchology, which have caffeine and Vitamin E in them to moisturize and illuminate your eyes.
3. Extra-Strength Mouthwash
Aesop Mouthwash, $25, Nordstrom.com
Let's be honest: hangover breath is rank. To make it bearable for other people to be around you, try this fancy mouthwash from Aesop that tastes like mint and licorice and will make your mouth feel extra clean. (As always, regular Listerine works too.)
4. Dry Shampoo
MoroccanOil Dry Shampoo, $10.50, Nordstrom.com
Considering you want to make last night's blowout last as long as possible, washing your hair simply isn't an option. Try this dry shampoo, from MoroccanOil, to get the smell of smoke and beer out of your hair while still keeping your style in tact.
5. A Replenishing Primer
Too Faced Hangover Replenishing Primer, $32, Ulta.com
This primer is literally made for people with hangovers. It's made of coconut water, probiotics and skin revivers that help hydrate your skin while holding your makeup in place.
6. Makeup That Moisturizes While You Wear
CoverGirl and Olay Tone Rehab Foundation, $10.99, Amazon.com
When you're hungover, your skin needs all the moisture it can get. This foundation provides Covergirl's lasting coverage makeup with Olay moisturizer, so your skin will continue to be hydrated all day long.
7. Beige Eyeliner
Tarte Lights, Camera, Lashes Inner Rim Brightener, $20, TarteCosmetics.com
Here's a little known beauty insider trick: Using beige eyeliner on your inner rims will instantly brighten your eyes. This is a perfect hack for mornings when your peepers need a little pick-me-up.
8. Tinted Chapstick
Rosebud Minted Rose Balm, $5.99, Beauty.com
There is nothing worse than having chapped, dead, hungover lips. Help your lips look — and feel — better with a tinted chapstick, like this classic Rosebud Salve. It tastes great and will give you a shiny, glossy finish that will instantly brighten your face
9. Water, Water, Water!
Water + Aloe, $2.75, JuicePress.com
All of these beauty products are great, but they can only go so far when it comes to replenishing your appearance. Your best bet is to hydrate from within, with regular water or a fancy infused kind — like this Aloe Water from Juice Press (which Lea Michele and I both swear by, in case you were wondering).
Images: Andrew Zaeh/Bustle; Courtesy of Brands