Kylie Cosmetics May Be Expanding Really Soon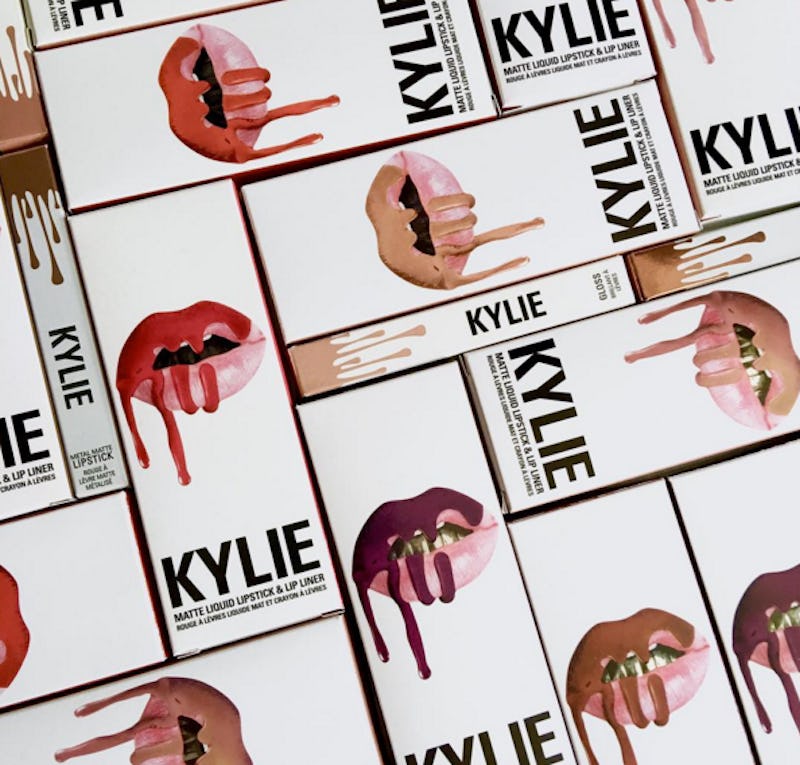 Back in April, news broke that Kylie Jenner reportedly registered trademarks for names of upcoming eye and brow products, KYSHADOW, KYLINER, and KYBROW, and fans went ballistic. We always knew that the youngest Jenner had plans to expand her ever-growing makeup empire, but now she seems to be dropping hints about when that will actually be. Recent posts on social media have got some people wondering — is Kylie Cosmetics expanding beyond lipsticks in July? Before you break into your happy dance, let's examine the evidence.
The 18-year-old posted a video on her Snapchat on Wednesday from inside her infamous Kylie Cosmetics factory, with the caption, "I love factory days #KylieCosmetics." She then posted a photo of herself on Instagram wearing her white "Kylie: lab coat, captioned, "Factory day! Making sure everything is perfect for July. Can't wait to expand my my cosmetics line." Oh. My. God. Did Jenner just hint at new makeup products coming in July?! It sure sounds like it. Any Kylie Cosmetics fan will tell you that with a new launch comes a slew of social media teasers, so it's possible she is now starting to drop hints before she makes the big announcement. After all, July is only one day away.
We may not know for sure if the line will be expanding in July, but here is what we do know that suggests it's true.
1. She Dropped A Hint On Instagram
Rather than say "expanding my lip kit collection," she specifically says "cosmetic line." Call me presumptuous, but I think that's enough proof.
2. She Admitted To Plans For Expansion In 2016
Last year, when she was just getting started with her lip kits, Jenner confessed on her app her plans to launch a full-on cosmetics line in 2016. Perhaps these plans are finally coming into fruition?
3. She Crowdsourced For Her Next Makeup Launch
Could KYBROW be the first non-lipstick makeup launch we see in July?! Fingers crossed.
4. She Is Launching New Lipstick Shades For Summer
She has been teasing new summer shades on Snapchat for some time now, so perhaps she'll launch new beauty products to coincide with that?
5. She Teased Big Summer Plans For Kylie Cosmetics
From the looks of it, she has got a lot in the works for the summer.
Stay tuned to see if an expanded Kylie Cosmetics line drops soon!
Images: KylieCosmetics/Instagram (1); TheKylieJenner.com/Screenshot (1)