12 Feminist Gifts For Every Person On Your List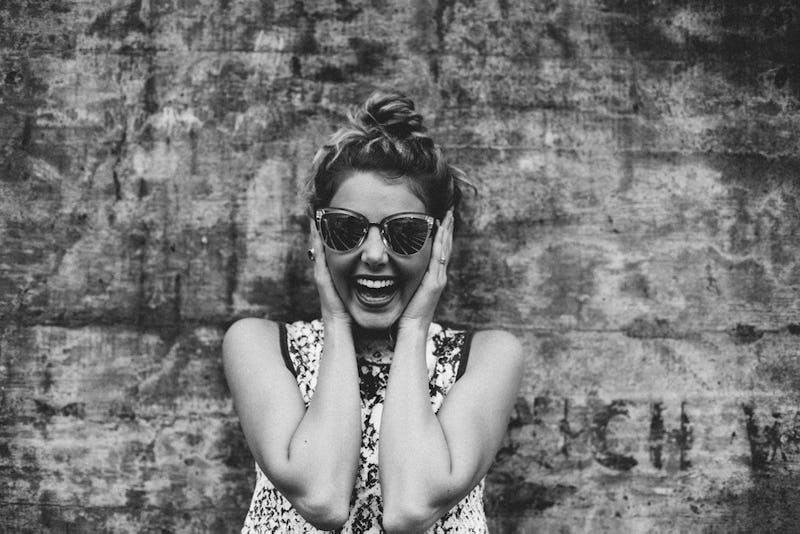 Who run the world? Girls. It's just a fact, in addition to being a Beyoncé lyric. Showing support for gender equality by way of a few choice feminist accessories and apparel is just one little step you can take each day to tell the world women's rights deserve to be equal to those of men. Feminist gifts for any person on your list is the gift that keeps on giving, too.
Smashing the patriarchy can be embraced by anyone, no matter what their gender identification may be. A tote bag with a message, an empowering T-shirt, or even a functional cell phone case make awesome feminist gifts for the enlightened friends in your life. But, if you're looking to unite your pals by helping a friend show off their support for girl power (and the subsequent girl power gifts), there are even more options out there to sport.
Help the feminists in your life show off their beliefs with some amazing feminist gifts that they'll not only love, but they'll use all of the time. You can give something that is functional and means something. A gift that is stylish and makes a statement is the best kind out there.
1. Stylish Statement T-Shirt With A Crop Top
American Street Style Graphic T-Shirt (Sizes S-XXL), $17, Amazon
This trendy white crop top is the perfect gift for the stylish friend in your life. It has the word "Feminist" written across the center, in a bold red block. Your friend can make a statement while staying true to their style with this graphic T-shirt.
2. Tell Everyone What You Can Do
"I Can and I Will" Stamped Bracelet, $19, Amazon
There is no reason for anyone to ever believe that someone can't do something. Give this to someone to show them that they can and will do anything that they set their mind to with this gorgeous 14k gold dipped bracelet. The first step in showing the world just how much you can accomplish is by believing in yourself.
3. Feminism Has No Gender
Hard Plastic iPhone 6 Case, $3, Amazon
You don't have to identify as female to be a feminist. So, regardless of gender, a great gift for someone is this durable case. Whenever your friend uses their phone, they'll be sending a powerful message out into the universe.
4. Bring The Girl Power To The Office
Gold Foil Boss Lady Print, $10, Amazon
Give a co-worker this beautiful gold foil print that brings the message of girl bosses everywhere to the office. They can hang it up on the wall behind their desk. This way, any time someone comes in for a meeting, they can be reminded who the boss really is. Because, "Behind every successful woman is herself."
5. Embrace The Things You Love
Bikertank Muscle (Sizes S-XL), $13, Amazon
If you have that one friend who knows exactly what they love, give them a shirt that brings those things together in one place. It's the perfect kind of shirt to wear to the gym, on a run, or to the beach!
6. Make A Bold Statement In Printed Socks
Blue Q Women's Novelty Crew Socks, $10, Amazon
Do you know someone who loves to make really bold statements? These socks that do anything but tip-toe are the perfect gift if you are on a budget, yet still want to give a gift that actually means something to the recipient.
7. Provide People With A Basic Definition
Feminism Definition T-Shirt, $15 (Sizes Kids 4-12, Female S-XL, Male S-3XL), Amazon
Why not provide people with a basic definition of the word "feminism"? Show them with this T-shirt that comes in sizes for women, kids, and men, so everyone can show their support, no matter what. It does run a bit small, so size up!
8. Dress Up Your Accessories With A Statement-Making Button
Geek Details Not Your Babe- Rosie the Riveter Pin, $6, Amazon
Sometimes people don't want huge gifts. Or the occasion may not call for something extravagant. This Rosie the Riveter pin is a great alternative to a big gift. It still shows off that feminist spirit. Plus, pins are great because they can be added onto a backpack, shirt, or whatever you please.
9. Show Off Your Girl Power
GRL PWR Slouchy Sweatshirt (Sizes S-XXL), $39-$41, Amazon
A customizable sweatshirt makes a great gift because who doesn't like to feel cozy? This slouchy sweatshirt reads, "GRL PWR" in big white block letters. The trendy, statement making top comes in five different colors (red, blue, black, and two shades of gray), so there are options for every personality and preference.
10. A Tote Bag That Delivers A Bold Message
CafePress Feminist Tote Bag, $13, Amazon
A heavyweight durable canvas tote bag makes a great gift for someone who is constantly running errands. This bag is perfect for everyday use, as it delivers a message that people need to see, "This is what a Feminist looks like."
11. Embrace Your Inner Riot Girl
Riot Girl Feminist Necklace, $15, Amazon
If you know someone who is really into the feminist ways circa 1990, get them a bold piece of jewelry that embraces that punk style. The black laser cut pendant and the gunmetal chain are great for layering and packs a punch in terms of making a statement. It is lead and nickel-free, so it won't turn your skin green or cause irritation, which means it can be worn any time you please.
12. So? I Am A Girl
Runner's Quote Bracelet, $11, Amazon
Remember when boys would tell you, "You run like a girl!" and you would be like, "So what? I am a girl." Well, now you can give a friend a bracelet that embodies true girl power. This hand stamped bracelet delivers the message, "I run like a girl. Try & Keep Up."
Bustle may receive a portion of sales from products purchased from this article, which was created independently from Bustle's editorial and sales departments.
Images: Pexels (1); Amazon (12)