11 Anklets Your Early 2000s Self Would've Loved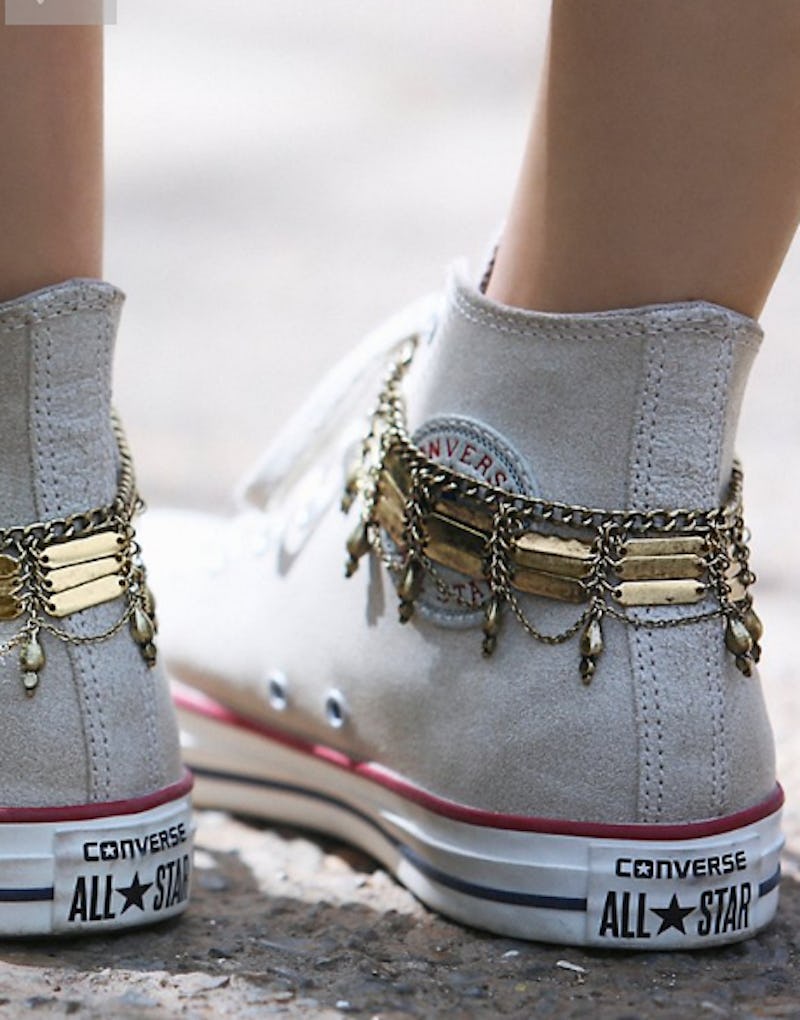 The Y2K era has given us its fair share of sartorial nightmares (here's looking at you, dresses over jeans), but there were some good times peppered among the bad. One of which was the boom of the early 2000s ankle bracelet trend. And it might just be time to bring that trend back.
While anklets from the 2000s might make you think of puka shell wonders that your mom bought you on family vacations or dainty little charms most of us seemed to be drawn to during the break of the millennium, the 2016 versions of the look are actually quite tempting. Varying between the casually understated and the brazenly bold, there's a version for any sartorial taste out there.
Although the anklet might seem like a small detail, it really does add a breath of fresh air to a summery outfit. Anklets can feel beachy, bohemian, and carefree all at once, bringing those same qualities into your looks. Whether you had an impressive collection in the early 2000s or you're just now working yourself up to give the aesthetic a try, the anklet trend is definitely something you should get on board with. And if you're at a loss as to where to begin, I've got you. Below are 11 ankle bracelets your early 2000s self would have loved.
1. Chain Anklets
Chain Hamsa Anklets, $8.50, ASOS
Protect yourself from the evil eye and all its bad juju with this Hamsa anklet. Not only is it delicate and understated, but it can be easily layered along with a string of other ankle bracelets. Just beware of the line between cultural appropriation versus appreciation.
2. '90s Multi-chain Anklet
'90s Multichain Anklet, $10, ASOS
If you're looking for a stronger statement and don't necessarily want to go with the dainty bracelet aesthetic, then this '90s-inspired multi-chain anklet might fit the bill. Not only does it catch the eye, but you can choose to display the thick chain or a string of multi-links, depending on which way you face it.
3. Anklet Set
Anklet Set, $38, Free People
Have you ever seen anything so amazing in your life? If you've never considered cinching an anklet over your high-tops, here's your inspiration to begin now and immediately.
4. Beach Anklet
Stone and Leaf Beach Anklet, $10, ASOS
This is part of the "I went on a cruise with my family this summer" starter kit that hit peek popularity in the fourth grade. The chunky beads and hanging feathers are a total throwback, but still super chic. Whether you wear this with your bathing suit or shorts, the option has "summer" written all over it.
5. Mixed Anklet Set
Sand Dancer Mixed Anklet, $24, Free People
If you're not one who easily decides what kind of style you'd prefer to wear on any given day, you don't have to. Invest in a multi-pack like this Free People ankle set and you can layer as well as mix and match to your heart's content.
6. Anklet & Connecting Toe Ring
Leaf Anklet & Connecting Toe Ring, $13, ASOS
Amp up your anklet game with a little something extra. Opt for a bracelet with a connecting toe ring, letting the subtle but bold accessory add a new element to your sandals or flip flops.
7. Leather Fringe Anklets
Pack of 2 Leather Fringe Anklets, $9.50, ASOS
If you love the fringe trend, add a little bit of its flavor to every shoe you own. With a fringe anklet, you can turn any pair of heels or sandals into a leathery, tasseled masterpiece. Think of the possibilities.
8. Tasseled Chain Anklet
Tasseled Chain Anklet, $4.90, Forever 21
Tassels were absolutely huge this year, decorating everything from purses and short shorts to belts. So why not keep such a good thing going and introduce a little tassel action into your foot game?
9. Summer Storm Ankle Cuff
Summer Storm Ankle Cuff, $48, Free People
If you're not afraid to go bold, upgrade your anklet into a bona fide cuff. Choosing a woven and beaded one like this option will add a strong bohemian touch to your seasonal ensemble.
10. Barefoot Sandals
Boho Goddess Barefoot Sandals, $78, Free People
Go big or go home. While most of us probably think of something understated when we think of the term "ankle bracelet," this look still fits into that spectrum. Whether you dress up a pair of simple sandals or go all fashionista while walking barefoot down the beach, this will be a gorgeous addition to any vacation look.
11. Tiny Disc Anklet
Orelia Tiny Disc Anklet, $19.50, ASOS
Or if you're in the market for something simple and easily matched with any style, then a classic disc anklet should give you what you want. Paired with a dress or shorts, this subtle detail can add a little extra character to your sartorial look.
After seeing all the options — from the bold to the simple — are you ready to try out the trend for yourself? Go for it, guys.
Images: Courtesy Brands