Red, White, And Blue Tie-Dye Ideas For The Fourth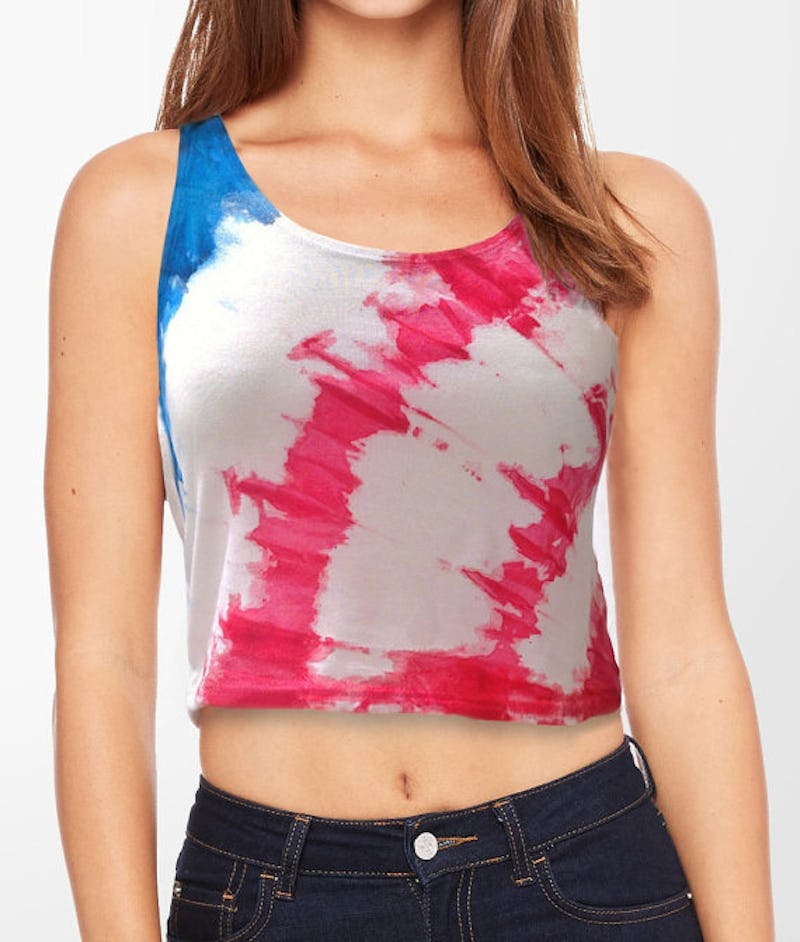 Pssst, all my fellow hippie flower children, let down your long hair and break out your John Lennon-est sunglasses, because there's a super '70s trend sweeping the nation, from San Francisco to Brooklyn, this Independence Day. No, I'm not talking about flowers in your hair — unless you're at a music festival or using a particularly popular Snapchat filter. The psychedelic style I speak of is red, white, and blue tie-dye ideas for the Fourth of July. I've got you covered on some inspiring ideas for how to turn the summer of 2016 into yet another summer of love.
And this summer's tie-dye trend is hardly limited to bandannas — think tie-dye clothes, decor, and even food! What makes this movement even more appealing is that you can easily recycle these tie-dye looks for any Olympics parties you plan on attending later this summer, or even for election day in November. So, if you're looking to express your youthful activist nature and celebrate America's 240th birthday with one very colorful stone, you've come to the right place.
The United States could use a little peace and love this season, so let's get patriotic with some of the internet's most creative red, white, and blue tie-dye styles.
1. Tie-Dye Some Chocolate Fudge
You could easily bring these chocolatey bites of happiness to any cookout this weekend and leave with the knowledge that you were responsible for the day's most Instagram-able snack. To find out how to make these little morsels of patriotism a reality, head over to Taste and Tell.
2. Tie-Dye Your Own American Flag T-Shirt
Make this shirt ahead of time and wear it as a bathing suit cover-up, or turn this American tie-dye activity into a party game!
3. Or Snag One Of These Expertly Dyed Tees
Tie Dyed USA Stars & Stripes Shirt, CrystalBleach/Etsy, $28
This tie-dyed shirt, complete with perfectly stenciled stars, will be hands-down the most patriotic look at any Fourth of July party.
4. Or You Could Tie-Dye Some Cupcakes
Shoutout to the person who designed our flag. The high-contrast primary colors make a baker's life so simple.
5. Tie-Dye Wine Bottles Sure Look Festive
Tie Dye July 4th Wine Bottles, OnceUponTheStars/Etsy, $17
While not truly tie-dyed, these tie-dye-style wine bottles make the perfect centerpiece, vase, or intensely patriotic drinking vessel.
6. Hang This Patriotic Tapestry As A Photo Backdrop
Spiral Tie Dye Tapestry, BuddyRushArt/Etsy, $27
Any party host in 2016 knows that you need a solid backdrop for taking pics. This ready-to-ship spiral dyed tapestry is perfect for the Fourth of July.
7. Or Sport This Very American Crop Top
Tie Dye Crop Top, COCOLAGO/Etsy, $14.90
I want this! I need this! Somebody buy this for me, pretty please.
Happy Independence Day, USA.
Images: Taste and Tell ; CrystalBleach/Etsy; OnceUponTheStars/Etsy; BuddyRushArt/Etsy; COCOLAGO/Etsy