Will Smith & Jeff Goldblum Bromance It Up In 'ID4'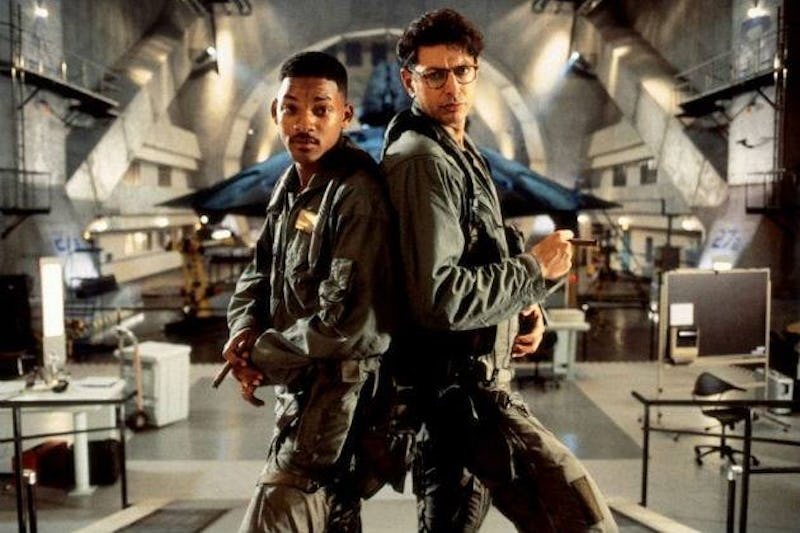 There are some movies that you just have to watch during certain holidays. Personally, I must watch A Christmas Story and Love Actually during Christmastime and Independence Day on the fourth of July, because it wouldn't be the same without them. Sure, ID4's sequel Independence Day: Resurgence is currently in theaters, but it's missing a certain something: The best bromance moments between Will Smith and Jeff Goldblum in Independence Day . Spoiler alert: Goldblum's computer expert David Levinson does return for the sequel, but sadly, Smith's badass marine Steven Hiller does not, but that doesn't mean fans can't still celebrate their bond that was solidified in the original 1996 flick.
It feels like it was just yesterday when aliens attempted to ruin the July 4th holiday for President Whitmore (Bill Pullman), Captain Hiller, and cable TV technician David by destroying some of the world's biggest landmarks. But thanks to their quick thinking and sacrifices, Earth survived to live another day — and the world of Independence Day went on to spawn a sequel 20 years later. Hiller and and Levinson don't meet until the last part of the film, but I have to admit it's the best part because of that.
Here are some of Goldblum and Smith's best bromance moments in Independence Day.
They Both Share A Passion For Defeating The Aliens Throughout The Movie
Because all of human kind and Earth is depending on them. Both men actually share more than that in common: Hiller and Levinson are both brilliant men who are often underestimated — Hiller gets rejected from NASA, Levinson is an MIT grad who works at a cable company. It's no wonder they hit it off right away and got along so well. That and, you know, the whole alien invasion thing, too.
When Hiller Shares A Cigar With Levinson
Hillar was always a big fan of cigars, and he shares one with Levinson. A true sign of friendship. Because even if it's over when the fat lady sings, they'll still be 100 percent bros.
When They're Ready To Kick Some Alien Butt
This is the ultimate bromantic photo right here. Just look at how tough and ready to go they are. Such an iconic image.
When They Smoke Cigars Together
This quiet moment in space shows the two men bonding as they wait to, you know, help save mankind. No big deal.
When They Trick The Aliens With A Computer Virus
So classic. Pulling a Jolly Roger computer virus prank together and racing back to Earth in an alien spacecraft is the ultimate bromance adventure. This one is definitely hard to top.
The Strut
You know, it's that we-just-saved-the-world triumphant walk that once true best dudes can pull off with victory cigars. This is how two awesome bros celebrate Independence Day.
Even though the duo is no longer fighting aliens together, they'll always have 1996. And so will fans.
Images: 20th Century Fox (2) Giphy (3)