BECCA & Jaclyn Hill Might Be At It Yet Again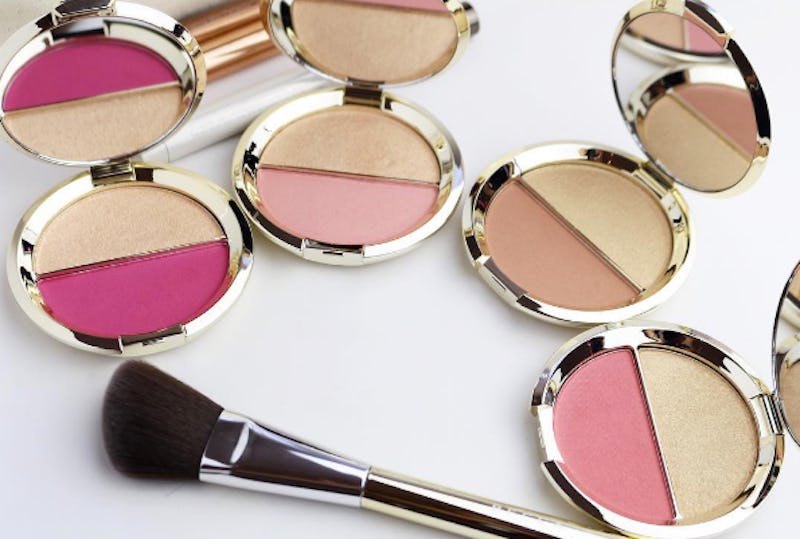 Brace yourselves, because you're about to get a whole lot more Champagne Pop in your life. In addition to the face palette and the new highlighter formulas, BECCA and Jaclyn Hill are reportedly back with more Champagne Glow products, including some never before seen items that are designed to give you even more shine.
Just when you though the Champagne Glow Face Palette was enough to tide you over for a while, they go and do it again. According to well-known beauty blog Trendmood, the company will reportedly release blush and highlight duos featuring different combinations of Champagne Pop, Prosecco Pop, and their bestselling blushes. That's not all though. It appears they've designed the perfect gold blush brush to go along with it.
Oh, and they've reportedly expanded their glowing skin collection to add highlighting sticks as well. The sneak peek images from Trendmood show three different shades — Topaz, Champagne Pop, and Pearl — in twist up pencil form. So basically, if there's a way for you to shine, BECCA has dreamed it up. BECCA has yet to confirm the new releases themselves, they did issue the following statement to Bustle via email. "Thanks so much for reaching out and for your support of BECCA! We do have some exciting news – we'll be in touch on Tuesday with the official announcement. We hope you're thirsty for more Champagne." Hill has also been retweeting some of her excited fans. Cue the freakout, beauty lovers!
According to Trendmood's Snapchat, two of the blush and highlight duos will have Champagne Pop and two will have Prosecco Pop. As of now, there isn't a release date or price information on these items. Either way, there's no doubt in my mind that these products would be best sellers, just like the other BECCA x Jaclyn Hill products.
The highlight sticks are absolutely gorgeous. If you didn't already know, BECCA has expanded the Champagne Pop hue to their liquid, cream, and powder products. A cream stick would mean that there are even more ways to get your highlight game on point.
Trendmood's swatches of the highlight sticks are so incredibly gorgeous. They give off a much bolder shine than the other formulas. Actually, I think they'd look pretty darn good as eyeshadow sticks.
The packaging on these blush and highlight duos looks different from the makeup company's normal compact. I'm willing to bet that this means that these items would be limited edition. Fingers cross that they make them permanent though!
A two-in one, on-the-go compact that combines some of the best BECCA products? Yes, please! I'll be keeping my eye out for a release date for sure.
Image: Trendmood/Twitter (1), Trendmood/Snapchat (3)