11 Beauty Oils Perfect For Mixing With Foundation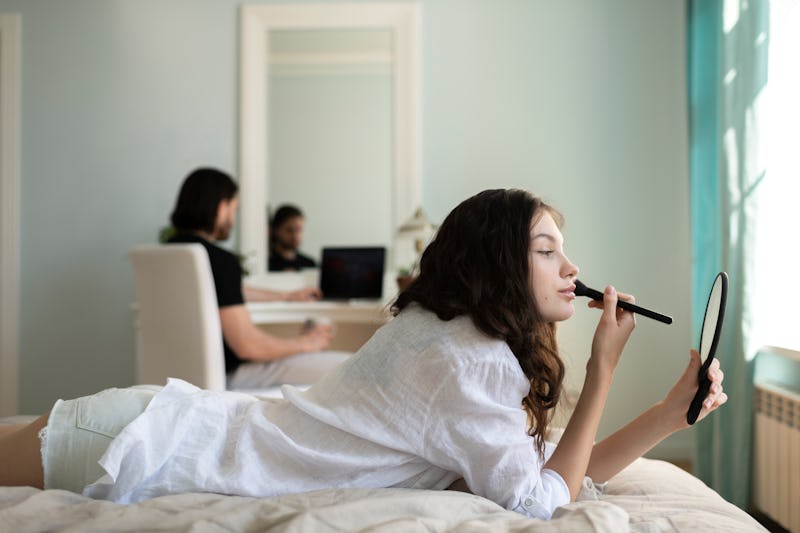 Cavan Images/Cavan/Getty Images
Caked-on makeup has no business being a part of your beauty routine. Instead, get supermodel-worthy skin by mixing a few drops of a beauty oil in with your foundation. Now, while there are plenty of oils on the market, there are a few facial oils that are perfect for mixing with foundation. Not only are these oils are formulated with hydrating, nourishing ingredients that benefit your skin, but they also give your makeup a flawless appearance.
Wondering how this beauty hack works? According to makeup artist and YouTube star, Wayne Goss, beauty oils can help to thin out the texture of your base makeup. The oil gives the foundation a more slippery consistency, which allows to blend better into the skin. This means no more powdery finishes or transferring makeup. Instead, the oil helps the foundation to be more malleable and blend better across the surface of the skin. Also, I've found that this technique saves me time in the morning as it spends up my buffing process. Wondering which beauty oils you should be reaching for? Here are 11 facial oils that are perfect for mixing with your foundation if you're looking for a flawless, radiant complexion.
Rose Gold Elixer, $54, Farsali
In an interview with E! Online, makeup artist Karen Gonzalez suggested mixing this radiant serum with a fuller coverage foundation in order to get a flawless finish.
Tarte Maracuja Oil , $7, Amazon
In the same E! Online article, the beauty team reported that the Tarte Maracuja Oil adds the perfect surge of moisture to the skin. Pair this beauty oil with your favorite matte foundation in order to get a gorgeous natural glow.
Boscia Tsubaki Beauty Oil, $46, Sephora
Give cakey makeup the boot with this hydrating beauty oil. Beauty blogger, Shannon Zhu swears by the oil for giving her foundation an added boost of moisture and a more glowing finish.
Caudalié Vinosource Nourishing Concentrate Oil , $33, Amazon
Grapeseed oil is a must-have for anyone with oily skin, according to TotalBeauty.com. The site claims that the oil is packed with antioxidants and vitamin C and can also help to regulate the skin's natural oil production. So, if a mattified skin is what you're looking for, be sure to mix a few drops of the oil with your foundation for a shine-free look.
Jojaba Oil, $8, Amazon
Add some nourishment back into your beauty routine with this hydrating facial oil. Makeup artist and YouTuber, Wayne Goss swears by this facial oil for a flawless foundation application.
Almond Oil, $6, Amazon
Can't find jojoba oil in your local drugstore? Goss also recommends almond oil for mixing a more glowing foundation.
Darphin Chamomile Aromatic Care Oil, $69, Amazon
If you're looking to soothe redness or irritation on the skin, TotalBeauty.com recommended to use a facial oil infused with chamomile. A few drops mixed in with your foundation is an easy way to alleviate reddened, frustrated skin.
RMS Beauty Oil, $78, Amazon
This organic facial oil is perfect for those looking to add a bit of radiance to their skin, while fighting off signs of aging.
Pai Rosehip BioRegenerate Oil , $40, Amazon
Give your foundation a powerful boost by mixing in a facial oil that helps to moisturize the skin, while helping to fade the look of scarring and post-acne marks.
Boots Botanics Facial Oil, $36, Amazon
If you find that your foundation is clinging to your dry patches, try mixing in a few drops of the Boots Botanics Facial Oil. Not only is the serum, 100 percent organic, but it also is formulated with powerful hydrating ingredients that help to moisturize dry skin.
Olay Regenerist Luminous Facial Oil, $16, Amazon
Flat looking skin is so overrated. Give your skin a dewy look with this luminous facial oil.
Don't waste your time trying to buff in cakey makeup. Prevent it in the first place by mixing your favorite foundations with a beauty oil.
Images: Cavan Images/Cavan/Getty Images; Courtesy Brands