12 Gorgeous Bras For Women With Big Boobs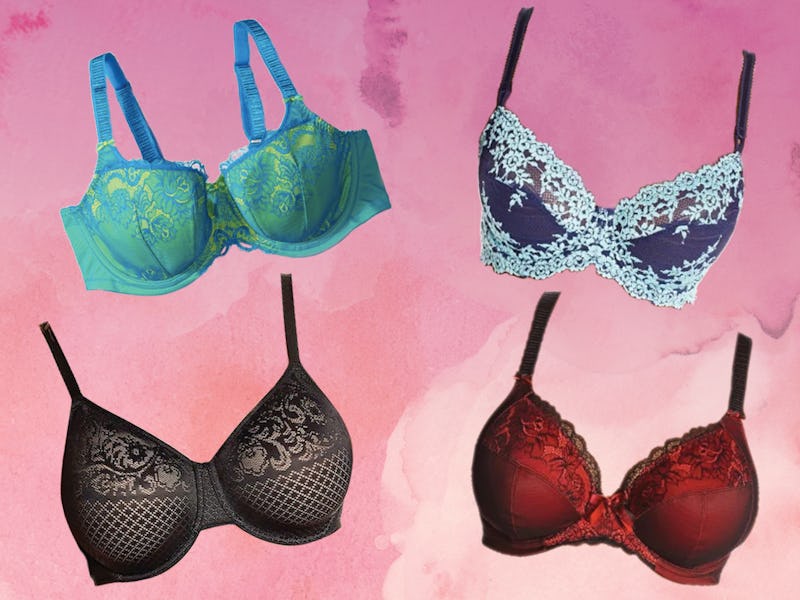 One time when I was walking around in the mall (I live less than 100 yards away — it's dangerous), I spotted this gorgeous bra. I was so disappointed when they didn't have the style in my size. Why is it so difficult to find pretty bras for big boobs? It seems as if the bigger a bra gets, the more 'sturdy' designers think it has to look.
But, as the years have passed, finding bras for big busts doesn't mean just settling for boring bras any longer. There are so many gorgeous lacy bras for big boobs out there that look just as good on someone with a larger chest, as they do on someone with a smaller one. I've rounded up several pretty bras for women with big boobs, which come in a versatile array of colors, styles, and patterns.
The round-up of pretty bras for big boobs below includes stunning bras that will make anyone feel comfortable and confident. So, stop reaching for that outdated bra you secretly loathe, and rock a bra with style and support that's beautifully made for wearing underneath your next look — be it formal or completely casual.
1. Maintain Natural Shape Without Uncomfortable Squishing
This bra maintains the natural shape of your bust with a full coverage fit that doesn't squish or pinch you in annoying places. One reviewer even said, "I'm a believer. A new found Wacoal girl!"
2. Neon Color & Sweetheart Neckline
Elomi Underwire Padded Half Cup Banded Bra (Sizes 34G-46F), $60-$76, Amazon
A sweetheart neckline is a great style to wear underneath any type of top. This one features foam cups that line the interior of the bra, giving you a better shape and fit. The colorful turquoise and lime colored bra has thick straps, which meet in the back in a U-shape — allowing you to have as much support as you need.
3. Scalloped Lace Adds Pretty Detail
Elope Anushka Underwire Plunge Bra (Sizes 34G-46DD), $69, Amazon
This bra's stretch lace helps create an easier fit for fuller chests, and flower details paired with satin create the best finishing touch. The thicker straps are located closer to the center of the bra, too, which allows for more support.
4. Comfort, Lace, And Support
Natori Whisper Demi Spacer (Sizes 32B-36DD), $21-$74, Amazon
Getting proper support and a gorgeous bra in one can be a challenge, but this style nails it. This bra has a thoughtful lace overlay, but it also has thick straps that give you more support. The demi cups will provide a smooth shape, and you can pick from ivory, black, or pink.
5. Darted Cups & Hidden Interior Panels Lightly Lift
Lunaire Plus Size Barbados Underwire Bra (Sizes 32C-44G), $16-$41, Amazon
The darted cups on this Lunaire bra provides a little extra shaping, and the inside of the bra has side inserts for a bit of lift, too. Love the pattern? Snag the matching panties here for a comfy set you'll want to wear over and over again.
6. Everything Is Better When It's Colorful
Cleo Sky Balconnet (Sizes 28F-38H), $51-$56, Amazon
I love finding colorful bras that are also super pretty and delicate-looking. This one comes in the balconette style with wire casing (that I think makes the bra look even better!), and the cups are lined for more support and coverage.
7. Triangle Top Bra In Mesh Lace
Betsey Johnson Ombre Lace Triangle Bra (Sizes 32B-38DD), $23-$38, Amazon
This bra is made in a triangle shape, which provides more coverage for larger breasts. It has stretch mesh and lace details, allowing for a better fit under your favorite T-shirt.
8. An Everyday Demi Bra
Simone Perele Favorite Demi Bra (Sizes 32B-38D), $29-$110, Amazon
Find an everyday bra that is so gorgeous, you'll find yourself feeling really confident when you wear it. The elegant lace panel paired with embroidery makes the bra look delicate and pretty, while double straps give you the support you need.
9. Front Clasp For People Who Hate Reaching Behind Them
Glamorise Front Close Lace Underwire Bra (Sizes 34B-38G), $21-$58, Amazon
If you're constantly stretching out your bra bands, a front-closing bra is a definite bra drawer necessity. Plus, this one has pretty lace paneling and polka dots — but the best part? Wide straps that won't dig into your shoulders.
10. A Strapless Bra For Tricky Tops
Le Mystere Sophia Lace Strapless Bra (Sizes 32B-38G), $26-$68, Amazon
I have the hardest time finding a strapless bra that fits well. The ones that I end up with are always lacking in details, but this one's scalloped edge looks awesome. The front of the bra features a lace overlay, and the inner cups are super soft and laminated for a no-slip effect.
11. Contrast Trim And Floral Embellishments
Waco Embrace Lace Bra (Sizes 32B-40DD) , $19-$90, Amazon
Some of the most delicate bras feature lace and sheer details, and this one is no different. It has a floral lace overlay that covers the whole bra, but the piece comes in 16 different colors, so you'll definitely be able to find one that you love.
12. Sheer Paneling With Underwire Support
Dipti Underwire Cup (Sizes 34D-46J), $22, Amazon
If you love the sheer floral look but prefer a thicker strap, reviewers say this nylon style is incredibly supportive. Plus, it's machine washable, and that never hurts.
Bustle may receive a portion of sales from products purchased from this article, which was created independently from Bustle's editorial and sales departments.
Images: Pexels (1); Amazon (12)