10 Bras For Plunging Necklines & Backless Tops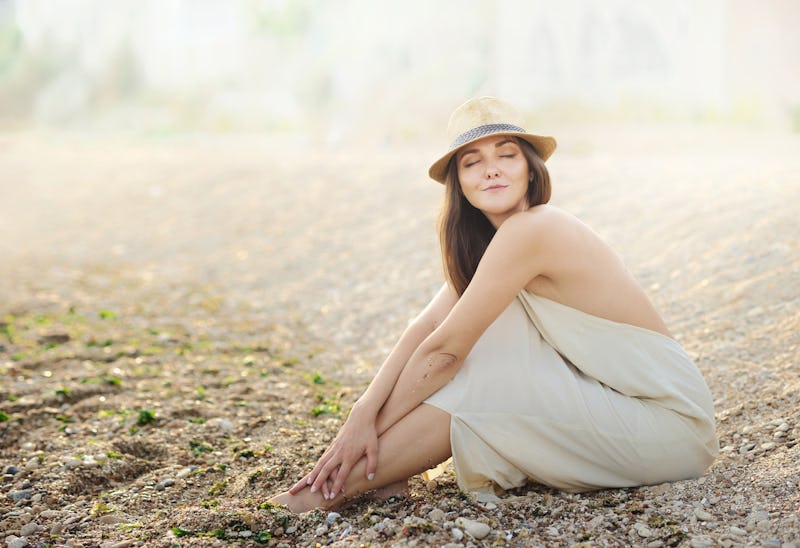 I find it incredibly frustrating when I'm trying on an awesome piece of clothing, only to realize the feature that made it so cool — a plunging neckline, or (my personal nightmare) it's backless — also makes it tough to rock sans bra. Finding bras for backless dresses or the right bra for plunging necklines may feel impossible, but stop worrying. You can absolutely find bras for plunging necklines and backless tops.
If you feel comfortable going braless, that's another option that could work. However, I'm not someone who goes braless. (In fact, I have serious envy for those who can.) There are so many undergarment solutions, though, that will provide the coverage you want to feel comfortable, while staying pretty much invisible beneath your clothes. If you want to buy that top you've been admiring (you know, the one with the plunging neckline?), find the best bra for that tricky outfit, and go for it.
You can wear a bra with that low cut shirt (and avoid going braless), all while kissing any anxiety you may have about revealing tops goodbye. Ahead, ten bras that will give you the security you want, regardless of any outfit you wear.
1. A Pretty Plunging Bra With Convertible Straps
There are some gorgeous plunging bras out there. Finding one that has a lace overlay will look gorgeous, while still providing the right area of coverage for a deep V-neck top. The bra has convertible straps, which will help keep it hidden. Plus, it comes in ten different colors.
2. Plunging And Backless Stick-On
So many people swear by stick-on bras. They completely eliminate the need for straps and stretched out bands because of their adhesive qualities. If you're looking for one that doesn't just just attach to your boobs, get one that has an adhesive band. The wings provide additional support and staying power. The bra is made out of silicone, giving you a smooth look. This one is not only backless, but it also features a U-plunge dip in the front.
3. Natural Shape With Good Coverage
If you aren't a big fan of padding, an unlined bra is a great choice. They provide decent coverage, but they still allow for a more natural shape. This one has adjustable straps, so you can create the support that you want. It also has a pretty scallop lace trim on the cups, and it's available in five different colors.
4. Deep Plunge And Lifting Abilities
So you're about to rock a dress that is channeling J.Lo circa 2000 (remember that green one with the super-plunging neckline?). Don't worry at all. Just go for an adhesive bra that offers padding, in addition to contour cups.
5. Push Up And Plunge
Finding a bra that plunges and provides come lift is not an easy task. Add in the need for comfort, and it's as if you're searching for a unicorn. But this bra can be worn with deep V-necks without showing, and it is so comfortable it can be worn every day. One user said, "This is the most comfortable bra I think I've ever worn."
6. Plunge and Backless Bra Without Adhesive
If adhesive bras are a little too uncomfortable for you, then look for a bra that can still be backless with the use of straps. This bra has the ability to be worn as a regular bra, too, if you just want the super-plunging neckline. But, if you're interested in making the bra backless, simply attach the low back converter strap to the hook and wrap the strap around your body.
7. Plunge With Lace Detailing
If you have a bigger bust, it can be tough to find support and still have a plunging neckline. So, find a bra with full coverage that has wide straps for extra support. You'll have the comfort and the reinforcement you want, all while rocking a plunging top.
8. Create Cleavage With An Adjustable Adhesive Bra
This backless silicone bra is self-adhesive and eliminates straps from poking out of clothing. It has a deep V-shaped design, and it's lightweight and reusable (simply wipe it with water and lay it flat to dry). Depending on where you place the cups on your breasts, you can create as little or as much cleavage as you want.
9. Coverage, Backless & Plunging Neckline
If you're looking for a bra that's backless and has a plunging neckline, a bustier is an excellent option to consider. This one provides coverage that you may be looking for, and it also means no adhesive. The bustier closes in the back like a regular bra, but the band is lower. This a great bra for busty women, too, as it comes in a variety of sizes and four different colors.
10. Backless Bodysuit
If you have a special occasion, why not dress the part underneath your gorgeous dress? A backless body suit is a perfect option. This one is made out of lace, and the bra is padded, in addition to the whole suit being backless. If you have an event where you have decided to an elegant backless dress, this is the way to go.
Bustle may receive a portion of sales from products purchased from this article, which was created independently from Bustle's editorial and sales departments.
Images: Fotolia (1); Amazon (10)