5 Steps For The Perfect At Home Pedicure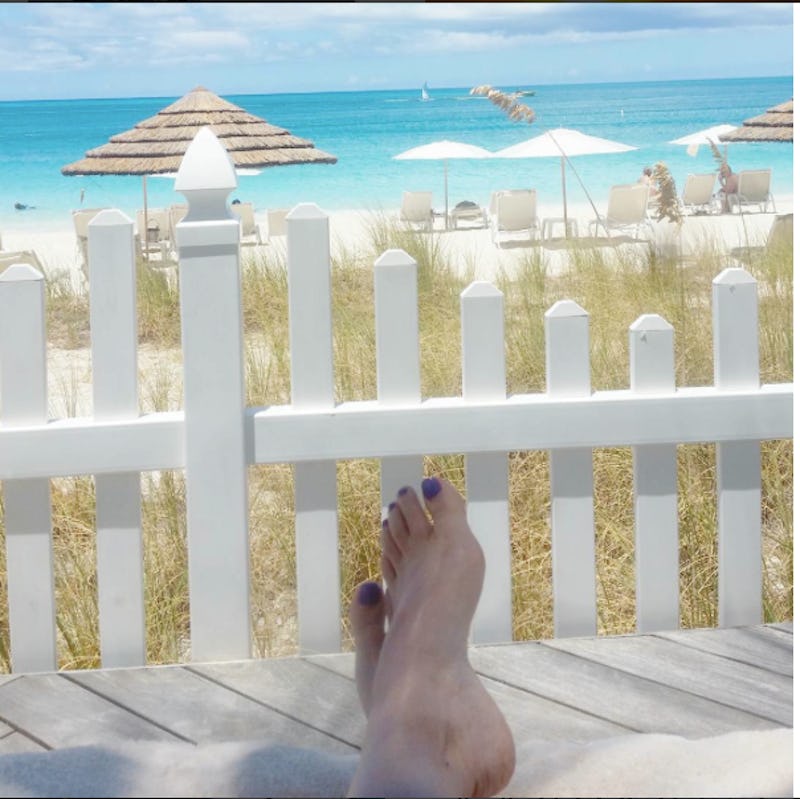 In the summer, when your feet are exposed all day every day, it's pretty unacceptable to walk around with gnarly looking feet. After all, why bother spending money on a chic new pair of sandals if all anyone is going to see when they look at them are your dirty, un-cut toenails? Sadly, not all of us have the time or the funds to keep up with the bi-weekly pedicures from a salon. Luckily, there are only a few things you need to give yourself at home pedicure.
I spoke to celebrity nail artist and industry expert Tracylee, who's clientele includes Cameron Diaz, Olivia Munn, and Emma Stone, about her tips for giving yourself a successful pedicure, sans salon. She's also worked with Nikki Minaj, who's nail game is arguably the most on point of anyone's in celebrity history.
According to Tracylee, there are actually only five simple steps to giving yourself a perfect at home pedicure. If you really want to treat yourself, fill a bucket with warm water and let your feet soak. I would highly recommend doing this outside with a glass of rose in your hand, because it is summer after all. But if you don't have a ton of time, the whole hanging out and soaking thing actually isn't at all necessary.
Here are, in her words, the only things you truly need to keep your feet looking and feeling fresh without you having to sacrifice your beach bar money at the salon.
1. Cuticle Nipper
TweezerMan Satin Etched Zebra Cuticle Clipper, $30, Sephora.com
Push back the cuticle attached to your nail plate and gently remove anything left over with a cuticle nipper
2. Nail file
Revlon Designer File, $1.99, Ulta.com
Using a nail file, file your nails to your desired length and buff the tops of your nails smooth.
3. Electronic Foot File
Amopé Pedi Perfect Wet & Dry Electronic Foot File, $59.86, Amazon.com
To remove rough callouses and dry skin, buff your feet with an electronic foot file like the Amopé Pedi Perfect Wet & Dry Foot File. This product is pretty revolutionary, because it's the first that you can use on wet and dry skin.
4. Moisturizer
L'Occitane Shea Butter Foot Cream, $28, Jet.com
Moisturizing every day is important to keep you skin soft and smooth. If your feet are really dry, try lathering on a heavier foot cream in the morning and at night.
5. Polish
Essie Summer 2016 Mini Four-Pack, $17, Nordstrom.com
Wipe nails clean before applying polish to ensure a completely smooth surface (you don't want moisturizer to be trapped under your polish). Then, apply your basecoat, polish and topcoat and allow to dry for at least 15 minutes, but be careful because nail polish really needs a full two hours to dry completely.
Images: TracyLee/Instagram; Courtesy of Brands