12 Books I Am Giving My Younger Sister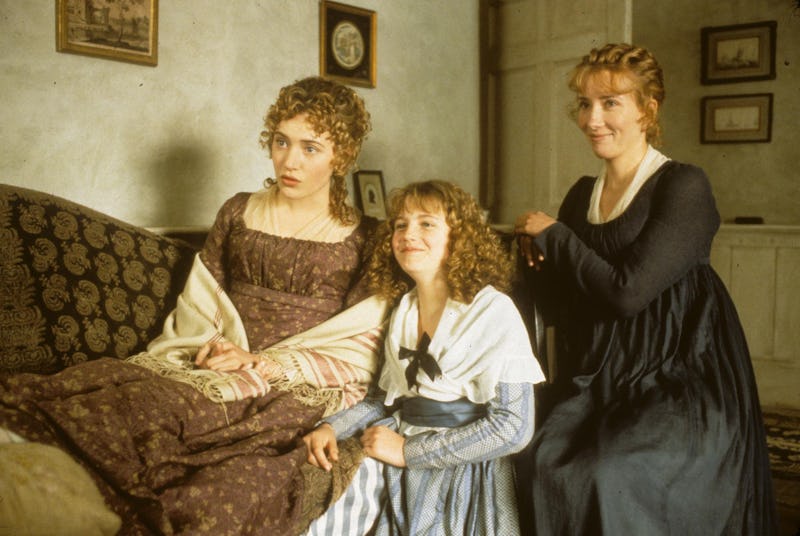 Nobody in my family reads quite as much as I do — I'm kind of the resident book expert of our crew, the go-to gal for book reviews, recommendations, and anytime anyone is looking to add some heft to their TBR piles. So when I stumble across the perfect book to give my younger sister (or, most likely, books) I'll pretty much find any excuse to send her a present — be it Arbor Day, Guy Fawkes Day, or you know, just Tuesday. There's basically never not an excuse to send a little sisterly love and encouragement, via a shelf full of books I know my sister will love.
In addition to being family librarian, I have the added benefit of being the oldest sibling, so I know exactly the kind of books I wish I'd read when I was my sister's age. Books about growing up and taking those first big "adulting" leaps; books about feminism, strong women, and owning your own body; books about inspirational 'round-the-world adventures; books about love and relationships, and failed love and relationships; books about finding yourself, believing in yourself, and knowing when all you need is a really good laugh. Those are the kinds of books I give to my sister — the kind of books I wish I'd had an older sister to give me.
Here are 12 books I am giving my younger sister — and hopefully your little sis will love them as much as mine does.
If you and your sis share a Pride and Prejudice obsession — who doesn't? — then it's definitely time you move on from Mr. Darcy and recommend Austen's Sense and Sensibility — packed with even more sisterly love than the Bennet-filled P&P. Dashwood sisters, Elinor and Marianne (sense and sensibility, respectively) are sibling yin and yang — they couldn't be more different in life, love, and the ways the think about the world. One is artistic, romantic, emotional; the other filled with a sense of duty and obligation. But what's most important is these two always have each other's backs, and plenty to learn from each other as well.
I'm obsessed with this collection of short stories about women growing up, growing older, and discovering who they are (or are not) in this crazy, unsympathetic world — and it's definitely a book your sis will thank you for. From bad sex to first pregnancies to wishing for nothing more than to revert back to the days when you were a little kid at sleep-away horse camp, Ulman just gets what it's like to transition from awkward girlhood to even more confusing womanhood — because one way or another, we've all be there.
This novel introduces readers to sisters Bean and Liz Holladay, who suddenly find themselves abandoned by their artist-mother Charlotte — off on a journey to find herself, leaving behind approximately one month's worth of money for Bean and Liz to live off of. But when Charlotte neglects to return, and then the girls discover a police car outside their home one day after school, they decide to take off on a journey of their own — one that will challenge them to the point of breaking, and ultimately leave them transformed (and stronger than ever.)
This memoir of Cali-girl turned Alaskan dogsledder Blair Braverman is at the top of my list for books to add to my sister's TBR pile immediately. Equal parts an exploration into the physical strength and determination it takes to step far (really far) outside your comfort zone, and a close look at the intense bravery and fortitude of spirit required to survive in a landscape dominated by men, Welcome to the Goddamn Ice Cube is a reminder to all women that we can absolutely do anything we set our minds to. Even when it's really, really hard. This debut memoir is also packed with Braverman's hard-won wisdom about owning your own body, setting boundaries with men, and totally knowing yourself. Love it.
5. Cherry by Mary Karr
With Mary Karr's signature unselfconscious, no-holds-barred writing, Cherry is a memoir of the writer's tumultuous adolescence — filled with many small (and a few large) rebellions, the typical teenage longings for the perfect romance, and every rite of passage in between (including yoga, the principal's office, and jail.) Cherry will remind you and your sister what kind of young angst was really going on behind the scenes of all those before-school fights over the bathroom mirror.
Akin to a nonfictional family of Bennets (yup, your fave Pride and Prejudice ladies, only real) the Mitford sisters were quite a force to be reckoned with — beautiful, intelligent, opinionated, and undiscriminating in which public figures they were willing to associate with, these sisters witnessed just about every major turning point, good and bad, of the 20th century. And then they wrote about it. Edited by Charlotte Mosley, this collection of letters between six of the Mitford sisters — who were distinctly different in desires and dispositions — will make you and your sis wish you'd written down more of your own life stories.
I only ever seem to know the perfect thing to say after the moment has passed — and if you've ever found yourself thinking of the perfect advice to give your sister long after she's asked for it, then handing her this book will make up for all the pearls of wisdom you wish you'd given, but didn't. Brave Enough is a collection of Cheryl Strayed's best quotes, ideas, and girl-power rallying cries — and it's impossible not to feel more empowered with every turn of the page.
Samantha Bee is just the kind of lady spirit who gives girls permission to be themselves — and no matter what absurd, failed drama you've gotten yourself into, Bee can undoubtedly top it. In this collection of personal essays, she chronicles her goofy girlhood crushes, the discomfort of her teen years, and the have-to-read-it-to-believe-it jobs she worked before joking her way to the position of Most Senior Correspondent on The Daily Show with Jon Stewart. She can make literally anything hilariously entertaining; perfect for when your sis could use a laugh.
9. My Life by Isadora Duncan
Literally an entire book that will remind your sister of the importance of dancing like nobody is watching — even if plenty of people actually are — My Life by Isadora Duncan is the autobiography of a woman and feminist who took the dancing world by storm and paved the way for the legacy of talented, revolutionary female dancers that have followed. Filled with love, tragedy, and passion, this book is great for any gal who needs that little push to turn her outside-the-box dreams into reality.
10. Housekeeping by Marilynne Robinson
Marilynne Robinson is an author you'll want to introduce your sister to, if she hasn't discovered her on her own already, and Housekeeping is a great place to start. This novel tells the story of sisters Ruth and Lucille, who grew up among a revolving door of female relatives and caregivers, each more unique, bizarre, flawed, and resilient than the next. In the wake of their mother's death, they're raised first by their grandmother, and then by myriad aunts, all of whom offer the girls different lessons about life, love, and survival as they grow through their own journeys towards womanhood.
Your sister doesn't have to be a yoga goddess to be inspired by the stories of these actual Hindu deities, and the guidance and wisdom each have to offer. Filled with meditations, mantras, and traditional teachings, Awakening Shakti is all about realizing your full potential by tapping into your own inner-goddess (not the Fifty Shades of Grey kind) and celebrating the power of independent, fearless, intelligent, feminine energy.
Chronicling the misadventures of a young woman trying to make a life for herself in New York City, I Was Told There'd Be Cake is a twentysomething-gal's must-read. Wry, awkward, and empoweringly self-deprecating, Sloane Crosley has a way of making the utterly unremarkable happenings of her everyday life utterly hilarious — and you'll totally relate.
Image: Columbia Pictures