The Balmain Kids Line Is Here & It's Oh-So Chic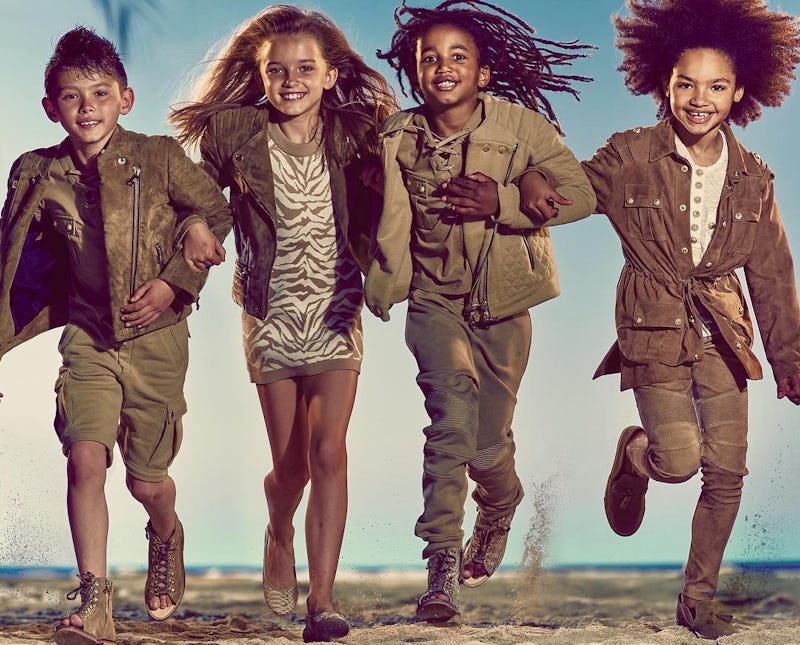 Everyone's known since day one that North West would be quite the little fashionista. I mean, really, how could she not be? Fashion sort of runs in her genes, you know? That's exactly why she inspired the creation of a clothing collection. Find out what's in the Balmain kids line to see just how Olivier Rousteing used little Nori as his muse.
Now that the range is available to shop, you can finally see all it has to offer. And with these items, there's going to be quite a lot of looking involved. Let's just say, the line isn't exactly affordable. So it's definitely a "you can look but you can't purchase" kind of situation, if you know what I'm saying.
Of course, being apart of the #BalmainArmy doesn't come cheap, even if the collection is meant for children. No matter the age, when it comes to Balmain: only the fabulous need apply. You'll find everything from stylish sneakers to double-breasted blazers because no matter who he's designing for, Rousteing's got a certain style. That aesthetic just so happens to be perfect for West and all of the other little ones channeling her incredible fashion sense. Check out the pieces you'll see the chicest of children sporting very soon.
The day to shop (err, I mean stare at) these adorably chic little mini-designs has finally come.
This gold embellished blazer is so Balmain.
Only the coolest kids wear a zebra/leather jacket.
The brand's already teasing a summer collection that looks equally gorgeous.
The intricacies are what makes Balmain so fab. The feathers, the embroidery. I mean, does this come in my size?
Now, this is how neutrals are done.
I have a feeling that little Miss West will love these pieces.
Fancy dresses to leather jackets, she really can wear it all.
It's no wonder she inspired such a fantastic collection. Rousteing, I've got to hand it to you. You really did West proud with this one!
Image: balmain/Instagram (1)