You'll Never Forget These '90s Song Lyrics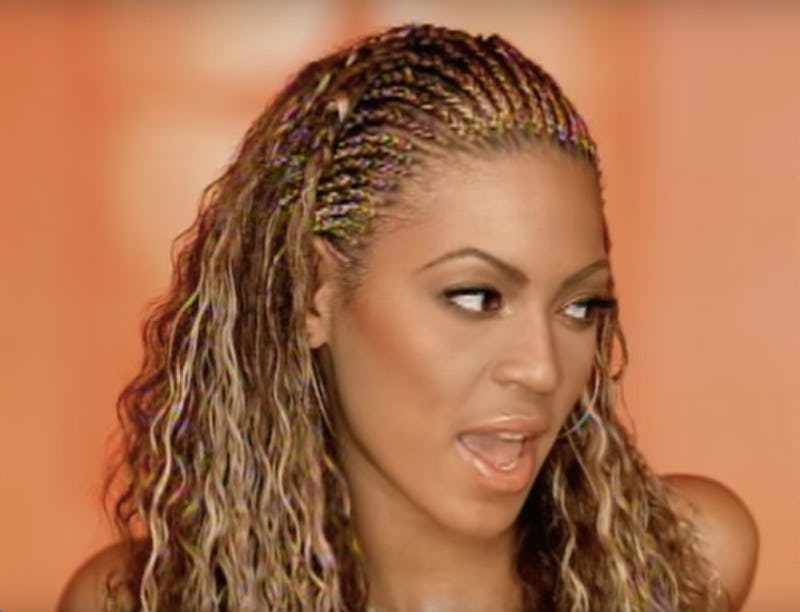 I'm no scientist, but I'm pretty sure there's some excellent basic biology behind the fact that there are some songs lyrics that you will simply never forget. Sometimes the most obvious reason can be that you simply loved that song and listened to it nonstop back in the day. Sometimes, you can find yourself remembering song lyrics to tunes that you weren't ever really that much of a fan of. And sometimes, you remember song lyrics because they in some way helped to define who you were at the specific time that you first started hearing it. As such there's likely a ton of '90s song lyrics that you'll never forget due to what those songs meant to you and how they helped you to relate to particular people, moments, or places. For '90s kids, these songs may have become embedded in our brains due to how we would sing along to them with our friends, or even how they helped us live through crippling, unrequited crushes, or the harrowing insecurities of being a preteen or teenager.
When we can relate who we are, how we feel, and the particular cadences of a specific time or place through music, we carry those songs with us with the same clinging nostalgia that we hold for our childhood friends and first loves. These are 22 '90s songs with lyrics which have, surreptitiously or knowingly, swaggered into our brains during a primitive time in our lives and which have set up home for all eternity in there:
1. 4 Non Blondes - "What's Up"
Don't even pretend like you and your friends never used to try and belt out this chorus together in your bedrooms. And yes, we might have all failed to hit the same sonic vocal levels as vocalist Linda Perry, but damn it felt good to try, right? Now every lyric is ingrained into your brain (and you're still praying for that revolution, right?).
Standout Lyric: "And I try, oh my God, do I try/ I try all the time, in this institution/ And I pray, oh my god do I pray/ I pray every single day/ For a revolution."
2. Blackstreet - "No Diggity"
I was scandalized to discover as an adult that "No Diggity," the song that I would sing along to on a regular basis as a child, was actually a rather dirty ode to a sex worker. Nonetheless, the songs lyrics still flowed perfectly and dramatically, hitting listeners square in the heart like a cupids arrow.
Standout Lyric: "I like the way you work it/ Trumped tight all day, every day/ You're blowing my mind, maybe in time/ Baby, I can get you in my ride."
3. Alanis Morissette - "You Oughta Know"
Vulgar, brazenly bitter, and delivered with a steadfast power that every blighted woman could relate to, "You Oughta Know" contained lyrics which were more like ammunition for a broken heart.
Standout Lyric: "Did you forget about me Mr. Duplicity?/ I hate to bug you in the middle of dinner/ It was a slap in the face how quickly I was replaced/ Are you thinking of me when you f*ck her?"
4. TLC - "Waterfalls"
There's a reason why "Waterfalls" was the official jam of the Kappa Kappa Tau sorority house in Scream Queens, and that's because back in the '90s it was everyone's jam, with lyrics which were thoughtful and emotional and total bliss to sing along to.
Standout Lyric: "One day he goes and takes a glimpse in the mirror/ But he doesn't recognize his own face/ His health is fading and he doesn't know why/ Three letters took him to his final resting place."
5. Goo Goo Dolls - "Iris"
Did you own this song on CD single? Did you play it endlessly on repeat whilst daydreaming about your crush and writing his name in your diary? No, me neither. Never happened. I totally wasn't obscenely obsessed with this song when I was 12.
Standout Lyric: "And you can't fight the tears that ain't coming/ Or the moment of truth in your lies/ When everything feels like the movies/ Yeah, you bleed just to know you're alive."
6. Brandy & Monica - "The Boy Is Mine"
Hands up all those who used to do a dramatic lip sync re-enactment of this song with their best friend? It was perfection.
Standout Lyric: "Think its time we got this straight/ Sit and talk face to face/ There is no way you could mistake/ Him for your man are you insane?"
7. Green Day - "Good Riddance (Time Of Your Life)"
This one goes out to all of you who had a crush on someone who played an acoustic guitar back in high school. Chances are this was one of five songs that they could actually play, and as a result the lyrics are now burned into your very soul.
Standout Lyric: "So take the photographs and still frames in your mind/ Hang it on a shelf in good health and good time/ Tattoos of memories and dead skin on trial/ For what it's worth, it was worth all the while."
8. Lauryn Hill - "Doo-Wop (That Thing)"
Let's just all agree that The Miseducation Of Lauryn Hill is one of the greatest albums of all time and be done with it, OK? This song is one of the greatest endorsements of self-respect ever written.
Standout Lyric: "You know I only say it 'cause I'm truly genuine/ Don't be a hard rock, when you really are a gem/ Baby girl, respect is just the minimum."
9. New Radicals - "Get What You Give"
Truly one of the finest (if cheesiest) one-hit wonders of the '90s with an infectious set of lyrics which demand an uncontrollable, uplifting sing along.
Standout Lyric: "This world is gonna pull through/ Don't give up/ You've got a reason to live/ Can't forget/ We only get what we give."
10. Aaliyah - "Try Again"
One of the most perfect songs to blast out when your day goes all kinds of wrong, "Try Again" is a positive declaration of determination. You got this, girl.
Standout Lyric: "Now would you be yourself, or play a role?/ Tell all the boys, or keep it low?/ If I say no, would you turn away/ Or play me off or would you stay, oh?"
11. Barenaked Ladies - "One Week"
Notable for being a tongue twister of epic proportions, "One Week" is the sort of song you dare to put on at 1 a.m. after a round of beers and repeatedly fail to keep up with.
Standout Lyric: "Watchin' X-Files with no lights on,/ We're dans la maison/ I hope the Smoking Man's in this one."
12. Christina Aguilera - "Genie In A Bottle"
So many euphemisms, you guys. As Lorelai Gilmore would likely loudly proclaim upon hearing it: Dirty.
Standout Lyric: "Hormones racing at the speed of light/ But that don't mean it's gotta be tonight."
13. Paula Cole - "Where Have All The Cowboys Gone?"
The perfect pop triumph of an antidote for those feeling dissatisfied with the way their partners are taking them a little too much for granted.
Standout Lyric: "Where is my John Wayne/ Where is my prairie song/ Where is my happy ending/ Where have all the cowboys gone?"
14. En Vogue - "My Lovin' (You're Never Gonna Get It)"
So good. One word: Preach.
Standout Lyric: "What makes you think/ You can just walk back/ Into her life/ Without a good fight/ I just sit back/ And watch you make a fool of yourself/ You're just wasting your time."
15. Natalie Imbruglia - "Torn"
Not only did Imbruglia reinforce a truth that we always knew to be the case (that slobbing about in your hoodie and boyfriend khakis is still totally glamorous, right?), she also gave us this mysterious song about heartbreak in the process.
Standout Lyric: "It crawled beneath my veins/ And now I don't care, I had no luck/ I don't miss it all that much/ There's just so many things/ That I can touch, I'm torn."
16. Savage Garden - "Truly Madly Deeply"
Don't lie, Savage Garden totally taught you everything you know about love.
Standout Lyric: "And when the stars are shining brightly in the velvet sky/ I'll make a wish send it to heaven then make you want to cry."
17. Seal - "Kiss From A Rose"
Oof, that gigantic chorus? You'll never forgot these lyrics, even if you might not have ever loved the song, because they probably still secretly crawled into your skin and swept into your heart regardless.
Standout Lyric: "You remain/ My power, my pleasure, my pain, baby/ To me you're like a growing addiction that I can't deny./ Won't you tell me is that healthy, baby?"
18. Destiny's Child - "Say My Name"
I'm just going to come right out and say this: "Say My Name" is Destiny's Child best ever song. There. It's settled.
Standout Lyric: "First of all, let me say/ I am not the one/ To sit around, and be played/ So prove yourself to me/ I am the girl that you claim/ Why don't you say the things/ That you said to me yesterday."
19. Smashing Pumpkins - "Tonight Tonight"
Who ever would have guessed that such romantic sentiments could come from such a gloomy, sullen man? For goth kids of the '90s, The Smashing Pumpkins gave them a love song they could be unabashedly proud of singing along to — and for everyone else, it was simply swoon central.
Standout Lyric: "We'll crucify the insincere tonight/ We'll make things right, we'll feel it all tonight/ We'll find a way to offer up the night tonight/ The indescribable moments of your life tonight/ The impossible is possible tonight/ Believe in me as I believe in you, tonight."
20. Mariah Carey - "Fantasy"
This is basically candy floss in musical form and it's beyond gorgeous.
Standout Lyric: "Oh, when you walk by every night/ Talking sweet and looking fine/ I get kinda hectic inside/ Mmm, baby I'm so into you/ Darling, if you only knew/ All the things that flow through my mind."
21. Whitney Houston - "It's Not Right But It's OK"
Whitney served up some pristine, solid real talk in this anthem of female independence.
Standout Lyric: "Friday night you and your boys went out to eat/ Then they hung out, but you came home around three/ If six of y'all went out/ Then four of you were really cheap/ 'Cause only two of you had dinner/ I found your credit card receipt."
22. Nirvana - "Drain You"
OK, so yes, of course you know all the words to "Smells Like Teen Spirit" — but if you also went out and bought yourself a copy of Nevermind to rebel along to, then "Drain You" more than likely became your alternative love song of choice which you still know every damn word of.
Standout Lyric: "Chew my meat for you/ Pass it back and forth in a passionate kiss/ From my mouth to yours/ I like you."
More than anything else, give your impressive brain a big ol' round of applause for storing up such essential knowledge as these song lyrics. You might not be able to remember the password to your email address or the pin number for your phone, but by God, you'll be singing every lyric from "Waterfalls" until your dying day.
Images: DestinysChildVEVO/YouTube