'Equity' Shows Us A Different Side To 'BB's Skyler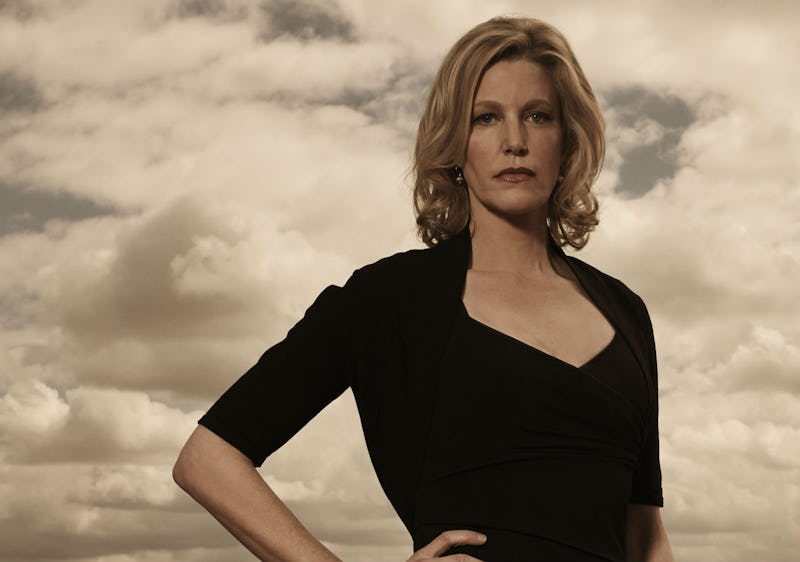 Hold onto your hats. The new Equity trailer starring Anna Gunn is here, and it appears the former Breaking Bad star is taking no prisoners as Naomi Bishop, a ruthless banker who brings companies in on their initial public offerings. Sure, the finance-centric subject matter and associated jargon might have you all set to glaze over, but the trailer suggests a compelling script ("What's that thing that makes you really want to get up in the morning?" someone asks. "For me, I guess the simplest answer is I like money. I work for the largest investment bank in the world. I'm so glad it's finally possible for women to talk about success," Naomi replies) and an even more compelling treatment of women in the business world.
Because, unfortunately, there are hardly any other movies are there which focus on businesswomen in a non-patronizing way? Sure, there's plenty of rom-coms with businesswomen as the leads, but these focus way more on the successful career woman's tragically empty love life than the drama behind the office doors. And when was the last time a female lead got to be downright mean and selfish? Not because of trauma or abuse in her past (though I guess it's possible the film might play that card to excuse her behavior), but because she's a human and humans aren't always perfect-smiley characters? Female antihero characters are alarmingly rare in film, which is what makes the fact that Gunn's Naomi appears to be one so important.
Naomi provides social commentary (the fact it's now OK to unapologetically pursue money and success as a woman and be open about that); the best sleek tailoring we've seen since Claire in House of Cards; and most importantly, drama. She's the film's roving Id in the same way Gordon Gecko once was on Wall Street.
Which is fantastic, if not long overdue. I don't know about you, but I'm sick and tired of all the best antihero roles being doled out to dudes. The tastiest business roles of the past two decades have all been written for men — think Don Draper (Mad Men), Nick Naylor (Thank You For Smoking), Barry Egan (Punch-Drunk Love), Patrick Bateman (American Psycho — but admittedly this one would have been hard to change up since it was based on Bret Easton Ellis' novel of the same name). It feels like a breath of fresh air to finally see a mad, bad businesswoman on screen for whom money, rather than the cute delivery guy, is everything.
Images: AMC; Sony Pictures Classics/YouTube