Interview Clothes That You'll Wear Once You Get the Job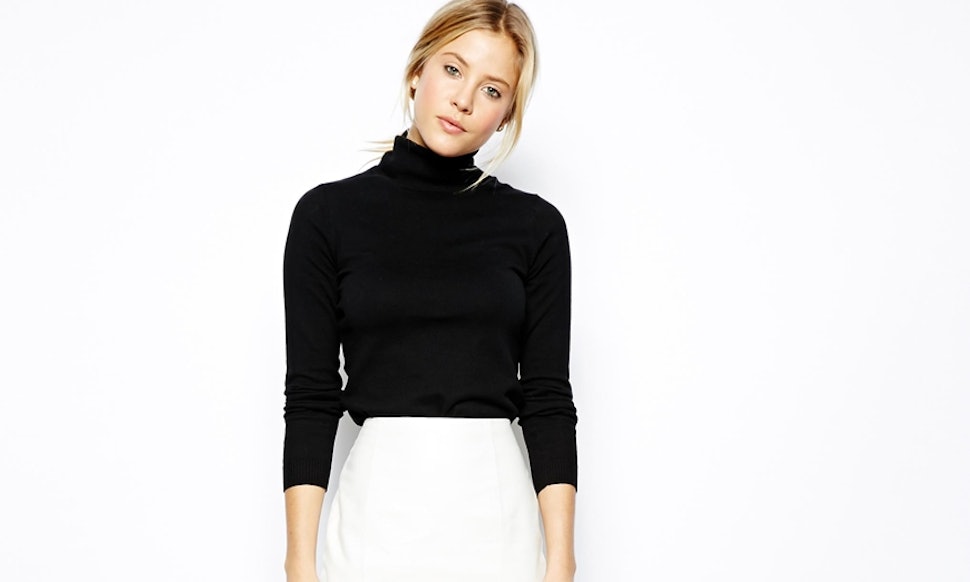 One thing that feels unavoidable when you're on a job hunt: donning an interview outfit that's maybe a bit less awesome than you actually are. Nothing's a bigger bummer, though, than having those clothes hang in your closet, lonely and untouched, after you get the gig (because you will). However, if you're strategic about the interview clothes you buy, not only can you wear something for the sit-down that feels like you, but you'll actually get tons of mileage from the pieces afterwards.
Here, clothes that any potential boss would give the thumbs up... and that you'll continue wearing between the interview and when you've got that corner office.
Fitted Blazer
There's nothing more professional than a perfectly fitted blazer — don't settle for boxy. The pinstripe on this blazer makes it more youthful.
Pinstripe Peplum Back Jacket, $198, Ann Taylor
Straight Leg Pant
These straight leg pants have a great silhouette: not too tight and not too loose. And if you're going to wear pants, make sure they fit… which sometimes means you'll have to spend on tailoring.
Seasonless Straight Leg Pant, $88, White House Black Market
3/4 Length Sleeve Dress
The hemline of this dress is ace, and the 3/4 sleeve makes it a great transitional piece for interviews and outside the office.
Asos Midi Dress with Belt, $90, ASOS
Preppy Sweater
No blazer? No problem. Wear a collared shirt under a sweater, or buy this collared sweater, which does double duty.
Layered Collar Sweater, $79, Ann Taylor
Long Blazer
If you have a taller frame, opt for a longer blazer to balance out your proportions. This one cinches at the waist, which is flattering, while still looking professional.
Jacket with Drawstring, $50, H&M
Wide Leg Trouser
If you're interviewing somewhere more creative, create a little drama with a wide leg trouser, which can be flattering on all heights, especially with the right heel.
Wide Leg Trouser in Soft Jersey Knit, $66, ASOS
Sleeveless Shift Dress
A staple piece, the high-neck shift dress is always your friend. The color stands out in a crowd — just like your résumé.
Donna Morgan Women's Sleeveless Color Block Shift Dress, $73, Amazon
White Leather Pencil Skirt
This white leather pencil skirt is clean and says "confident."
Asos Pencil Skirt in White Leather, $150, ASOS
Long Sleeve Dress
If your dress is on the tighter side, make sure you're a bit more conservative elsewhere, like with long sleeves. For post-interview use, take one look at that slimming silhouette, and you'll wear it over and over.
Whistles Lucy Midi Dress in Jersey, $235, ASOS
Loose Blazer
For more relaxed interview style, pair a bright, loose blazer with fitted neutrals.
Curve Loose Fit Blazer, $31, ASOS
Colored Pencil Skirt
A good way to show your colorful side is with subtle pastels, like this wear-a-million-times pencil skirt.
Halogen Seamed Pencil Skirt, $40, ASOS
Classic Printed Blouse
Invest in a classic printed blouse with colors that complement multiple looks. Navy is always a good choice — less severe than black.
Ann Taylor Dash Print Chiffon Blouse, $65 Ann Taylor