Is Ryan Lochte Competing At Rio?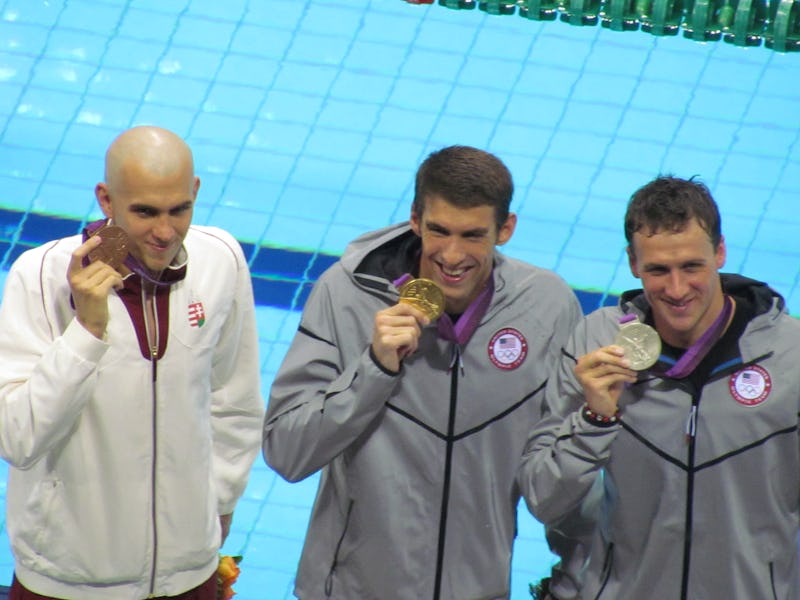 In 2012, the men's swimming competition at the Summer Olympics in London was dominated by two American swimmers — including one who may be the greatest swimmer of all time. Michael Phelps, who currently stands as the most decorated athlete in Olympic history, showed the world he was still at the top of his game, winning six more gold medals and edging out competitor Ryan Lochte in the high-profile 200 meter individual medley (IM). On Friday, the two world-class swimmers competed against each other on American soil for the last time before Rio. Will Ryan Lochte compete at the 2016 Olympics and join Phelps for the fourth time? The 2016 Olympics will feature yet another classic aquatic match-up.
Phelps once again defeated Lochte in the 200 IM event during the Olympic Trials held in Omaha, Nebraska, on Friday. Lochte came in second, losing to Phelps by just a fraction of a second. Phelps clocked in at 1:55.91. Meanwhile, Lochte finished with 1:56.22.
It was reminiscent of 2012, when Phelps also barely edged out Lochte in the highly anticipated event. And in August, the two dominant swimmers will have the chance for one more rematch.
Although Lochte finished second in the 200 IM Olympic trials, he's still going to the Summer Games in Rio. It's expected to be the final Olympics for both Lochte and Phelps, who have competed against each other for the past 13 years. The swimmers have over 30 Olympic medals between them.
Unfortunately, Lochte injured his groin on the first day of the Olympic Trials; the injury impacted his performance in several other meets. At the Olympics next month, Lochte's only solo swimming race will be the 200 meter IM. He also qualified for the 4x200 meter relay.
It's a big change for Lochte, who has 11 Olympic medals overall. But he told reporters on Friday that he knew the 200 meter race against Phelps was "definitely going to be a dogfight to the end."
According to The New York Times, Phelps will still be the favorite to take home the gold medal next month for the 200 meter IM; he has won the event in the last three Olympics.
The legendary Olympian told reporters after the race that "I don't know of another person in this world who brings out the best in me like [Lochte] does." Once Lochte and Phelps dive into the pool in Rio, it will be the end of an era. May the best (American) swimmer win.
Image: Wikimedia Commons