Remembering Elie Wiesel? Check This Interview Out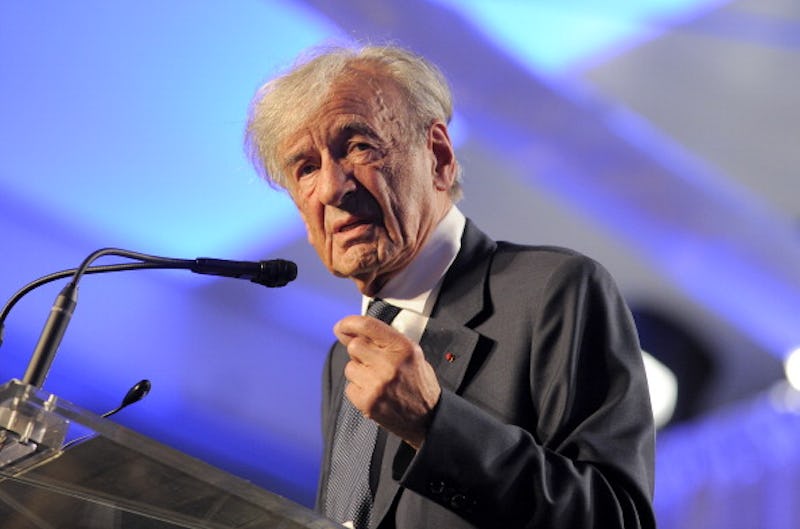 The world just lost one of its few remaining Holocaust survivors, one with a soaring profile and a world-renowned story ― Nobel Peace Prize winner Elie Wiesel died at age 87 on Saturday. Wiesel was born in Sighet, Romania in 1928, was imprisoned at the Auschwitz Nazi death camp in 1944, and survived to share his story and his resulting beliefs, most notably in his best-selling memoir Night. And if you're looking for the perfect Elie Wiesel interview to watch to remember his life and message, his 1993 interview on his memoir Night and his life, with Oprah Winfrey, is a great place to start.
There's a chance you've heard about the relationship between Winfrey and Wiesel before, since they've collaborated more than once ― she also interviewed him back in 2000 for her O Magazine, and she also produced a special visiting the Auschwitz camp with Wiesel back in 2006. But she also sat down for an interview with the author all the way back in 1993, and it was a wide-ranging, moving, often heartrending piece of television. As such, it's a definite emotional commitment, but If you've got the time, by all means check it out ― it's absolutely worth your 42 minutes and more.
Here's a brief excerpt of Wiesel's comments to Winfrey, describing the experience of witnessing children being burned to death by the Nazis during his time at Auschwitz. Needless to say, it's incredibly disturbing and distressing in equal measure.
I have seen something that will haunt me to the end of my life. That there were children, little children. And what they had done ― 'they' I mean the enemy ― they had dug pits. It seems there was no room anymore in the gas chambers. They would throw those children in the flames, alive. That we have seen that and not gone crazy is, that's a miracle. ... For a while I thought maybe I, maybe I was still a prisoner of my nightmare. But then I met friends, and I told them the same images, and I found documents corroborating it. What we have seen, it's true.
As Winfrey immediately pointed out, these horrifying memories came from Wiesel's first night imprisoned at Auschwitz, a fact which he acknowledged.
The first night. Each time I turned to my father at one point I said "I'm afraid to die in the flames." I had ideas, images from history books, the Inquisition, when Jews were put to death because of their belief, and they were burned like witches here, on the stake. And I was afraid of that, I said 'maybe I should run to the electrified gates and die.'
If you want to hear Wiesel share some of his thoughts and memories on this somber day of his passing, but you don't have time to read one of his books or any of the deep-dig articles out there right now, this is about as good a place to start as any. While the video (which was uploaded by YouTube user pamoouru several months ago) can't be embedded here, you can watch it through this link. Just be prepared ― as the exchange above illustrates pretty well, it's an emotionally daunting and intimate conversation.
Images: Getty Images; pamoouru/YouTube