The Feminist Books Everyone Needs To Read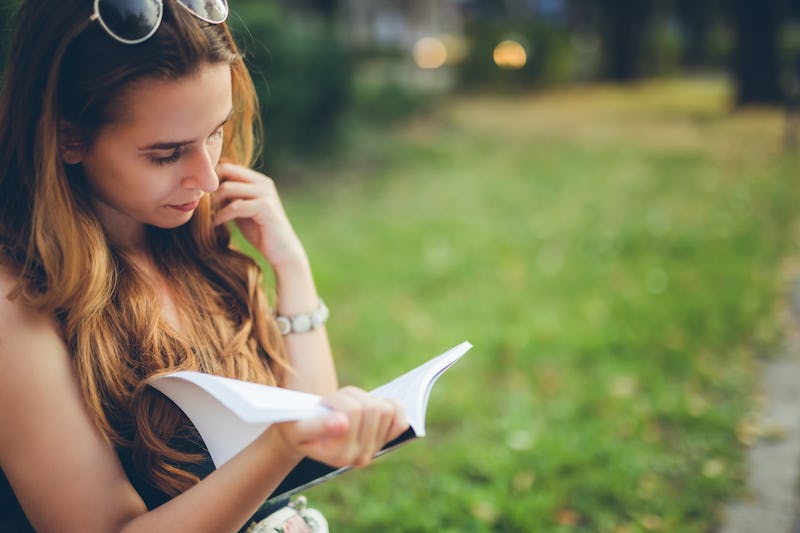 urbazon/E+/Getty Images
I'm always on the hunt for great feminist reads. I'm constantly fascinated by nonfiction books arguing the various aspects of feminism, and I also love stories — true or fiction — about strong, fierce women rising above the patriarchy. There is always something to learn. The more we write and talk and connect with each other, the better we can empower, understand, and improve the lives of all women.
Feminism has grown and evolved throughout the centuries. On this list, you'll find books from the 18th century and books released in the last several years. Feminism has come such a long way, and we still have so much farther to go. These books reflect that.
From heart-wrenching novels to biographies of powerful women to intellectual essay collections, these 25 feminist reads need to be added to your to be read' pile. Of course, there are so many different voices and so many different experiences, and these books are just the tip of the iceberg. Every day, new feminist voices emerge, and the canon of feminist literature grows. But to begin, grab your library card, and dig into these 25 extraordinary reads by extraordinary women:
Audre Lorde is one of feminism's most passionate voices. In this empowering collection of essays, Lorde explores intersectional identity, Black feminism, and more. You'll find yourself highlighting every other paragraph.
In this essay, told through the voice of a fictional narrator, Woolf argues for the need for a space for women writers within the patriarchy. This amazing book is absolutely essential for any feminist reader or writer.
Roxane Gay begins her book by introducing the idea of imperfect feminists — "bad feminists." In each of these essays, she discusses issue of feminism through the lens of modern culture and all the things that make women "bad feminists": reality television, fashion magazines, social media, and more.
Adapted from Adichie's amazing TEDTalk, We Should All Be Feminists asks a simple question with a complicated answer: "What does 'feminism' mean today?" Drawing on personal experience, she explores many different dimensions of the feminist cause. You'll finish this and feel like you can overcome anything.
In this brilliant dystopian novel, Offred lives in a society where her only worth lies in her fertility. A gripping book with a searing commentary on the patriarchy's treatment of women, this is an absolute must-read.
If you haven't discovered Simone de Beauvoir yet, your world is about to be rocked. In this masterpiece, De Beauvoir analyzes the Western notion of "woman." Diving headfirst into an exploration of otherness and inequality, De Beauvoir provides a thoughtful and important critique of womanhood in society.
In this classic novel, first published in 1899, Kate Chopin radically shook the ideals of a woman's independence. The story of a woman who seeks and finds physical love outside of her stifling marriage. Beautifully written, this book will reach you in your very core.
This book is a cornerstone of the feminist movement. Written in 1963, it gave a name and urgency to the inequality and injustices pushed upon women every day. Part social chronicle, part manifesto, this book inspired generations of feminists, and it will inspire you, too.
In this manifesto, Serano draws on her experiences as a transsexual, lesbian activist and a biologist to expose the toxic and pervasive notion that femininity is weakness. Serano argues that we must work to embrace femininity in all its forms as a powerful force.
Weaving together academic exploration with her own personal story, Nelson covers a lot of feminist issues in her book: gender fluidity, motherhood, queer family-making, and freedom of choice.
A landmark feminist text, this play is about women talking about their vaginas. Filled with stories of discovery, abuse, and everything in-between, this text is an important contribution to the way women have come to understand their selves and their bodies. There is a lot of discussion around this work, some critical and some celebratory. Love it or hate it, it is definitely worth a read.
Wollstonecraft published this declaration of female independence in 1792, at a time when women were more tied down than ever. Attacking female docility, Wollstonecraft calls for equal education for both genders, an end to prejudice, and for women not to be defined by their partner. Wollstonecraft was remarkably ahead of her time.
Writing in a mixture of English and Spanish, poetry and prose, Gloria Anzaldúa explores the existence of those living between cultures and languages. She particularly shines a light on the experiences of Chicanos in Anglo culture, women in Hispanic culture and lesbians in a straight world. Powerful and moving, this book is a must-read.
In this groundbreaking book, Wolf explores how beauty standards have been used to systematically oppress women. Wolf argues that even as women have gained political independence, they are still being held down by societal expectations.
15. I Am Malala by Malala Yousafzai
Nobel-laureate Malala Yousafzai is one of the most empowering feminist icons alive today. In her amazing memoir, Yousafzai recounts her fight for women's education in the face of the Taliban. A living hero, Yousafzai's story will blow your mind.
Bell hooks is one of feminism's leading voices. In this book, she explores the impact of sexism on black woman, from slavery to the modern era.
Maya Angelou tells the empowering story of her own life in this essential read, dubbed a work of "autobiographical fiction." Angelou is a goddess, and her story is sure to touch you in new ways.
In this novel, a woman in an unhappy marriage treks across Europe in search of a wild love affair and in search of true liberation.
This classic centers upon women of color in the 1930s, exposing the consequences of their position in American society.
This is a powerful account of the violence and discrimination faced by women in the Muslim world. Following El Saadawi's personal story, The Hidden Face of Eve reveals the shocking realities of the world outside of the U.S.
A trailblazer for women in the music scene, guitarist and actress Carrie Brownstein will put a fire in your belly with her memoir. She wonderfully captures what it's like to be a young woman in the male-dominated rock scene.
This collection of essays and poetry is Chicano and feminist classic. The subtitle translates to "what never passed through their lips," which fits perfectly with the theme of the book. Moraga uses the legacy of the Malinche as a focal point to dive into the history of the collective sexual and cultural wounding suffered by Hispanic women. Moraga explores her own personal story and heritage as a Chicana lesbian, telling her story and expressing her thoughts in a vibrant way.
An essential component of feminist theory, Gender Trouble introduced performativity theory — the idea that gender is what one does, rather than what one is. This opened up a wave of new thinking, and is essential to understanding gender.
In this much-celebrated book, Kate Millet unpacks how the patriarchy has infiltrated our lives and our culture. She references classic pieces of literature to explore how sex has been used to oppress and degrade women throughout time. If you're a nut for the literary, this is an eye-opening, necessary read.
Both editors of this anthology have already made their way onto this list, and for good reason. Published in 1981, this collection by women of color explores intersectional identity through personal essays, criticism, interviews, testimonials, poetry, and visual art.
Images: urbazon/E+/Getty Images