What Colors Are Jeffree Star's Velour Liquids?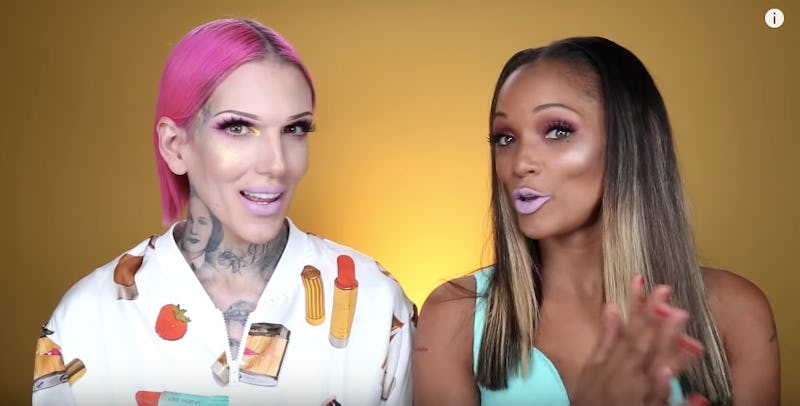 Let's name 2016 the year of the lips—whether it's lip liner, gloss, or lipstick, it's been every beauty lover's obsession. Color after color, brand after brand, matte liquid lipsticks have been all the rage, beyond traditional makeup companies. Case in point: Jeffree Star's Velour Liquids for the summer months. Gone are the days of set colors, and hello to the days of exclusives.
If you're not familiar with Jeffree Star, he is a singer songwriter, makeup artist, fashion designer, and beauty extraordinaire. Jeffree Star Cosmetics became an official thing, and launched its first eyeshadow palette earlier this spring. But more popular than the eyeshadow palette are the company's Velour Liquid Lipsticks, which are so popular, in fact, that they're almost always sold out. Good things are worth the wait, though.
On Sunday, Jeffree took to YouTube to unveil his new five summer Velour Liquid Lipsticks. Launching July 21st at 10 a.m. (PST), they're limited edition, which means they won't be available once they're all sold out. So get your wallets and wifi ready!
As with his usual Velour Liquid Lipsticks, these new five shades are 100% vegan and cruelty-free. The best part? Jeffree announced that they all smell like watermelon Jolly Ranchers, except for one shade. Excuse me while I try to eat these lipsticks! As for the logistics: You can buy four of each color or bundle. Individually, they'll be sold for $18, or $75 for all five colors. How stoked are you?
All five shades come in a yellow capped bottle with matte pink detailing. I'm already obsessed. "I changed it up last year for Christmas and everyone went crazy so I"m like ok, we're going to do it again," Star said.
The first gorgeous color is called Nude Beach, which Jeffree describes as a "unique nude." It's got a different tone and looks really cool on different skin tones," he said. And I've got to say, I'm in love.
Love the simplicity of this shade. With some pink eyeshadow, this color totally slays.
Next up is Watermelon Soda, a super bright pink/red color. "It's the definition of a hot summer day: bright, in your face, very loud, kind of like my existence," Star said.
I've got to say—this may be my favorite in the bunch. It's so much fun and adds that extra pop I'm always looking for. Jeffree calls this a universal shade that anyone can pull off.
The third shade, called 714, is actually an older shade—one of his most requested. It came out in the summer of 2015 and it became such a cult favorite that star decided to bring it back. This is the particular color that doesn't have the watermelon flavor, since Star felt it changed the color of the formula.
How pretty is this? Star did add a disclaimer: This color is quite streaky, so you'll have to finesse it into your lips. "I really love this shade on every single person. This is the one. So if you missed 714 last year, now is your chance to finally get it again. This shade is perfect for this year," Star said.
The fourth shade, called Virginity, is a lighter, nude, almost pale lavender color. It's got a white base, so it's super light.
I'm totally down with this one. "I want to wear this one every single day," Star said.
Last but not least is a hot yellow liquid lipstick called Queen Bee. And this one definitely makes a bold statement. This is the first yellow liquid to matte lipstick on the market, Star pointed out. While it isn't an everyday color, Star suggested using it for ombré, lip art, or even for eyeliner.
How wild is this one?! I'm totally obsessed. "For all you creative people out there, I cannot wait to see what you do," Star said. And he showed us exactly how it can be used as a liner.
So rad, right? A simple, yet super cool trick. So, yes, bold colors like yellow can be versatile.
Check out the full swatch, below.
If you weren't a fan of liquid to matte lipsticks, I'm sure you are now! These colors are so cool and absolutely perfect for the scorching summer months. Color me obsessed!