This Is How You Clean Tevas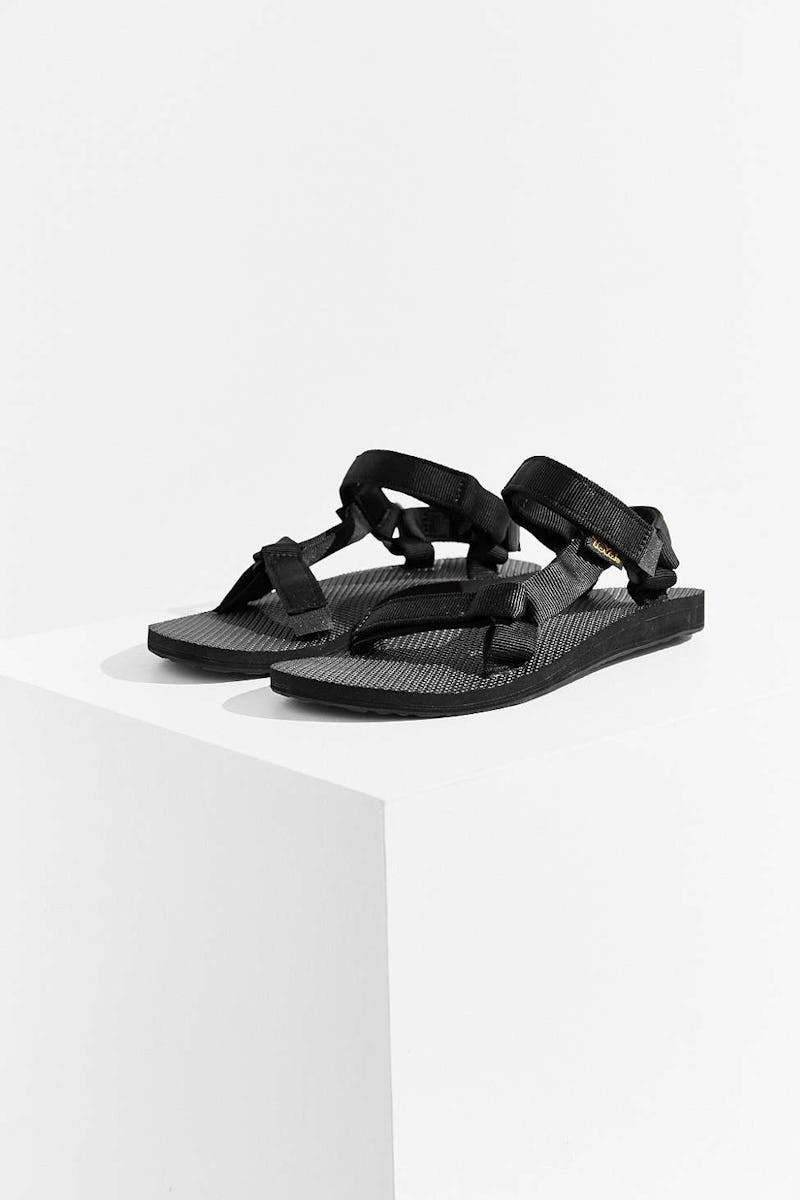 It's common to put thought into how best to wash your clothes so that they last as long as possible, but shoes are a whole different story. You may not wash your shoes at all, let alone a pair like sandals that you commonly wear places like the beach where they're bound to get dirty again anyway, but if you want yours to last all summer long, it's time to learn how to clean Tevas. It's so easy, you can definitely spare the added few minutes to make sure they're properly taken care of.
I totally beat up my sandals, but Tevas are different. They're comfortable, cool, and actually stylish. Basically, they aren't your average plastic flip flop, so you do want to make an effort to care for them. The cleaner they are, the better they'll look, and when your shoes start looking grungy and grimy, that's when you want to shell out money for a new pair. But you shouldn't have to repurchase them regularly, you just need to take better care of them, and you definitely have a few options for how to do that. All of them are pretty easy, so it won't seem like a huge sacrifice.
Teva Orginal Universal Sandal, $50, Zappos
Here's what you can do:
Warm Water + Soap
Palmolive Mild Soap Classic Scent (12 PK), $11, Amazon
At bare minimum, fill a sink or bucket with warm water and mild soap and put your sandals in there and clean them up. If you do this every few weeks, they'll last a whole lot longer.
Vikan 41825 Fine Sweep Hand Brush, $16, Amazon
Avoid the washing machine, because it'll totally beat them up. Instead, if you have a little more time to spare, after dunking them in the soapy water, scrub them with a soft-bristled brush and rinse.
Air-Dry
Do not put them in the dryer. Instead, let them air-dry. They can be exposed to the direct sun for 15 minutes, but if they're still wet beyond that, move them to the shade.
Chlorine
If you don't have time to wash them, you can also put them in a pool with chlorine for 20 minutes to get them clean.
Listerine Ultraclean Cool Mint Antiseptic Mouthwash, $5, Amazon
If soap isn't working, mix antibacterial mouthwash with two cups of water and soak your sandals for 15 minutes.
Images: Drugstore.com; Walmart; Urban Outfitters; WPA Pool/Getty Images