Here's A Prescription For 'Royal Pains' Withdrawl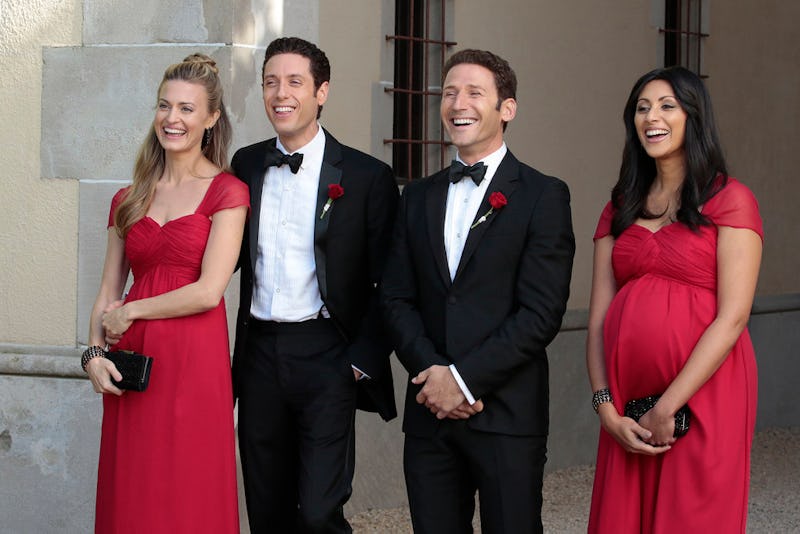 The Royal Pains Season 8 finale airs on Wednesday, July 6 at 10 p.m. and unfortunately, it will also serve as the series finale. As Deadline reported in March, Royal Pains won't return for Season 9 and honestly, this finale couldn't come at a worse time for fans of the show. It's the middle of summer, not much else is airing right now, and Royal Pains was the perfect antidote to climbing temperatures. But even if Hank won't be returning to USA (and might even be leaving the Hamptons with Boris in the finale), a lot has changed in the TV landscape since the series premiered back in 2009.
For example, back then, Netflix didn't have any original programming, there was no Amazon Prime video, and summer was a complete dead zone for new series. Now, however, there are a dozen ways to stream TV 24/7 all year round, and a slightly above average amount of series now premiere during the summer, no longer forcing you to go outside during any part of the year. That's a very roundabout way of saying: don't worry Royal Pains fans, because there are plenty of other series that you can watch this summer that will help you get over the pain of losing one of your favorites. It won't completely heal the wound, but if you can't get a house call from the concierge, marathoning some of these shows should make you feel a lot like your old self.
Ray Donovan
The Donovan family at the center of this Showtime series are definitely a lot more scrappy than Hank's crew and don't have his wealth, but they roll with similarly rich, successful clients — seeing the excesses of their privilege is not unlike Royal Pains. Plus, you have Jon Voight playing an eccentric dad that rivals Henry Winkler's.
Zoo
It's a weird show that mixes a dark conspiracy with a wacky premise (what if humans... became the animals). It should definitely provide some suspense to distract you from the pain of losing Royal Pains.
Shooter
If your favorite aspect of Royal Pains is that it's on USA, well, I have two great recommendations for you: the first is Shooter, a new series about a sniper who becomes embroiled in a government conspiracy.
Mr. Robot
And the second is Mr. Robot. Now this show is certainly significantly different than Royal Pains, but there are some slight similarities, mostly that in its first season, Mr. Robot did a bit of a twist on the procedural format.
Doctor Thorne
I'm sure plenty of Royal Pains love medical dramas, so here's one you may not have sought out yet: Amazon Prime's Doctor Thorne, a series from Julian Fellowes, the man behind Downton Abbey. It's a period piece about a poor woman living on an estate with her uncle (the doctor) in the 1850s.
Life's A Beach
And on the chance that the one and only thing you love about Royal Pains is all the scenes of beaches: here's a series from the Travel Channel for you: Life's a Beach , celebrating people who abandoned their dreary day jobs to pursue their dream of living on the coastline. I could've suggested actually going to the beach to scratch that particular itch, but why bother when you can get all the enjoyment from your air-conditioned couch?
Images: Giovanni Rufino, Dean Buscher/USA Network; Giphy (3); Shane Harvey/CBS