Derek Reveals Whether He'll Be 'The Bachelor'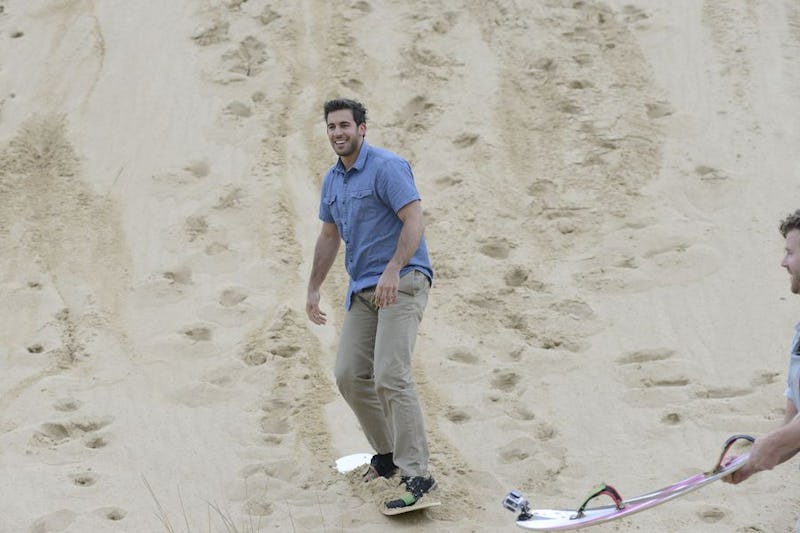 Since JoJo narrowed her choice of suitors down considerably, we've officially entered the time to start making predictions on who the next star of The Bachelor will be based on who's left and who we think will win this season of The Bachelorette. So, considering our favorite Jim Halpert lookalike contestant was unfortunately sent home by JoJo during a two-on-one date, will Derek be the next Bachelor? In an interview with Bustle, Derek answers that question to the best of his ability — since, you know, ABC has some say in who the next Bachelor will be.
In terms of his time on The Bachelorette, Derek says it was an opportunity that "landed in my lap" when he was looking for a change — though he hadn't seen the show before, he did his due diligence and watched "a couple seasons" before making his reality TV debut. But, according to Derek, he's not quite sure if he'll be the next star of The Bachelor, or even if he wants to be the next leading man on ABC's long-standing reality dating series. As Derek explains, it would be a big decision for him (but he also doesn't think the network will come calling anyway):
I don't know the answer to that. I really would have to think about it, because, like I said, I don't think it's a decision that should be made lightly. I don't think that's gonna be requested of me.
Ultimately, Derek explains, he wouldn't want to jump back into the reality television world — not just The Bachelor — unless it feels right to him. "It really depends on what the situation would be and if I feel like it fits my character," Derek says. "This probably sounds super boring, but you put yourself out there under that kind of microscope where everyone's judging you and I'm telling you it's tough."
In fact, Derek expands upon the point of how uncomfortable living under that microscope can be, especially when watching it back once the show airs on television:
When people are like, 'How cool is it to see yourself on TV?' I'm like, 'Hold on, you ever listen to yourself on a voicemail before?' Everyone hates how they sound on a voicemail, magnify that by like 100. Now you're on video and audio, it's both, crazy.
So, will we get to watch a season of The Bachelorette's charming John Krasinski lookalike set out on his own journey to find love? Well, that depends on whether ABC calls on Derek to star in the next season of The Bachelor, and whether the former Bachelorette contestant wishes to live under that microscope again — which is undoubtedly more intense when you become the lead of the season rather than a contestant. For now, we'll have to wait and see.
Reporting by Samantha Rullo
Images: Veronica Gambini/ABC