7 Positive Body Image Moments From The Body Issue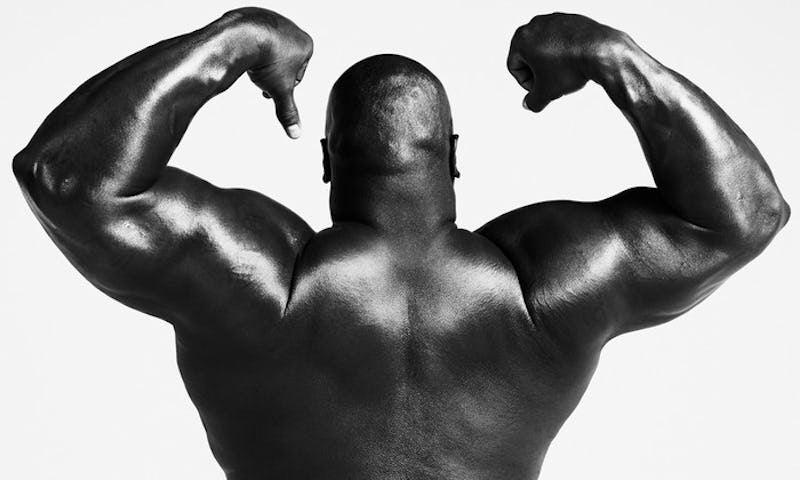 When one thinks of championship-winning, pro athletes, one might not think of the word "insecure." But even the strongest and most powerful among us still have to deal with self-doubt and aesthetic-related anxiety, which is why there were some great positive body image moments in the 2016 ESPN Body Issue, hitting newsstands on July 8. While it's true that the publication showcases 19 of the most strapping and formidable bodies in athletics today, the interviews have proved that a person is a person, and we all have to work to love ourselves. Difficult body standards affect many of us, whether you're an Olympic athlete or a receptionist in the Midwest.
This year's Body Issue helped highlight that fact by not only asking questions about the athletes' incredible success and motivation, but also about what hinders them. With answers about thunder thighs, amputation, aging bodies, and transgender identities, each of the athletes relayed how they have grown to love and worship the bodies that they have built.
Let that be inspiration to you, when it comes to whatever body image hangups you might be battling with at the moment. Below are seven positive body image moments from this year's ESPN Body Issue — prepare yourself for some amazing and much-needed wisdom.
1. Greg Louganis Proving That The Term "Past Your Prime" Is Outdated
In the world of sports, many athletes are expected to hit retirement in their 30s, when a body allegedly begins to wear down. It's often believed that our 20s are our prime, and those who begin to get closer to their 50s should blend into the shadows as if discarded.
Greg Louganis — who is a two-time Olympic Games gold medalist and Olympic diver — shows just how ridiculous that idea is. Sporting abs and a body at 56 that would make Tina Belcher sigh lustily, Louganis single-handedly destroys the notion that those "over the hill" are somehow condemned to a life of failing and feeble bodies. As Louganis told ESPN, "When I look around at my contemporaries, I'd say I'm probably in better shape than most of them [laughs]."
While his glistening muscles are something to tip your hat towards, his physique isn't the point. The message is in the strength behind it — meaning that if you don't want to be boxed in by society's harsh expectations on body types (whether you're a certain age, body weight, or shape), then don't be.
2. Allysa Seely's Paratriathlete Representation
Allysa Seely isn't just a paraathlete, but a paratriathlete, meaning she swims, bikes, and runs in one race. This, to me, is completely inspiring, especially considering how she first began competing in triathlons as an able-bodied athlete.
According to Team USA, Seely developed neurological symptoms soon after her freshman year at Arizona State, as a result of her brain becoming herniated to her spine. This led to a spinal cord injury that left doctors amputating her left leg below the knee. Instead of having her unfortunate circumstances slow her down or make her turn away from her body, she embraced her new form and became a world champion.
3. Vince Wilfork Proving That Heavyset Does Not Mean "Lazy"
Oftentimes there's a stigma in our society that a heavier-set figure will always belong to someone who's lazy or nonathletic. Vince Wilfork — the NFL nose tackle for the Houston Texans — dispeled that myth in this 2016 Body Issue. He shared with ESPN, "A lot of people look at me as a big person. Some people consider me to be obese. Some people consider me fat and sloppy. But I think this shoot will give people a different look at what I am. Everybody knows that I have a big stomach, but I think sometimes that overshadows everything else on my body — from my calves to my back to my shoulders to my biceps, you name it. What people go to the gym and work for, I have."
Not only does he explain that he works equally as hard as his other teammates in building his body, but he hopes that his message will inspire those athletes — both amateur and pro — who have a similar form to him.
He explained, "If people can look at me, a guy that's 325-plus, doing an issue like this, I'm pretty sure that they might have a little confidence." And confidence and self-love this man has.
4. Christen Press Learning To Love The Power Of Her Body
Even when we see a ripped specimen of an athlete, that doesn't mean that person isn't still insecure about their physique. Take Christen Press, for example, a Chicago Red Stars forward. A champion soccer player, she has long, sinewy muscles that are strong and impeccably cut. Yet she still battles with insecurities.
Press explained to ESPN, "In this day and age, it's really hard for women to love their bodies. I've always wanted a more perfect body." But that doesn't mean she hasn't worked through it. Press shared the turning point for a more positive outlook, stating, "I've spent a lot of time being insecure about my body, but it's done so much for me. It's my tool, my vessel for my job. I'm very grateful for the way that I feel when I play — I feel very powerful, I feel fast, I feel unstoppable, and that's because of my body." By embracing the power of her body, she was able to appreciate it all the more.
5. Courtney Conlogue Embracing Her Thighs
As one of the world's top-ranked surfers, Courtney Conlogue has to keep a powerful body in order to maneuver extreme ocean waves. And as a result, she's developed strong, hard thighs that aren't necessarily seen as "attractive" by the narrow beauty standards of society. Conlogue confided with ESPN, "For me, there was a long time where I was a little self-conscious because I was an athlete. I had huge thighs because I was weight training and doing all of these deadlifts with resistance and squats... I didn't look like what I thought you needed to look like for surfing."
But since then, she's learned to embrace her body. Conlogue explained, "I like that I've made my body for a purpose... I learned to and what I look like as an athlete, to be strong about who I am and feel good about what I am, embrace who I am." Those are inspiring words for anyone who's ever had a tumultuous relationship with their legs.
6. Greg Louganis Recognizing That Disease Doesn't Have To Defeat You
While fighting a life-threatening disease can be incredibly difficult, Louganis shared that it doesn't have to break you. As both an LGBTQ rights activist and HIV-positive man, his love and determination for his body are an inspiration. He shared with ESPN, "HIV has helped motivate me mentally and physically. I look at working out and doing something physically active every day as being as important as taking my meds. That's just a part of my health and wellbeing." Not only has the disease helped motivate him, but it also gave him strength.
He offered, "I try to live by example — being gay, being HIV-positive — you know, life goes on. HIV taught me that I'm a lot stronger than I ever believed I was. Also, not to take anything for granted. I didn't think I would see 30. And here I am at 56." Although many in his position might turn away from their bodies and view them as a vessel that has betrayed them, Louganis shares the view that learning to live with disease might actually make you stronger.
7. Chris Mosier Becoming Comfortable In His Body As A Transgender Man
Chris Mosier is a duathlete and the first known transgender athlete to qualify for a U.S. national team, according to ESPN. Before transition, Mosier would use fitness as a tool to feel more comfortable in his body, stating, "I didn't feel very connected to my body. So I could lift weights or run and slim down a little bit or gain muscle in different places and feel a little more masculine or a little more comfortable in my body."
But now he's in a place that feels a little more authentic. He shared, "I have wanted to be in the Body Issue for over a year. I think the reason I felt so inspired to do it is that I'm finally at a place where I feel very comfortable with my body. And as a trans person, being in a body that didn't really fit me for 29 years, now I feel very comfortable in my own skin." Seeing a transgender man embrace his body and find, at long last, comfort in it, is truly inspiring.
Whether by finding peace in their bulky thighs or learning to embrace a body that has evolved, there were some great positive body image moments in this year's ESPN Body Issue.
Images: Courtesy ESPN Magazine Body Issue photographers Benedict Evans, Peter Hapak, Richard Phibbs, Carlos Serrao, Steven Lippman (2)