Where To Buy The Quay x Chrisspy Collaboration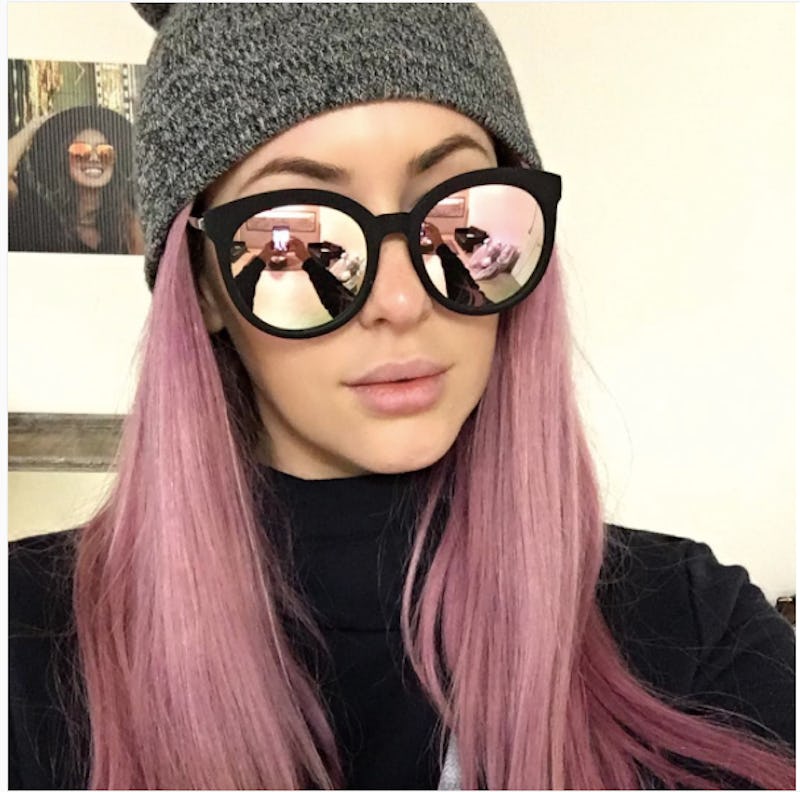 Looking for a new way to up your summer accessories game? You're in luck — YouTube star and makeup artist Chrisspy's collaboration with Quay eyewear are affordable, cool and still available online. The brand (which is actually pronounced "key" — who knew?!) is a Kylie Jenner favorite, and has created three styles that embody Chrisspy's down-to-earth glamour girl persona.
The line includes a range of eye-catching pink and blue reflective lenses, and has something for everyone. In one of her YouTube videos, Chrisspy revealed to her 1.5 Million subscribers that her favorite pair of sunnies from the collection are the "Mila" oversized shades. They are a sporty combination of square, blue lenses with tortoise-shell frames, and Chrisspy loves them because they are "so big you can just hide behind them," and are perfect for days when you have to run out of the house with no makeup on (though I can't imagine that such an incredible makeup artist does that very often).
The collab has been around since April and is sold out on most sites (including on the company's own website, QuayAustralia.com), but there are a few places where these chic sunnies are still available. Check out where you can still get sunglasses from the Chrisspy x Quay collaboration, and order them before they're all gone!
1. LoveCulture.com
Quay X Chrisspy Jet Lag Sunglasses in Rose, $59.95, LoveCulture.com
The black and pink contrast on these oversized sunnies is sure to get you a ton of compliments at the beach.
2. New York Glass
Quay X Chrisspy Gemini Rose Gold/Pink Sunglasses, $55, NewYorkGlass.com
Quay X Chrisspy Gemini Black/Pink Sunglasses, $52.95, NewYorkGlass.com
These updated, feminine aviators come in two different colors — a perfect match to any summer outfit.
3. ASOS
Quay Australia x Chrisspy Mila Oversized Mirror Sunglasses, $64.70, ASOS.com
These blue and tortoise shell specs will look cool driving with the windows down and radio blasting on your next road trip.
Images: QuayAustralia/Instagram; Courtesy of Brands