11 Ways To Make Exercise More Comfortable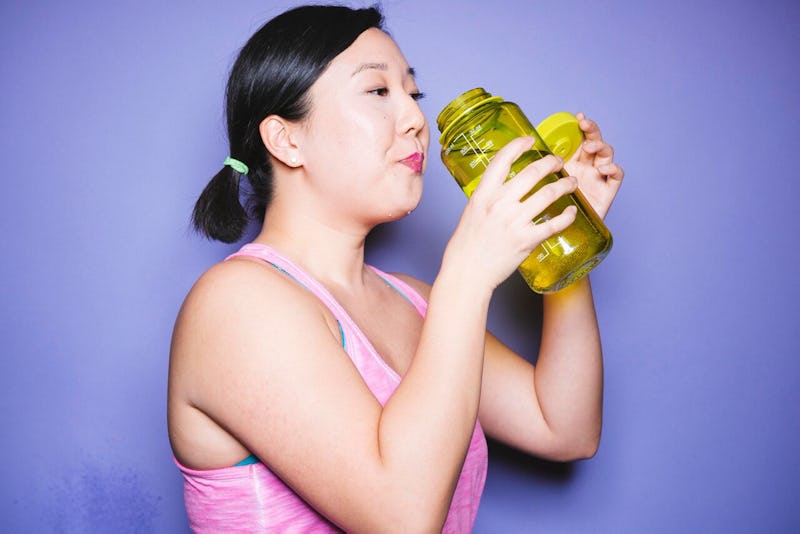 Exercise isn't always easy. That's why they call it "working" out. So when we actually commit to doing it — to the sweating, the straining, and the post-workout soreness — we ideally want to make it as comfortable an experience as possible.
Because if you're like me, you don't just associate exercise with "feeling the burn" and an awesome post-workout endorphins rush. You know that it also entails things like chafing, body parts aching, foot soreness, and a variety of other relatively minor, but hugely annoying little details. Sometimes I find myself actively avoiding a work out altogether because of all the major and minor unpleasant details I've come to expect from it.
It's a negative cycle, especially because I also know I generally feel a lot better when I'm consistently active. I find exercise helps calm my generally over-active mind, as well as helps me sleep better at night, so I know that exercise avoidance because of certain discomforts is a major catch-22.
If all of this is sounding relatable, or you're an avid exerciser whose just interested in upping your work out game, here are 11 tips that should make working out regularly way more comfortable.
1. Wear The Proper Bra
High Support Plus-Size Sports Bras, $30, OldNavy.com
On her website, personal trainer Kayla Itsines stressed the importance of proper breast support when exercising. "Despite the fact that many people think sports bras are just there to look pretty, or are only useful for larger chested women, they are a crucial part of your workout wardrobe. If there is one thing (apart from sneakers) that you should spend your money on, then it is definitely a sports bra," she wrote. She also noted to consider whether you'll be doing high or low impact exercise and invest in a bra catered to the specific activity.
2. Prevent Chafing Before It Begins
Gold Bond Friction Defense, $5.61, Jet.com
If you deal with inner-thigh chafing, or chafing anywhere else on your body, then you know it totally and utterly sucks and can even make you miss a day of working out altogether. Fortunately, there's a relatively simple and cost-efficient solution: just rub vaseline or anti-chafing lotion on your problem spots before a workout and you'll drastically reduce the issue.
3. Don't Skimp On Footwear
In a piece for The Huffington Post on what to consider when buying running shoes, Mary Arnold of JackRabbit Sports said, "Every time you put your foot down while you're running, imagine that weight times three, because that's the amount of force you're generating when you're running no matter how fast or slow you're going." She went on to note that without the proper footwear to mitigate that force, you'll be way more likely to incur a stress-related injury over time. So always invest in high quality footwear and always replace as needed!
4. And Consider Shoe Insoles
Dr. Scholl's Heel Pain Relief Orthotics Women's, $8.85. PharmaPacks.com
In a piece for Runner's World, Jamie Mieras, a podiatrist in Boulder, CO, said simple shoe inserts can do wonders for absorbing shock and making exercise more gentle on your whole body. She also noted that if arch support is your problem, make sure you can't press down on the arch of an insole with your hands, since it definitely won't withstand the force of your feet.
5. Plan Your Workouts Around Your Body
This is a personal tip. I spent years of my life trying to work out in the morning, and time and time again I found that my body was just too stiff to really get the most out of it. However, whenever I'd workout after work I always found that I was was looser and more prepared to push myself. It eventually led me to just change up my routine entirely and workout in the evenings. Listen to your body and do what works best for you!
6. Invest In Sweat & Odor-Proof Workout Clothes
Women's Sweat Proof Hydro-Shield Bamboo, $29.99, Thompsontee.com
OK, if you're like me another part about working out that you loathe is how gross your clothes get after a workout (and let's not even talk about the gym bag). I've found that investing extra money in sweat and odor absorbing fabrics makes the entire to-do way more pleasant and allows me to prevent washing my workout ensembles an extra day or so (and if you live in an apartment and don't have in-unit laundry, this is everything).
7. Reframe Your Mental Perspective
In a study featured in Shape, researchers found that when study participants reframed their perspective on minor discomfort, their level of pain actually changed as well. For example, if you're experiencing a bad cramp but still have several more miles to go, remind yourself that the cramp isn't causing any serious damage. They also said to try to imagine that the cramp is less bad than it actually is. According to the study, this can genuinely help decrease pain!
8. Ease Into it
In a piece for Prevention, personal trainer and nutrition expert Ashley Pettit reminded us of the importance of easing into exercise if we haven't done it in a while. She said to track your normal activity level for three days, and then set a goal to do a little more for the next three, and so on and so forth. That way you'll be doing more than you were before without feeling totally decimated.
9. Consider Aqua Aerobics
In that same Prevention piece, personal trainer Alison Heilig recommended low-impact exercise whenever possible, and noted that water aerobics is a super awesome way to get in a workout. You get all the benefits of high-impact exercise without any of the uncomfortable drawbacks.
10. Plan Your Jams
According to a study featured in Scientific American, people generally workout for longer when they're listening to upbeat music — without even realizing it. And my personal tip is to create your ideal workout mix before starting your workout so you're not fumbling with buttons.
11. Focus On Recovery
On the eHowFitness YouTube channel, personal trainer Taylor Robbins noted that one of the best ways to prevent post-workout soreness is to fuel your body with nutritious foods, get enough sleep, and even take a cold bath to reduce inflammation if possible. This can drastically affect how you feel post-exercise.
Working out is hard enough already, so don't make it any harder on yourself by not preventing super avoidable discomfort. Use the above tips and start enjoying exercise more!
Images: Pexels (8)