McDonald's Is Selling Sriracha Big Mac Sauce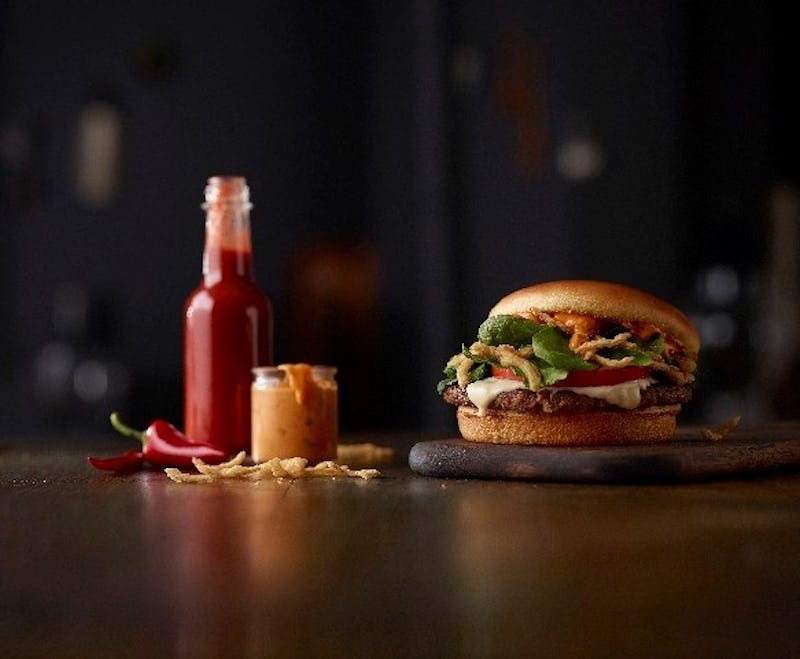 The beloved "secret condiment" of those "in the know," McDonald's Sriracha Big Mac sauce is a thing you can order now, and it seems like the rooster has officially jumped the shark. The bright red chili sauce staple of Asian cuisine is infiltrating your burgers in the form of a spicy meets tangy "signature Sriracha Big Mac sauce," according to a recent McDonald's press release.
We knew as far back as 2013 that it would one day come to this. The buzz-worthy sauce that sells 20 million green-capped bottles annually has hit it big since introducing the sauce to the states in 1987. We have seen Sriracha break out of its bottle as a flavor for potato chips, beef jerky, candy canes, lollipops, you name it. Now look where our obsession has taken us — pouring Sriracha on our fast food sandwiches (granted, it does make everything better).
The new sauce that is made by combining Sriracha with McDonald's signature Big Mac sauce (basically fancy thousand island dressing) is also being advertised as "awesome sauce." That's right, McDonald's appropriated another well-worn phrase beloved by Millennials.
But the hipster-ness doesn't stop there — with the new sandwich offerings you can even customize your order. Choose from a beef patty, Buttermilk Crispy Chicken, or Artisan Grilled Chicken, and then slap it on an artisan roll, sesame seed bun, or potato bun.
The press release announces that the toppings on your Sriracha burger will also be unique. According to McDonald's, the "Signature Sriracha sandwich includes an exclusive Sriracha Big Mac sauce, paired with white cheddar cheese, crispy onions, baby spinach & baby kale and a tomato slice." That's right — baby kale. McDonald's calls it "a different approach to lettuce," which makes sense, since kale is actually a member of the cabbage family. The press release also states that by using this bold superfood, customers will find that it balances out the spice of the sauce (in case your tongue can't handle all that flavor).
As much as I would love to try this fast food experiment, sadly, it is currently only available to West Coast locations. The people of San Diego and Los Angeles have been enjoying their Sriracha/Big Mac mashup since June 20, and starting tomorrow, Seattle residents will get it for a limited time. But whether you live in Cali or not, as anyone who has ever enjoyed Sriracha mayo knows, McDonald's sauce will probably taste just fine.
Images: McDonald's, Burger_Business/Twitter