13 Surprising Ways To Stay Motivated At Work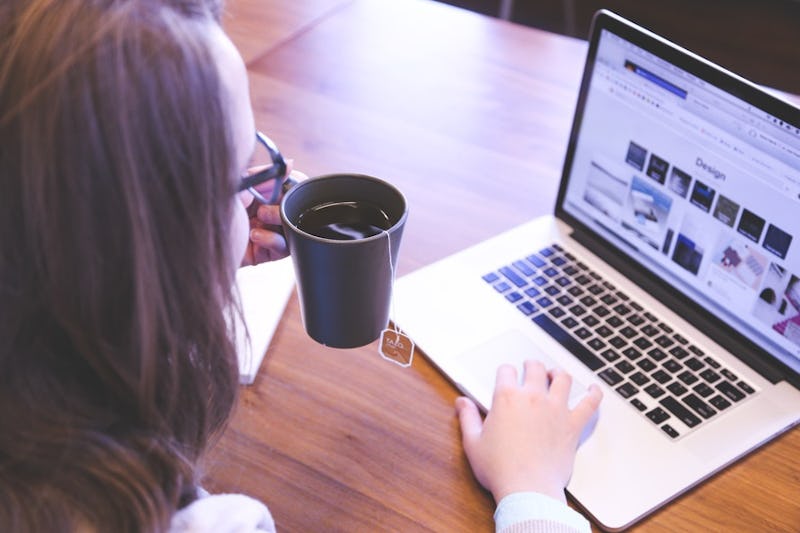 Certain people find remaining focused at work to be a very simple task. For others, though, motivation can seem really difficult to achieve. There are some strange ways to stay motivated at work that it seems those super-inspired people have managed to ace. These tricks can quickly and easily bring your motivation level from 0 to 100 if you decide to practice and commit to them. Not only might you then notice how much you're progressing at work, but your boss might quickly begin taking notice as well.
Perhaps you're the person who is in love with their job. You love the work, the people, and the actual office space. However, at least a couple of times a week you find your motivation level has sunken far too low, and you can't seem to get anything accomplished. Not only that, the things you are accomplishing are low quality work, and you know it to be true. Yes, loving your job helps in keeping you motivated, but it's not everything. Sometimes our brains can start to wander to different places and — before we know it — we don't have an ounce of inspiration left in us to continue on with the day. What can you do? Luckily, there are steps you can take to get the motivation up to where it needs to be. The little tricks we'll talk about here can be helpful in turning your day from, "Will I get anything complete?" to "I'm about to take on the world (or at least this office)!" Here are 13 strange ways to stay motivated at work.
1. Commit To Doing Your Best
To get started, wrap your mind around the commitment to getting motivated. According to Forbes, if you want to do the best you can do at work, you need to not only commit to being motivated to do so, you should also commit to getting your job accomplished in an above-and-beyond manner. The outlet noted the only way to expect good results at work is to make it your mission to get those good results.
2. Set Up Goals Digitally
Now that you've committed to keeping yourself motivated, let's talk about how you can get this motivation flowing. American Express' blog discussed the importance of tapping into the digital age with goal setting as a means of getting motivated. This means trying out "commitment trackers" like GoalsOnTrack, Stridesapp or Beeminder, the outlet suggested. These apps will help you establish your long- and short-term goals, and will keep you on the pat to achieving them by making you accountable.
3. Make A Great To-Do List
With your broader goals in place digitally, you might now consider taking pen to paper to make an excellent to-do list for today. For tips on making the best to-do list possible, check out this separate article I wrote specifically on the topic.
4. And Watch As You Tick Items Off It
According to CareeRealism.com, once that to-do list is made you'll get extra motivation by ticking off the items as you complete them — and by glancing back at the list/items you've checked off as the day goes on to see what you've completed.
5. Take Breaks
If you're someone who has completely jammed days from start to finish at work, it might seem borderline impossible to find time to take breaks. However, taking these breaks is actually quite essentially to keeping yourself motivated throughout the day, according to Fortune. The outlet suggested trying to take time during the day to physical walk away from your desk and remove yourself from whatever it is you're working on. This could mean heading outside for a stroll, or simply walking to the office kitchen to refill your water container. Regardless, when you get back to your desk you might feel more energized and refreshed.
6. Ask For Feedback
Feedback can be scary, but it can also be incredibly motivating. According to TheMuse.com, if you've done well, the feedback can serve as an ego boost (and, therefore, motivator). If your work is lacking in certain areas, the constructive criticism can push you to amp up your work and continue to do better.
7. Don't Focus On The Things You Can't Control
In all aspects of life, it's never a good use of energy to spend our time focusing on the things we simply cannot control. Work is no exception to that. To stay as motivated as possible, Huffington Post suggested omitting those uncontrollables from our mindsets as focusing on them could impede our progress at work on the broader scale. Rather, worry about the things you do have power to excel in, and use your energy on those.
8. Set Up A Reward System For Yourself
Bribing yourself can be a great thing when it comes to remaining motivated at work. Inc. spoke to analyst Deepak Singh who suggested, "For example, if you want to read a book, set a deadline and a reward. Say, if you love ice cream, you could eat some as soon as you finish the book." The outlet noted this type of incentive could be incredibly effective.
9. Consider The "Why?"
Yes, you need to complete a certain task today, but why? Business Insider recommended asking yourself "Why?" as a way of upping your motivation to get things done at work. According to the outlet, this lets you stay in touch with the reasoning you're doing something, or the "vision" behind the work, so to say.
10. Jazz Up Your Work Wardrobe
Go shopping for new work clothes… don't have to ask me twice! According to the Houston Chronicle, dressing the part at work can help you remain focused in the office. Head to your favorite store and pick out some new things — it'll work as an incentive to get your work done in an excellent manner.
11. Hang Out With Your Colleagues
Sometimes when we're with certain people all day at work, the last thing we can think about is spending even more time with them after work hours. However, hanging out with your colleagues both in and out of the office can be a work motivator, according to Fortune. Why is this helpful? According to the outlet, being around others you work with means you might just find added inspiration to do better at your job. They might also help you to come up with new ideas, troubleshoot an issue you've been having, set new goals for yourself and/or your team, and the like.
12. And Have Them Peer Pressure You A Bit
Those colleagues can also be helpful to have around for motivation for positive peer pressure purposes, according to TIME. The outlet cited a research that shows peer pressure can help more than hurt when it comes to performance.
13. Use The Power Of Positive Words
If you've heard before that positive affirmations can be beneficial, you've heard correctly. The Huffington Post suggested saying out loud what you want to happen to keep yourself motivated to make it happen, or write it out and hang it somewhere that's visible to you every day. So, if you're trying to conquer a huge, difficult project, try writing a Post It that says, "You've got this!" and sticking it on your computer monitor.
Sometimes inspiration can seem really lacking at work. However, by trying some of these tips for getting motivated, you might quickly find some positive changes happening at the office sooner than you know it.