7 Important Photos Of Alton Sterling & His Family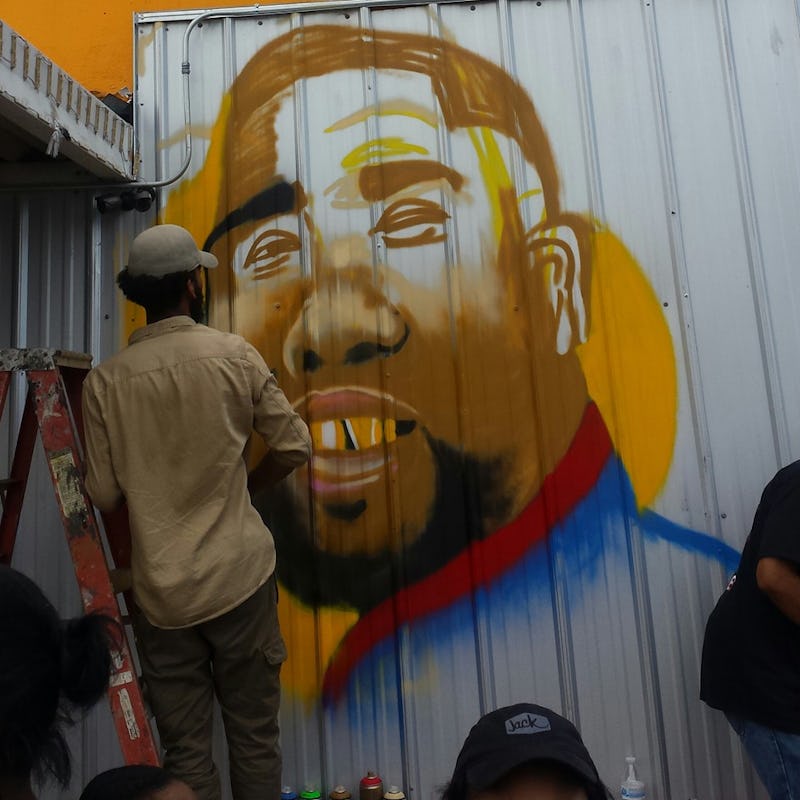 It's happened again. White police have, once again, killed a Black man for seemingly no good reason. This time, the victim of fatal police brutality was named Alton Sterling, and it's critically important to show photos of Sterling the way he'd want to be remembered.
Early on Tuesday, July 5, while much of the country was still celebrating Independence Day, officers Blaine Salamoni and Howie Lake of the Baton Rouge, Louisiana, police department shot and killed 37-year-old Sterling. Sterling had been selling CDs outside of a convenience store when officers responded to a disturbance call whose suspect fit Sterling's description. Soon after, Black Twitter responded to the incident when bystander footage of Sterling's death went viral, showing both officers pinning Sterling to the ground and executing him at nearly point-blank range after one of them screamed, "He's got a gun!"
In the ensuing day, #AltonSterling began trending as Sterling's family spoke out. Some media outlets began to publicize Sterling's criminal record in what seems to some like attempts to justify his murder. But people took to the streets to protest this senseless killing and express their grief, outrage, and sense of fear as Sterling became the 558th person killed by police in 2016.
As news reports and editorials about about Sterling's murder, police accountability, and police brutality in general, come forward, it's important to remember that he was, as his family said in their press conference, "killed without regard for the lives he helped raise." Below are photos that show Sterling as he should be remembered: A father and family man with a sweet, easy smile.
He Loved His Children
Seeing photos of Sterling with his kids next to their baby pictures is a stark, heartbreaking reminder that officers Salamoni and Lake didn't just take one life, but they also inextricably damaged many others.
He Had A Big Smile
This image of Sterling smiling wide in a sky-blue polo has been shared countless times around the Internet. Paired with the other viral imagery from this story, of grainy nighttime cellphone footage showing cops pinning him to the ground, it's important to show the former.
His Family Loved Him
Sterling's cousin Sharida has been heavily quoted in articles about Sterling, saying he'd never pull a gun on police because he'd be too scared to do so. She shared this image of them when they were younger (Sterling is in the middle-bottom of the photo), showing how much she and their other family members loved him.
He Cared About Being Stylish
Sterling's Facebook account, which has since become a tribute page, shows numerous photos of a haircut Sterling received which showed a shooting star shaved into the sides. He clearly cared about his style, and wanted to show it off. Just like you or I would when posting a photo.
He Took Photos Of His Son While He Was Sleeping
What parent hasn't taken photos of their kids looking adorable while sleeping? Sterling loved his kids, and you can tell by the joking way he posted this sweet photo of his son, who resembled him, sleeping.
He Liked To Pose With Him, Too
Posted very soon after Sterling's family received news of his death, this photo shows Sterling and his son, who was seen on CNN crying next to his mother, posing for a photo.
His Family Is Mourning Their Loss
In another poignant photo posted by Sterling's cousin Sharida, two children hold a photo of Sterling with somber expressions. Even as this event affects the lives of the thousands expressing outrage online and in the streets, nobody is as hurt as the Sterling family.
These photos show a fun and nuanced individual. While countless other images will be shared for the duration of the #AltonSterling news story, showing photos shared by Sterling and his family are of paramount importance.