How To Walk In Wedges Without Breaking An Ankle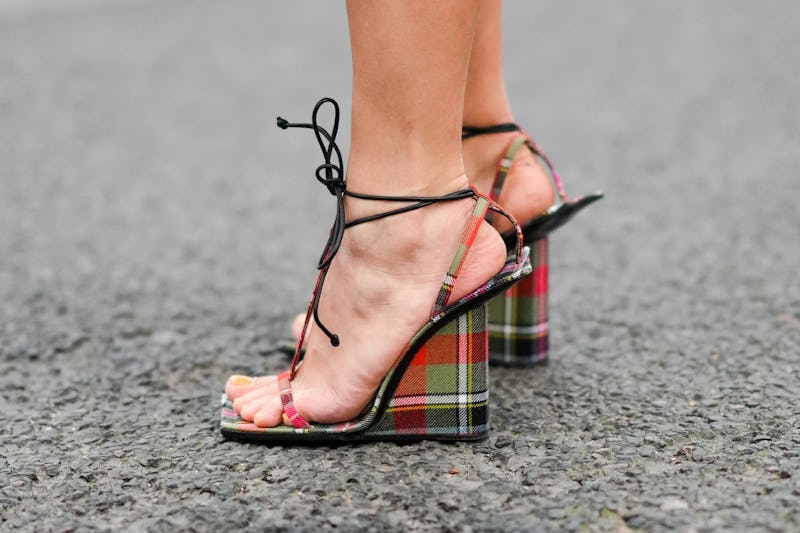 Edward Berthelot/Getty Images Entertainment/Getty Images
The easy solution when you can't decide between heels and flats for a summer event: wedges. They are comfortable and chic, and go with pretty much everything. Except despite how comfortable they are, they are secretly really hard to walk in. Like all uncomfortable fashion problems we face in our daily lives, there are a few tricks of the trade for how to walk in wedges the right way. Just because they're comfortable doesn't mean they aren't dangerous (hello, broken ankles) so it's necessary to learn to walk the right way in wedges so you don't hurt yourself.
First and foremost, the most important thing is picking out the right shoe. When selecting a wedge, your best bet for comfort is to find a pair where the front (otherwise known as the "pitch") is only slightly less elevated than the back (the "heel" ... duh). Because the height between your toes and your heels is reduced, the shoes won't feel as high, which will inevitably make them less painful. Basically, the straighter the platform, the easier the shoes are on your arches and the better they are for your feet. Thicker heels also tend to be easier to walk in than thin ones, so wedges have a leg up (excuse the pun) on, let's say, stilettos.
Once you've selected the wedges you want, there are a few other things you can do to make walking in them a lot easier.
1. Start Small
Ancient Greek Alethea Wedge Sandals, $385, ShopBop
If you aren't used to being in high heels, you can't go straight for the big leagues right away. Start with something small — two, maybe two and a half inches — and work your way up as you become more used to the feeling of being raised off the ground.
2. Remember: Size Does Matter
Faux Suede Espadrille Summer Wedge, $42, Express
You're not the ugly stepsisters from Cinderella. Squeezing your foot into a wedge that is too small or swimming in one that is too big is simply not acceptable. Plus, it's dangerous — wearing the wrong size shoe makes you more apt to hurt yourself. To ensure you're selecting the right fit, get your feet measured once a year, and shop for shoes at night when your feet are swollen and at their biggest.
3. Cushion Correctly
Dr. Scholls Dream Walk Ball Of Foot Cushions, $3.49, Jet
Any sort of high heels — wedges included — can really damage your feet, so it's important that you have proper support whenever you wear them. Try a pair of shock absorbing cushions, like these ones from Dr. Scholls, to keep your feet comfortable and protected throughout the day.
4. Learn To Walk The Right Way
Steve Madden Sailboat Wedge in Multi, $70, Steve Madden
No, I don't mean like the girls on Project Runway trying to perfect their runway struts. When wearing platform wedges, women tend to slam their foot down all at once because their heel and toe and in such proximity. This, however, could result in a twisted, sprained or broken ankle. In order to prevent injury when wearing wedges, push your hips forward and engage your core, and step in a heel-toe manner. You can totally count this as your daily workout, by the way.
5. Choose A Pair With A Back Strap
Aldo UNIDDA Wedge, $45, Aldo Shoes
Considering how annoying walking in flats with no backs is (the annoying flip-flop sound that mules make when I walk has me sworn off of them forever) doing it in heels is extra, extra challenging. When wearing backless wedges, your toes start to curl in an attempt to keep the shoes from slipping off, which can throw off your balance or cause cramps in your foot. Choose a pair of shoes with a full back, or at the very least an ankle strap, to ensure that they are securely attached to your foot.
6. Scuff The Bottoms
Alice and Olicia Janaya Sandal in Lemon/Natural, $325, Revolve
Slippery shoe bottoms are more apt to fall out from under you, whether you're on a slick wood floor or a concrete sidewalk. To combat this, rub sandpaper on the bottom of your shoes to give the soles more traction. (I know, it's painful. Especially if they're Louboutins.)
7. Practice, Practice, Practice
Women's BP Summer Wedges, $39, Nordstrom
You may feel ridiculous parading around your living room in pajamas and a pair of five-inch wedges, but the only way you'll truly master the art of wedge-walking is if you practice.
Images: Edward Berthelot/Getty Images Entertainment/Getty Images; Courtesy of Brands