Signs Your Job Is Perfect for You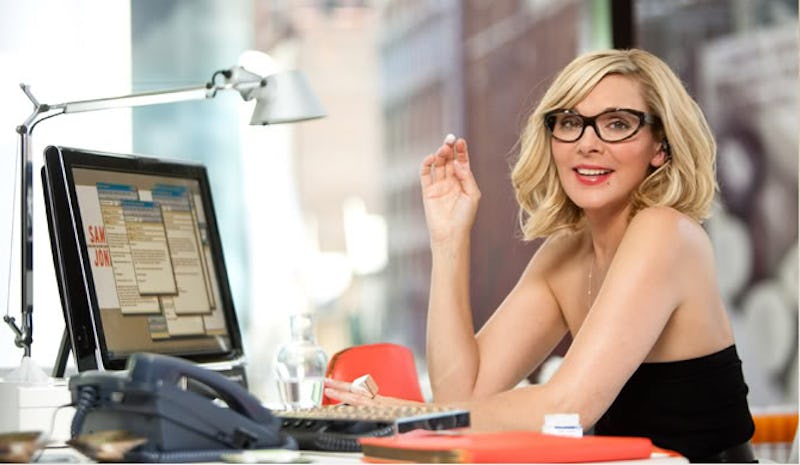 With the average American spending 9-10 hours a day at work so 40-50 a week, it would be nice to find a job where you aren't miserable. In fact, it would be really great to have a whole career that makes you happy, but finding that — and realizing when you have — isn't always easy.
According to a 2012 report released by Gallup, there are twice as many "actively disengaged" workers in the world as there are "engaged" workers who love their jobs. And in the U.S. in particular, 52 percent feel pretty blah about their job and 18 percent actively hate them. But 30 percent are quite happy when it comes to work. If you're lucky, you are part of that 30 percent, but thanks to self-doubt or the grass always looking greener elsewhere, you may not even know it. Here are seven signs you have found your calling.
1. You don't get the Sunday blues.
"A clear sign you like your job is that you don't have Sunday night anxiety," Megan Broussard, founder of ProfessionGal, a career site for women, told Bustle. "People in jobs they hate often spend the whole weekend stressed because they're dreading work on Monday. If the extent of your Sunday depression is, 'Ugh, I'd so much rather watch 20 episodes of Scandal tomorrow than work,' you're doing well."
2. You don't mind putting in extra effort.
Every job involves annoying and challenging tasks, but you realize that is just a part of the bigger picture and you sign up for extra work. Simone N. Sneed, founder of Advice For A Brilliant Life, an online destination for socially conscious professionals who want to excel, told Bustle,"If during challenging times you find yourself digging in and stepping up rather than opting out, you've found a career that you love."
3. You are one with your company.
Broussard told us that you know you're on the right path when "you feel like the company you work for is your own, and you truly feel the ups and downs of the work you do because you truly care."
4. You can finally afford the things you want.
Of course, if you truly are happy in your career, money usually isn't the reason, but it can be one of them. It is great when you have a job that allows you to live the lifestyle you want, or at least get close to it.
5. You talk about your job all the time.
If you've ever hated your job, you know how much complaining career dissatisfaction provokes. But if you actually enjoy your job, you tend to be equally vocal about it. You know you're in the right gig, said Broussard, when "you are the only happy one at happy hour because everyone else is drinking to wallow after a bad day. You're pumped you're so lucky to do what you do." Just be careful about talking too much about how you love, love, love your career. All of those miserable people at the bar may not want to hear it.
6. You tell other people they should work at your company.
This is a big one. If you are truly happy with your company, you encourage other people to apply. You find yourself at brunch describing what solid people your coworkers are, the company's bright financial future, the value of its mission, and listing the many, many perks. (Did you mention the frozen yogurt machine?) Basically you talk about your job like it is your latest crush, says Broussard.
7. You're a little scared.
Nicole Williams, the bestselling author of "Girl on Top: Your Guide to Turning Dating Rules into Career Success," and Secret's Career Confidence Coach told Bustle, "Don't misinterpret nervousness and stress as [evidence of] being in the wrong job." It may be "due to the fact that you're really excited about performing well, feeling challenged or even a little out of your league. These are actually signs that you're in the right job," Williams said. Remember, it is always good to be a little scared in your career. Comfort can quickly turn to boredom. "If you don't feel a little nervous and stressed, it indicates that your job is not challenging enough or that you don't have enough passion for either the industry or company to make it work in the long run," she added.
The wrong job is more often packaged in boredom, a lack of stimulation and/or passion for what you're doing. A lack of emotional or intellectual investment is a sure sign that it's time to move on.
Image: HBO