Kylie Launches Lip Glosses To Match Her Matte Lips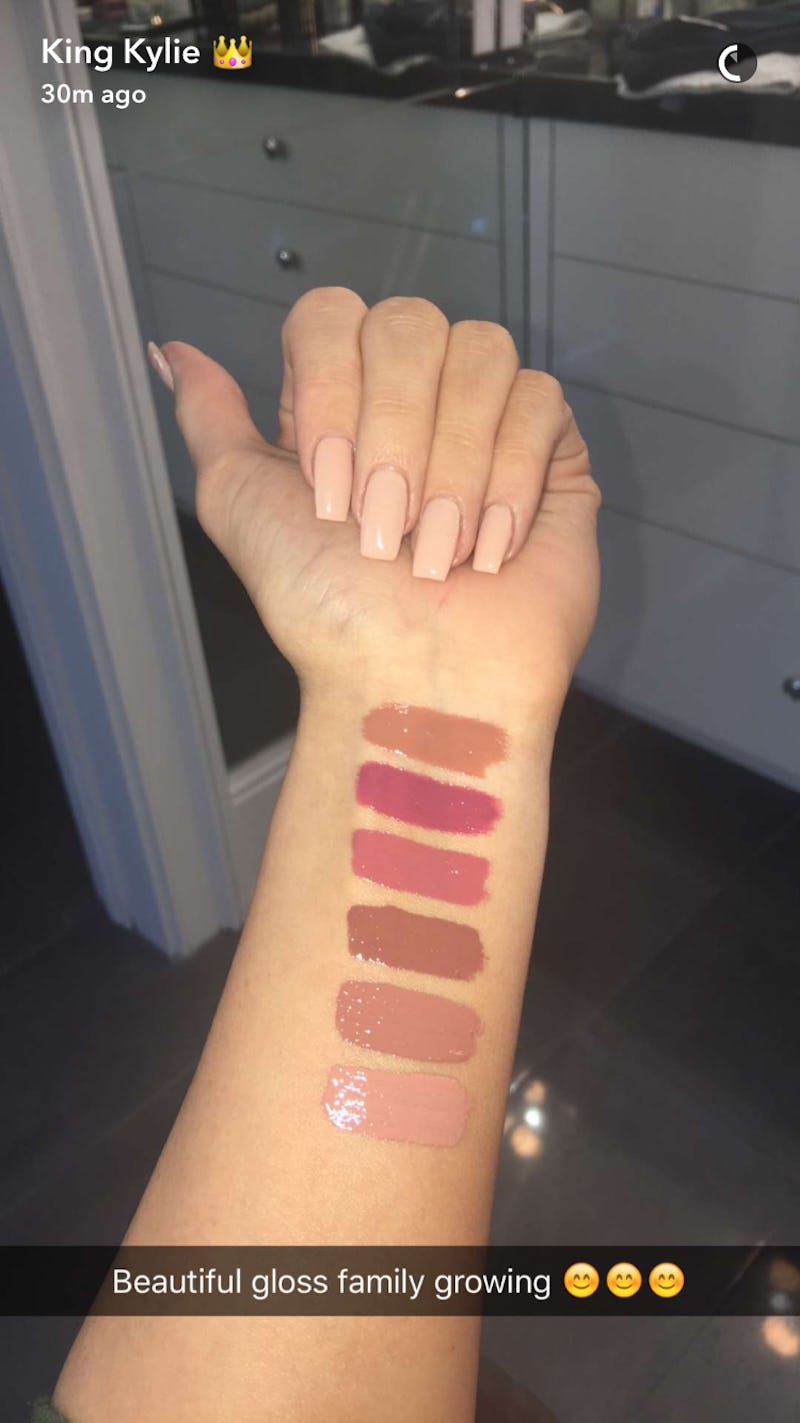 Lipstick lovers, listen up: Kylie Jenner's matte lip kits will come in glosses now, so if you're crazy about her hues, but not so much their finishes, you're in luck! Though — as history tells us, you may have a hard time getting your hands on one, considering they sell out all the time.
Luckily, Jenner announced that she'd be opening a real Kylie Cosmetics store and revamping up her inventory, making her notorious Lip Kits more readily available. Ask and you shall receive, people. It only took me months and months to finally get my hands on one, but hopefully, this promise of many more Lip Kits will be fulfilled.
On Thursday, Kylie took to Snapchat to make her announcement. This is no surprise, as most of her news about her Lip Kits and cosmetics line always break here. Makes sense that Kylie turns to social media, seeing as she's got five million followers on her Kylie Cosmetics page alone. That's a whole lot of dedicated fans.
After some funny Snapchats of her "first grey hair," Jenner showed off some swatches on her arm, asking her friend Stassie "Stass, tell everyone how excited you are for my new glosses." And of course, Stassie answers "I'm so excited, Candy is my favorite."
I'm excited too, tbh. Jenner then goes on to say that this will be her first surprise of July: Glosses that match her matte liquid lipsticks.
The top one is Exposed, then Posie K, then Candy K, although the fourth, Koko, isn't shown, because Jenner doesn't have it yet.
She then goes on to mention that these will go perfectly with her lip liners that she's releasing separately. Brilliant business move, I must say.
And here's how they stack up to the rest of the glosses she's already released.
Given the success of her previous Lip Kits, I have no doubt that these glosses will hit it out of the park. My favorite happens to be Candy as well. Next week, Kylie's making all of our gloss dreams come true.
Images: Snapchat