11 Game-Changing Storage Tips For Your Kitchen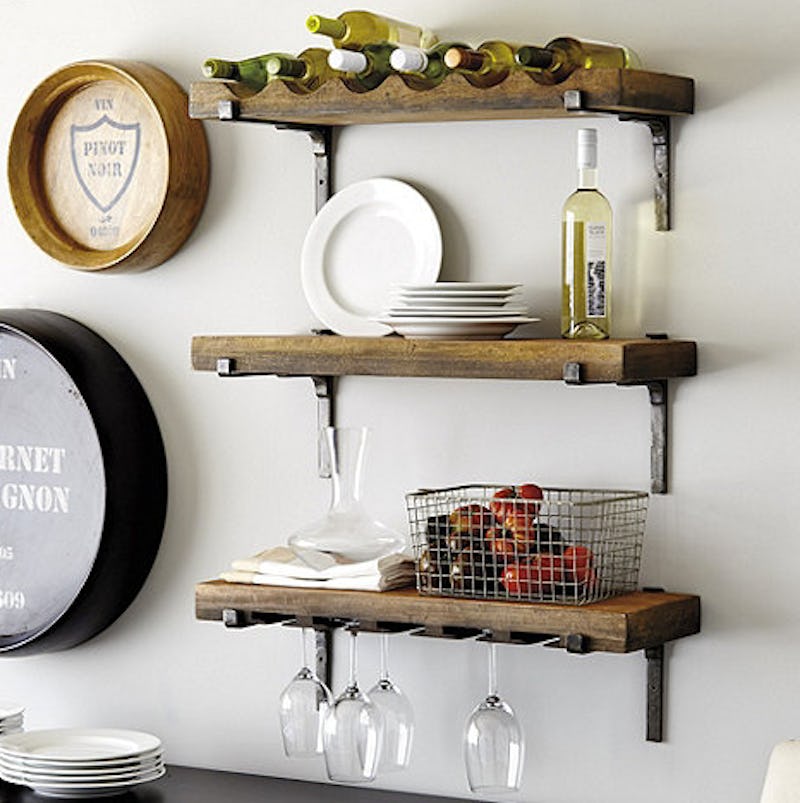 For most of us, the kitchen is a pretty important hub of our homes. Whether we use it as a central hang out space or solely for cooking, we can end up spending a lot of time there. It's why mastering a few kitchen storage hacks plays a huge role in maximizing efficiency in our lives. And any thing that creates convenience in our lives kind of helps us out by definition.
Storage hacks not only help to keep things organized, but if you're an apartment-dweller like me, they can also help you maximize a potentially cramped space, which is always a huge bonus. I personally have a very low tolerance for clutter and can be driven kind of insane by a disorderly work space, so I'm always on the lookout for ways to enhance my kitchen set up.
I also find that when I enjoy my kitchen space and feel like it's actually functional I'm just way more inclined to actually cook at home, which saves me a ton of money in the long run.
If this is sounding familiar and you're desperate for some solid kitchen hacks, here are 11 storage solutions that should majorly help.
1. Mount A Spice Rack On A Cabinet Door
3 Inch Door Mount Tray System, $22.94, KBHardware.com
A piece for Life Hack on kitchen storage suggested installing a spice rack onto the inside of a cabinet door so that it doesn't take up any counter space. And if you don't have any cabinets that are big enough, consider mounting it to a wall. It can actually look super cute!
2. Get An Over-The-Sink Cutting Board
Bamboo Over Sink Cutting Board, $19.99, ImprovmentsCatalogue.com
Life Hack also recommended getting a wooden board that fits over your sink that can serve as more counter space when you need it. This is awesome for small kitchens!
3. Get A Role Out Pantry For Tight Spaces
Slim Rolling Pantry. $32.98, Lakeside.com
Narrow, rolling pantries are perfect for otherwise unused spaces, like the few inches between your fridge and the wall. It's especially great for storing dry goods you like having around, but don't need everyday, like cans and pasta.
4. Use A Tension Rod For Cleaning Products
Springs Window Fashions Round Spring 18-Inch – 28-Inch Adjustable Tension Curtain Rod, $4.99, BedbathandBeyond.com
A Cosmopolitan compilation piece on maximizing spaces recommended installing a pressure rod under your sink so that you can hang cleaning supplies by their nozzles. That way, the rest of the under-sink space can be reserved for things like trash bags and sponges.
5. Use Curtain Rods For Pot Lids
Wraparound Curtain Rod, $52.48, JossandMain.com
This is a tip I see time and time again on Pinterest and I always think how much I could use it in my own, cabinet-scarce kitchen. Install curtain rods to your walls and simple place your pot lids in them — the handle resting on the rod should keep them firmly in place.
6. Use Vertical Wall Space
Vigneto Shelf, $99, Ballarddesigns.com
This tip from Good Housekeeping that leap frogs off the previous point. A lot of us forget that our wall space can also definitely be utilized for storage. Consider installing shelves where there aren't any, or even rods and bars to hang things like ladles and pots. You definitely don't need to be constrained by your cabinet space (or lack there of).
7. Use A Book Shelve As An Island
Kitchen Cart, $157.99, Wayfair.com
This is another super awesome tip from Good Housekeeping. You don't have to invest in a super fancy island to create more counter space — and let's be honest, if you have a small kitchen you probably don't even have the space. Instead, think about using a small book case or standing shelf. Use the top for counter space and the shelves for more storage.
8. Use Your Cabinet Doors For Measuring Cups Too
Hanging Measuring Spoon and Cup Hanger Organizer, $12.99, Etsy.com
Your cabinet doors can also be used to hang things like measuring cups and utensils. Just hammer in a few nails and hang away!
9. Use A Triangle Shelf For Under The Sink
Fretted Low Corner Shelf, $79.98, Pier1.com
A Real Simple piece suggested purchasing a triangle-shaped shelf to fit under your sink. This is especially useful if your have awkward piping that makes it hard to use a regular square or rectangular shaped shelf.
10. Keep Cutting Boards In A Basket
Cyprus Bins, $19.99, TheContainerStore.com
A compilation piece for House Beautiful suggested getting a pretty basket to hold items that might be hard to store or access in cabinets, like cutting boards. Keep them in a corner where you can easily grab them when you need them.
11. Get Containers If You Have Open Shelves
Square Montauk Kitchen Bins, $11.99, TheContainerStore.com
If you have a ton of open shelf space in your kitchen as opposed to cabinets that open and close, you may want to consider investing in multiple small storage bins so that everything looks neat and tidy. You can also label each bin for maximum convenience.
Your kitchen should be a place of convenience, not total and utter frustration. And the good news is there are plenty of storage hacks to help you out in that department. Now go enjoy your newly organized kitchen space!