This Honest Depiction Of Motherhood Is A Must-See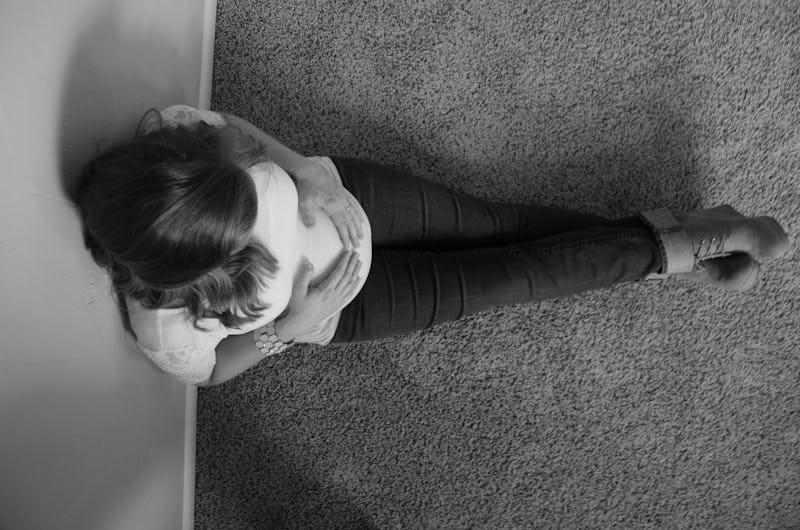 They say that a picture is worth a thousand words, but usually those words do not include "mesh underwear." One woman's honest depiction of motherhood has gone viral, reminding social media that it is important to keep a sense of humor when dealing with postpartum life.
On Wednesday, North Carolina mom Amanda Bacon, 28, shared a candid shot on Facebook which was taken shortly after giving birth. The photo shows her fiancé, Ken Hardy, happily cradling their newborn son, Pierson, in his arms and giving a thumbs-up to the camera. We have seen endless photos of proud new parents in the delivery room come across our feed, but this one is unique. In the background of the photo stands Bacon, clad only in what she describes in her post as a "giant mom diaper."
In the post, titled "Motherhood uncensored," Bacon acknowledges that this photo may make some people "uncomfortable," but reminds viewers that "having a baby is a beautiful experience, and the realities of postpartum life aren't spoken enough about. And definitely not photographed enough."
"I'm sharing this picture because it's real," she writes. "This is motherhood; it's raw, stunning, messy, and freaking hilarious all rolled into one."
Instead of ignoring these moments or sweeping them under the rug, Amanda believes that we should start a conversation. She writes that these real depictions of the trials of motherhood only make people squeamish "because this part isn't talked about." She goes on to write that "we all should try and educate, empower and embrace every aspect of childbirth, including moments like this. And do it while having a sense of humor."
In the two short days since posting, Bacon's photo has been shared nearly 120,000 times, and received 500,000 likes. Fellow moms have championed the post, relating their own postpartum experiences in the comments.
In a follow-up post, Bacon expresses her surprise and gratitude, writing, "Glad y'all can share in Ken (the hubs) and I's humorous moment, and you can appreciate the hilariously raw beauty that is postpartum life. It really means a lot to us. I never expected such a warm and well received response." Bacon's message is an important one. We should celebrate all the aspects of postpartum life, however uncomfortable, not only the beauty and miracle of childbirth.
"Why feel ashamed over something that's natural? It's just not spoken enough about, and I figured since the picture is both hilarious and honest, I'd go for it," Bacon told the Huffington Post, describing why she shared the photo despite initial reservations. "Let other women know it's normal, beautiful, and to find humor throughout the whole experience."
Bacon, who also has a 3-year-old daughter, knows well enough that motherhood is not all smiles, like those depicted by magazines and celebrities. "A lot of people are appreciative that I showed this side of it," Bacon told Today. "It's kind of an uncomfortable thing to share with people. It's not something you go chatting with your friends about. It's like an invisible notch on your badge of motherhood that we all go through."
Amanda Bacon is the realist mom of the week, and yet another reason that millennial moms rock!
Bustle reached out to Amanda Bacon and will update this post when we hear back.
Images: Pixabay, AmandaBacon/Facebook