Man Gives Wife Best Gift When She Finishes Chemo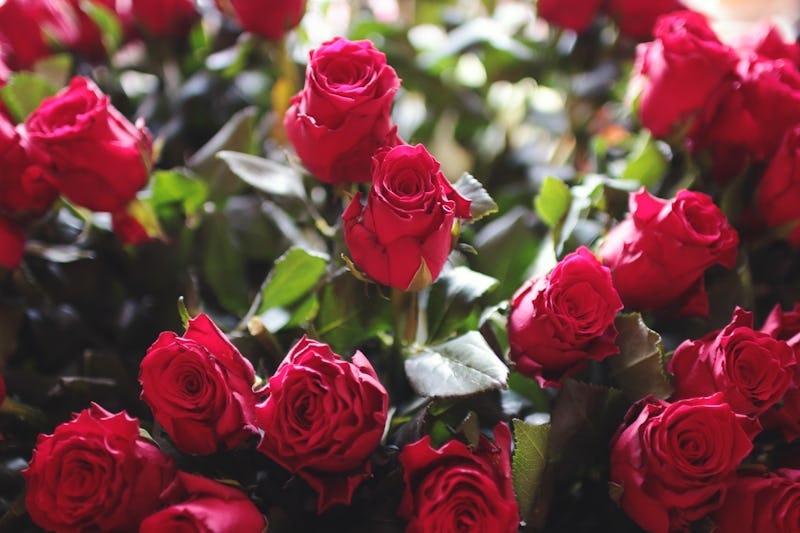 The most romantic thing anyone's ever done for me is bring me a bundle of bodega flowers, and take the time to peel off the $5.99 price tag. So obviously when I heard about this story where a husband gave his wife 500 roses upon the completion of her chemo treatment, I was like, yes. Yes! That's how it's done, sir! Romance is still alive and well, somewhere.
Granted, I've never exactly deserved 500 roses — I've never conquered cancer, won the Olympics, or saved someone's life, so I'm not complaining. Rather, applauding Brad Bousquet for treating his wife Alissa like the princess, superhero survivor she is.
And what's most amazing about this generous act, is that the gesture was not just a gifting of flowers that are too many to keep. Brad reached out to all of Alissa's friends and family and asked them to purchase a rose for $10, sending the proceeds to the Susan G. Komen Breast Cancer Foundation. Alissa was diagnosed with stage two breast cancer last winter and has spent the last year of her life in constant treatment.
When Alissa's friends and family pooled together more money than Brad had ever hoped to raise, she was overwhelmed with the support and love that surrounded her. And like any good husband of the millennial age, Brad caught it all on tape as Alissa's friends and family came into the chemo treatment room with boxes and boxes of flowers. Clearly they were too many to take home, so on the way out after Alissa was officially finished with her chemo, she and her husband passed out the flowers to other patients, spreading their love all around the hospital. Brad tells Bustle:
This whole experience has allowed my wife and I an opportunity to bring some beautiful from an other wise tough situation.
You can check out the sweetness here:
To caption the video, Brad let everyone know what he was up to:
Today is my wife's last chemotherapy treatment. She has amazed me with her strength, courage, and positive attitude through it all. She still has a few surgeries ahead of her but completing chemotherapy is huge milestone in her journey. I wanted to do something special during this last treatment to celebrate the end of her chemo and to show her the tremendous love and support she has from her friends and family. I also wanted to honor her fight against cancer by providing a donation in her name towards breast cancer research. To accomplish this I secretly sent a text to several of Alissa's friends and family. I asked them to help me surprise her by showering her in roses during her last treatment. I arranged for our local flower shop to take the orders. Each rose was purchased for $10.00 with all of the proceeds being donated to Susan G. Komen towards breast cancer research. I was amazed when the orders started rolling in! We quickly reached 100 roses, then 300 roses, then 400. When we reached 500 roses I told the flower shop to stop ordering roses and let all the remaining orders go entirely to the Susan G. Komen donation. Together over 170 families wanted to purchase roses and we ended up raising over $4500 for breast cancer research. The flower shop placed the roses in 36 vases and then put them in 6 small wicker baskets. Alissa's two teen aged daughters and four close friends (AKA Alissa's Crew) made the delivery. After presenting the rose baskets to my wife we shared them with the other cancer patients receiving treatment today as a gift from our family. The joy of sharing these roses with the other cancer patients was one of my favorite parts. Many had tears as they read the card I wrote for them. Thanks so much for all the support from our friends and family!"
There's something very inspiring about people who manage to put on a brave attitude in the face of adversity. Cancer might have put a strain on Alissa's health, but as you can see in the video, her spirits are bright and her love is strong. These are the kinds of love stories that make us believe in the fairytale kind of love we grew up having people tell us were not real.
Images: Pexels