7 Podcasts For Intersectional Feminists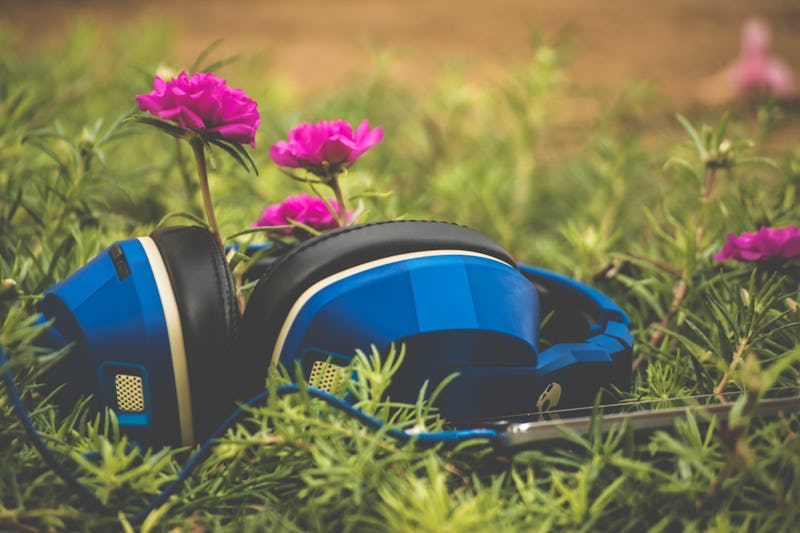 Sometimes, it feels like podcasts are the only thing standing between me and a complete breakdown at the gym, which would probably include throwing my phone at the wall and a wild-eyed rant about how mind-numbingly boring it is to run on a treadmill. Fortunately, there are a number of intersectional feminist podcasts out there that allow me to maintain my sanity (as well as my gym membership) while pounding the proverbial pavement — and to be honest, they're worth checking out even if you're one of those gazelles who doesn't need to distract herself from the agony when she goes running.
Often (and aptly) described as on-demand radio for Millennials, podcasts have seen something of a renaissance over the past few years, especially in the wake of the massive popularity of "Serial." They're great for learning things while you do other things — jogging, traveling, laying in bed contemplating the universe — and much of their appeal lies in their specificity. Do you want to listen to a fictionalized conspiracy mystery set in the Pacific Northwest? Done. What about five hours of naval history? There's a podcast covering exactly that.
Since you're reading this, it's safe to assume that your interests tend toward the feminist and intersectional, and in that case, you're spoiled for choice. In fact, there are so many fabulously inclusive podcasts out there that you may not know where to start. To that end, here are seven of the best intersectional feminist podcasts around.
1. Unscrewed
Created and hosted by Jaclyn Friedman, whose very name ought to elicit heart-eyes after all the work she's done promoting sex education and consent, Unscrewed tackles a different sex-related topic every month. Favorites include asexuality, vibrator reviews, and our culture's gendered approach to language. You can listen to Unscrewed at Friedman's website, Stitcher, or the Apple Store.
2. Another Round With Heben And Tracy
This BuzzFeed podcast, hosted by Heben Nigatu and Tracy Clayton, tackles all the topics an intersectional feminist could want: Gender, race, politics, and pop culture. Plus, they have the coolest guests, including Lin-Manuel Miranda and Hillary "Possible Future POTUS" Clinton.
3. Strange Fruit
Hosted by Dr. Kaila Story, an associate professor in the University of Louisville's Department of Women and Gender Studies, and Jaison Gardner, a social justice activist, Strange Fruit discusses politics, sexuality, race, and more each week. Along with commentary on current news and black gay culture, episodes have covered everything from the symbolism of Beyoncé's Lemonade to STI testing in the disabled community. You can listen to Strange Fruit on WFPL's website.
4. Transwaves
After a successful Kickstarter back in 2013, Transwaves aired its first episode in 2014. The podcast is a project run by the Trans Youth Equality Foundation, focusing on issues affecting transgender children and teens; the hosts regularly interview a range of allies, parents, activists, families, and, of course, trans youth themselves. It's only updated sporadically — the most recent episode is from five months ago — but Transwaves is definitely worth a listen.
5. The Longest Shortest Time
Feminism and parenting are often seen as separate spheres, but The Longest Shortest Time makes an effort to discuss topics that are relevant to everyone, even non-parents. Most importantly, the show features guests from a range of abilities, ethnicities, and sexualities. You can listen to the podcast at its website.
6. Bad Fat Broads
If you're into body positivity (and who isn't?), Bad Fat Broads will be right up your alley. Each week, KC and Ariel delve into "the bad fat b*tch perspective on everything important," and it's just as unapologetically, gloriously feminist as it sounds. Check it out at the podcast's website.
7. Guys We F****d
Of course, no guide to feminist podcasts would be complete without Guys We F****d, the Anti-Slut Shaming Podcast. The appeal is right there in the title: Hosts Corinne Fisher and Krystyna Hutchinson refuse to apologize for all they sex they've had and will continue to have. In fact, they're so unapologetic that each week, they interview a guy one of them has slept with in the past. That was the conceit at the beginning, at least; after a few years of being on air, the interviewee list has expanded somewhat.
The sex-positive podcast is hilarious, ridiculous, and most importantly, talks about female sexuality in a way that never judges anyone for having sex. If you're not already listening to Guys We F****d, what are you doing with your life?
Images: Sai Kiran Anagani/Unsplash