7 Books To Read If You Miss 'Game of Thrones'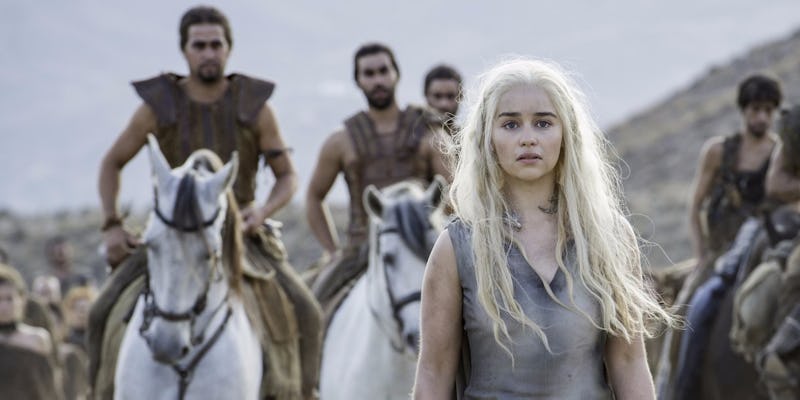 Winter is coming — ironically in the form of a summer without new episodes of Game of Thrones. And with Season 7's Game of Thrones release delayed, and The Winds of Winter's publication still TBD, it's easy for fans of the series to feel abandoned right now. But don't worry, when it comes to books, I'm like the Sam to your Jon, the Jorah to your Danerys, the Podrick to your Brienne: I've got your back.
Obviously, you can read or reread the A Song of Ice and Fire series, and I know from experience that by doing so you'll unlock a horde of new theories. But there's also a whole wide world of amazing fantasy out there to explore. I know Game of Thrones was the first fantasy experience for a lot of people, but there are plenty of reasons why it should not be your last.
Click Here To Buy, Click Here To Watch
On this list, you'll find conspirators with the cunning of Varys, fighters with the steel of Jamie, and romance with the heat of Jon and Ygritte. Power struggles, strange creatures, and bloody battles are all alive and well in these reads. From standalones to epic series, you've got plenty of pages here to keep you occupied.
So, get ready, Game of Thrones fans. Tonight, we read:
On top of being a story that will completely suck you in, this amazing read is a beacon for pushing past fantasy's status quo. In a kingdom where the gods themselves are under the power of the ruling family, outcast Yeine Darr—a biracial woman from the barbarian North—is suddenly in line for the throne. As strong-willed Yeinne fights against her cousins in an epic power struggle, you will eat up every page.
This epic fantasy has the same breadth and intrigue as ASOIAF, with characters that will become your closest allies, a plot that will push you forward, and writing that will take your breath away. A king is murdered by a magical assassin, a young scholar must commit a crime to protect her family, a slave bands his fellows together. And meanwhile, the whole fabric of the universe is changing. Filled with all the magic, war, and badassery of Game of Thrones , you won't be able to put this one down.
Conspiracies, dangerous courtiers, Machiavellian antics. All the things that make Game of Thrones so intriguing are in full bloom in this amazing book. This is the story of Phèdre, who, marked by a scarlet mote in her eye, is trained in the arts of being a courtesan and a spy. When she discovers a plot that will throw her kingdom into chaos, suddenly everything is at stake.
4. Saga by Brian K. Vaughan and Fiona Staples
If you haven't hopped aboard the Saga craze yet, meet your new obsession. In this graphic novel drama, two soldiers on opposite sides of a galactic war fall in love and have a baby. Filled with seriously strange creatures, jaw-dropping twists, gritty moments, and (yes, HBO fans) creative sex, this series will hook you just like Game of Thrones did.
Advertised as 'Robin Hood meets Ocean's Eleven," this fantasy about a band of tricksters will keep you turning pages all night long. Orphan Locke Lamora lands himself under the tutelage of extraordinary con man, Chains, where he blossoms into one of the most renowned tricksters in the realm. He even cons the criminal world's own king. But, when a darker force enters the game, Locke suddenly finds himself as a pawn in a grander scheme. George R.R. Martin blurbed this novel, so you know it's good.
Dive into all of the politics and intrigue of the real Wars of the Roses, by which ASOIAF was loosely inspired. In this novel by the queen of historical fiction, a family fights for power and works to solve the centuries-old mystery of the missing princes in the Tower of London. This book will make every Game of Thrones fan's curiosity tingle.
7. Red Queen by Victoria Aveyard
In this gripping YA book, the world is divided into Reds, the common people, and Silvers, the elite class. But when 17-year-old Mare Barrow, a Red, discovers she has a dangerous power, she's swept up into the world of the Silvers. Caught in a world of betrayal and lies, Mare risks everything to bring the Silvers down from the inside.
Images: HBO