18 Contemporary Women Poets You Should Be Reading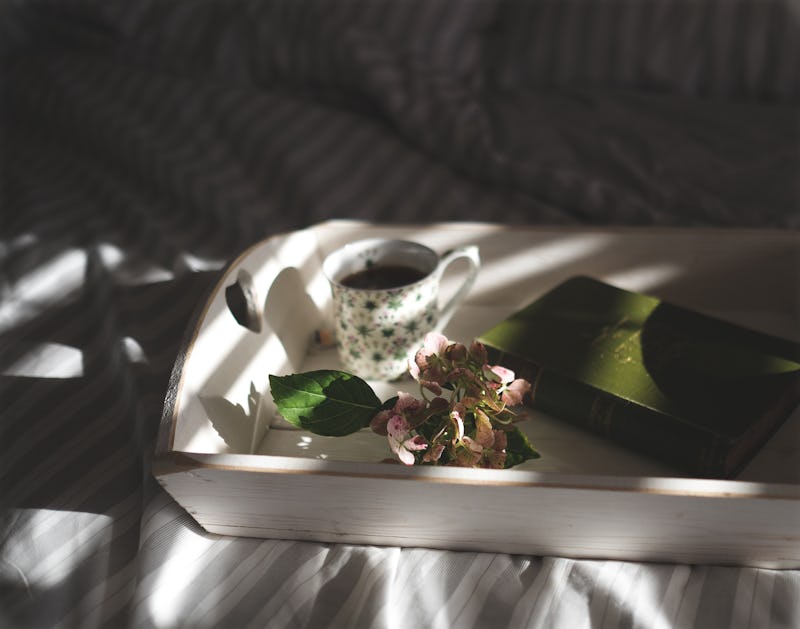 My love affair with poetry began as a slow simmer — I long considered myself strictly a prose type of gal, leaving the iambic pentametric musings to what I imagined were elbow-patch-wearing and English-tea-guzzling lofty minds, sequestered away behind ivy-covered halls. So, if you're a reader whose still wary of making room on your shelves for a little poetry, I totally understand — but believe me, the contemporary women poets on this list will change your mind in no time flat. They're each kind of badass… and they're definitely poets you should be reading.
But if you're already a lover of poetic verse, you don't need me to tell you there's a lot we can learn from the great poets (some of us more than others, perhaps) especially these days — economy of words, precision of language, the importance of adding beauty, depth, and empathy to the world instead of vitriol, ignorance, and close-mindedness — and each of the amazing female poets on this list are great examples of exactly the kind of writers we should all read more of. They deal unflinchingly and artfully with issues of gender and sexuality, feminism and LGBTQ rights, identity and race and body image, repression and empowerment; all while inviting you to lose yourself in some truly mesmerizing imagery.
Every single one of these writers have a home on my shelves, and every time I read their words I learn something different about myself, about art, and about how to exist in the world — and I'm sure you will too. Here are 18 contemporary women poets you should be reading.
1. Warsan Shire
Warsan Shire definitely had a devoted cult following of readers well before her poetry was featured in Beyonce's Lemonade, but since her pop culture debut, the author of Teaching My Mother How To Give Birth , and Her Blue Body has launched into poetic super-stardom. She writes about feminist issues, race, displacement, immigrant and refugee experiences, trauma, politics… the whole gamut. There's a reason Queen Bey finds her so damn cool.
2. Rupi Kaur
This feminist poet began her poetic career through social media, Instagramming and Tumblr-ing her way to an ever-growing fan base — you may have heard about the artist whose visual poetry on menstruation was once removed from Instagram? That's Kaur. She's the author of the 2014 collection, milk and honey .
3. Jenny Zhang
I don't think I've ever read a writer whose quite as unafraid to explore the bodily mechanics of young womanhood quite like Jenny Zhang — from menstruation to bad sex, Zhang is a poetic powerhouse amidst a sea of soiled bedclothes, butting heads with society's every preconceived notion about what coming of age as a girl really means. Her poetry and essay collections include Dear Jenny, We Are All Find and HAGS .
4. Megan Falley
Spoken word and slam poetry artist Megan Falley tackles feminist issues — sex, relationships, the female body, heartbreak, repression, empowerment — in a way that will make you want to raise your fist in the air and jump up and down. Her collection After the Witch Hunt is best read when accompanied by Falley's own performances of most of the poems, which you can find on YouTube.
5. Karyna McGlynn
Is it any surprise that the girl Karyna McGlynn has to go back in time to kill, in her collection I Have to Go Back to 1994 and Kill a Girl is none other than a discarded version of herself? (At least, I think that's what's going on here. Feel free to come up with an interpretation of your own.) Her poems — dark, intense, haunting — are all about transformation, moving on, and letting go.
6. Amanda Nadelberg
Amanda Nadelberg is the kind of poet who makes you look at the everyday world a little differently. Her collections Isa The Truck Named Isadore and Songs from a Mountain both offer readers the briefest and most intimately telling of glimpses into the lives of other people — the people who live down the block, and couple who lives across the street, and the family renting the apartment two doors down, and the person who sleeps next to you in bed. They all become a little more mysterious after reading Nadelberg's verse.
7. Sally Wen Mao
The author of Mad Honey Symposium , Sally Wen Mao is inventive in her linguistic decisions, using words as playthings to order and arrange in ways both pleasing and entirely unfamiliar. Nature plays prominently in Mao's poetry, and the sophistication of her language contrasts with her pastoral settings. You'll want to read this collection with a dictionary at your side.
8. Elizabeth Alexander
American Sublime is Elizabeth Alexander's fourth collection of poetry, and was one of three finalists for the 2006 Pulitzer Prize for Poetry. You might recognize her poem, Praise Song for the Day which was written and delivered by Alexander at the 2009 presidential inauguration of President Barack Obama (and if you don't, YouTube it.)
9. Eileen Myles
Rough around the edges and just a little bit rock 'n' roll, in addition to being a poet Eileen Myles is an activist, a feminist, and a one-time presidential candidate (1992 election) who writes about culture, gender, identity politics, and sexuality in a way that is totally refreshing and liberating. Though published just over a quarter of a century ago, her collection Not Me is as powerful and relevant today as it was then.
10. Patricia Lockwood
Another poet who uses social media to her advantage, Patricia Lockwood's 57.4K-plus followers love her for her hilarity, her poetry, and her razor-sharp critiques of ever-declining civilization — all in 140 characters or less. Her poetry is much of the same, if in slightly larger character counts, and her latest collection, Motherland Fatherland Homelandsexuals , is an absurd, and spot-on, and brilliant examination of the utterly bizarre, incomprehensible things we concern ourselves with in modern times.
11. Charlotte Boulay
The short but lovely debut collection, Foxes on the Trampoline , takes readers from the United States to India — where poet Charlotte Boulay lived in her early twenties — and explores the coexistence of the natural world with the human-constructed one, what exactly our place is in it, and the sometimes morbid competing impulses that exist within the quiet of the human heart. You'll be waiting anxiously for Boulay's next collection, promise.
12. Evie Shockley
Experimental poet Evie Shockley not only steps outside the box in terms of form and structure, she also subverts the traditional in her poetic themes and imagery — her poems about race and feminism often manifest in the form of retold fairy tales. Her collection the new black explores the past and the present of being black in America, especially in the years after President Obama was elected.
13. Olena Kalytiak Davis
Poet Olena Kalytiak Davis writes about love and love lost, sexual violence and sexual apathy, and what it's like to grow older as a woman in a world that often renders older woman invisible. The Poem She Didn't Write and Other Poems explores all the things women experience, but don't often give voice to.
14. Suheir Hammad
Suheir Hammad's poetry is dually influenced by the New York City hip hop culture of her youth, and the stories told by her traditional Palestinian grandparents. Her collections include Born Palestinian, Born Black ; ZaatarDiva ; and Breaking Poems , which explores the destruction and reconstruction of the female body, of culture, and of language.
15. Alicia Jo Rabins
Alicia Jo Rabins is the kind of poet who gives you the sense she might be of another world—she's wickedly smart, fearlessly curious, and willing to tackle just about any subject, be it sex or religion or travel or relationships or some complex combination of all of the above and more. Her collection, Divinity School , seeks out the divine in the commonplace, and looks at everyday occurrences as spiritual journeys.
16. Andrea Gibson
Activist and spoken word poet extraordinaire Andrea Gibson is on a poetic crusade in support of LGBTQ rights, women's rights, social reform, the deconstruction of the patriarchy, a righting of the wrongs of globalization and capitalism, and a whole, whole lot more — and Gibson's poetry is only the beginning. Gibson's poetry collections include Pole Dancing to Gospel Hymns , The Madness Vase , and Pansy .
17. Daphne Gottlieb
Writing unflinchingly about relationships, sex, and violence against women, if horror and poetry fused into their own sub-genre, Daphne Gottlieb would be the pioneering voice. Her collection, Final Girl , is written from the perspective of the lone woman left to tell a story — be it of tragedy, violence, destruction, loss, or desire. But unlike in traditional fairy tales, Gottlieb's woman isn't waiting to be saved. She'll save herself — if she damn well feels like it. And if she doesn't, more power to her.
18. Matthea Harvey
Matthea Harvey poetry collections include Modern Life , Sad Little Breathing Machine , and Pity the Bathtub Its Forced Embrace of the Human Form . Her latest collection is If the Tabloids Are True What Are You? , a prose-poetry/visual art force of literary achievement that takes some of the most recognized, iconic, and commercialized images of all time and bleeds them into one another in a kaleidoscopic whirlwind of madness, and absurdity, and beauty.
Image: Annie Spratt/Unsplash