12 Books To Read If You Love 'The Night Circus'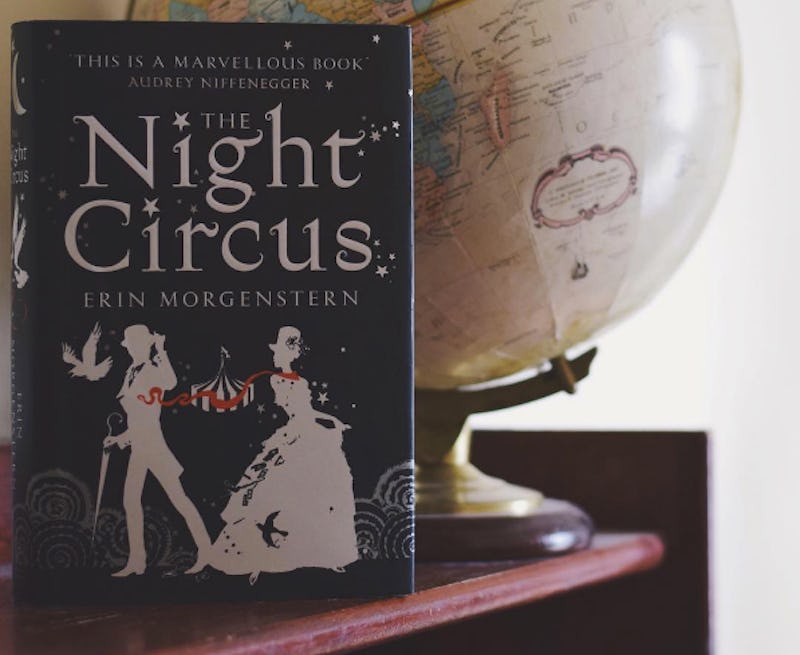 I get pretty terrible book hangovers. I read a book and fall completely in love with it, but the minute I'm finished I just can't seem to move on. I'm still living in the world of that book, so I can't imagine reading something else.
In the case of book hangovers, the only real cure is a literary hair of the dog. AKA, you need to read more books. However, as someone who often can't let a book go, I understand that sometimes you want your next book to be at least somewhat similar to the book you fell in love with.
For me, this is how I get hooked on certain topics or genres — I'll read one amazing thriller, and suddenly a few months go by and all I've read are thrillers. This isn't always a bad thing, because often one amazing book will lead to a hundred more amazing books.
In the case of The Night Circus , this is definitely true. When I first read this book, I had a major literary hangover. The beautiful prose and darkly glamorous plot put me off reading anything that wasn't similar. Luckily, there are many other books that have this same haunting beauty, so if you're stuck on The Night Circus, try one of the following gems.
This book is set in 1912 London and follows Frankie George, a journalist investigating the disappearance of trapeze artist Ebony Diamond. It's glamorous; it's set at the circus; and it has a whole plot line about suffragettes. In the words of Liz Lemon, I want to go to there.
Thaniel Steepleton finds a gold pocketwatch on his pillow, and after a string of events, searches for the watch's maker, Keita Mori. If you enjoyed the slow, lush prose of The Night Circus , you will love this Sherlock-esque, atmospheric tale.
In this adventurous tale, protagonist Rosa Hyde is a time traveler who is stuck in the year 1945. When she meets fellow traveler Tommy Rust, the two set out on a blazing adventure together, with Tommy confident that they will live forever. But then, a soldier named Harding complicates things. Lush and descriptive, this one will definitely appeal to fans of The Night Circus.
Set in Barcelona after the Spanish Civil War, this book is a story-within-a-story: protagonist Daniel becomes obsessed with a mysterious author named Julián Carax, but soon discovers that someone is destroying all of Carax's works. His ensuing adventure to save Carax's work is magical and mysterious and will definitely cure your The Night Circus book hangover.
Joe Kavalier escapes Nazi-invaded Prague and arrives in New York City, where his cousin Clay pulls him into a writing escapade to create a comic book. Their superhoro? The Escapist. If you loved the parts of The Night Circus about magicians (and if you're into comics), you'll love this fun book and the way it flips comic book tropes around.
If you're a fan of The Night Circus , you definitely have to read Water for Elephants. Protagonist Jacob Jankowski works for a circus and finds love... and drama.
7. Geek Love by Katherine Dunn
The Binewskis breed their own human oddities in this bizarre and quirky book about carnies. If you love the stranger side of The Night Circus , this book will definitely fit the bill.
Sophie Fevvers — half woman, half swan — is an aerialiste for Colonel Kearney's circus. Jack Walser – journalist — joins her circus to get the real story. Angela Carter creates a bizarre and interesting world in this majestic circus tale.
Beatrice Shakespeare Smith lives in the Théâtre Illuminata, where characters from plays come alive. A mysterious Book binds the characters to the theatre, but when Ariel from The Tempest tries to rip out a page, the real adventure begins. This YA book is whimsical and enchanting and is the first in a trilogy, so you won't have to worry about a book hangover for a ~little~ longer.
Coralie Sardie performs as a mermaid in her father's circus, called "The Museum of Extraordinary Things." But when she meets photographer Eddie Cohen, she becomes entangled in a mystery concerning a missing girl that blends history and a dream-like atmosphere to create a whimsical and fascinating read.
Gemma Doyle attends Spence, a gothic girls' academy full of secrets, and soon discovers another world full of magic and mystery. This YA series has all the glamour and beauty of The Night Circus , along with compelling characters and interesting friendships that will keep you turning pages late into the night.
12. Stardust by Neil Gaiman
If you love the whimsical prose of The Night Circus , you can't go wrong with Neil Gaiman. Stardust is a classic fairy tale with modern twists that will entertain you — the only thing I wished after reading it? That it could be longer.
Image: Instagram/fictiontea (1)