How Drag Queen Movies Influenced My Style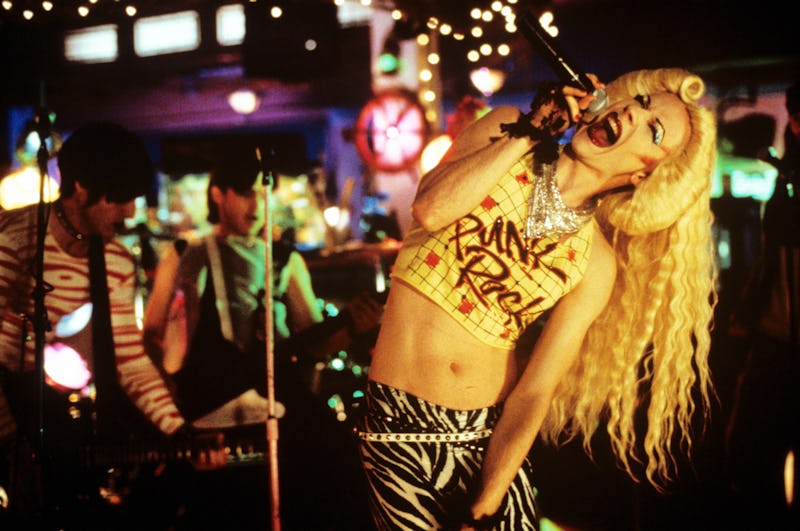 My mom was watching movies about drag queens well before I was even born. Given her flair for kitschy makeup and theatrics, there's an obvious influence of all things queer on her aesthetic. It's an influence that's come from drag queens, club kids, and anyone and everyone in between. It's also an influence that she, thankfully, passed down to me.
Maybe her adoration started via my makeup artist uncle, who used to practice on my mom and her friends. Or maybe it stemmed from one of the most liberal and wonderful grandmas in the world, who showed me Kinky Boots for the first time and applauded any outfit I wore that deviated from the norm. These are the possible beginnings for my mom. But as for the inspiration I find in drag culture, I hand all responsibility to Victoria Sandra Lucy Jones: my mama herself.
Regardless of where my love of drag came from, though, here it is, here it always has been, and here it will be, affecting me for the rest of my life. Ultimately, films like To Wong Foo, Thanks For Everything! Julie Newmar, The Adventures Of Priscilla, Queen Of The Desert , Kinky Boots, and more recently Hedwig And The Angry Inch and Paris Is Burning , have all contributed to the woman I am today: Not only in how I dress, but in how I interact with myself and with the world.
For me and, from my experiences, many participants of drag culture, our self-expression comes primarily from our style. Our aesthetics are everything: From our makeup, to our hair, to our clothing (or lack thereof), to how we put it all together or how we pull it off. There's no doubt in my mind that my confidence, in part, can be manufactured through feathers, frills, and fluff, and I'd be lying if I said I never questioned how a pair of tracksuit bottoms could possibly ever help anyone on a journey to self-love.
There's absolutely no doubt to anyone who knows me (and likely anyone who's scrolled through my Instagram) that my style is OTT. It may not be OTT to drag standards, but I think it's fair enough to claim that there's a visible presence of drag in my sartorial choices. From toying around with all things femme to only owning about three casual outfits, my wardrobe is one made for a creature of the club nights.
As a lover of musicals and theater, it was perhaps only natural for me to enjoy movies about drag. What few might have expected, however, is that I would find myself at home within them.
Growing up as one of few emo kids in a tiny Welsh town in the United Kingdom (as well as being absolutely terrible at all things singing and dancing), I found my need for self-expression being inspired by the clothing and club culture presented in these films. Sure, I may not be able to do a double back flip leading into the splits while singing the entirety of "I Need A Hero," but hey, I can cover myself in sequins and feel the same level of glamour and glitz in a body that I may not be totally comfortable with otherwise.
As well as the physical act of dressing up, getting dolled up, or painting my face, the culture of drag felt like home because of so much more than style. Drag culture and club culture are all about accepting those who haven't felt or been accepted elsewhere. As James St. James famously said in Party Monster , "It doesn't matter what you look like! I mean, if you have a hunchback, just throw a little glitter on it, honey, and go dancing."
There's a distinguishable sense of community in drag — and one that I found through movies about drag in a way unlike any other cinematography I've ever encountered. There's a sense of acceptance: The feeling that you can be who you truly are, act how you truly want, and, yes, dress however ridiculously you want, as long as you're having a good time.
The story of club promoter Michael Alig may have ended in murder and prison — the events being then dramatized in the club kid film Party Monster — but for the rest of the drag and club movies that I have long since adored, the ending is often a positive one.
The struggle towards self-love is real for most of us; but in the end, the struggle is what makes it all worth it. Fighting for your place and your visibility make the rewards so much sweeter when you get to live as the person you always wanted to be. That's the message to be found in drag culture and film.
Many lovers and participants of drag may never have fit in with the masses thanks to our personalities or personal styles. But whether you're in a city with an active drag scene or you're locked in your bedroom at your mom's house, there is solace to be acquired through these films. Let them serve as examples of cinema at its most powerful: When it transports you from wherever you may be, takes you into totally different world, and then fills you with the sense of home.
Images: New Line Cinema; Georgina Jones; Universal Pictures; Strand Releasing; Gramercy Films