Lin-Manuel Miranda's "Love Makes the World Go Round" Live Performance Is Even More Powerful Than The Song Itself — VIDEO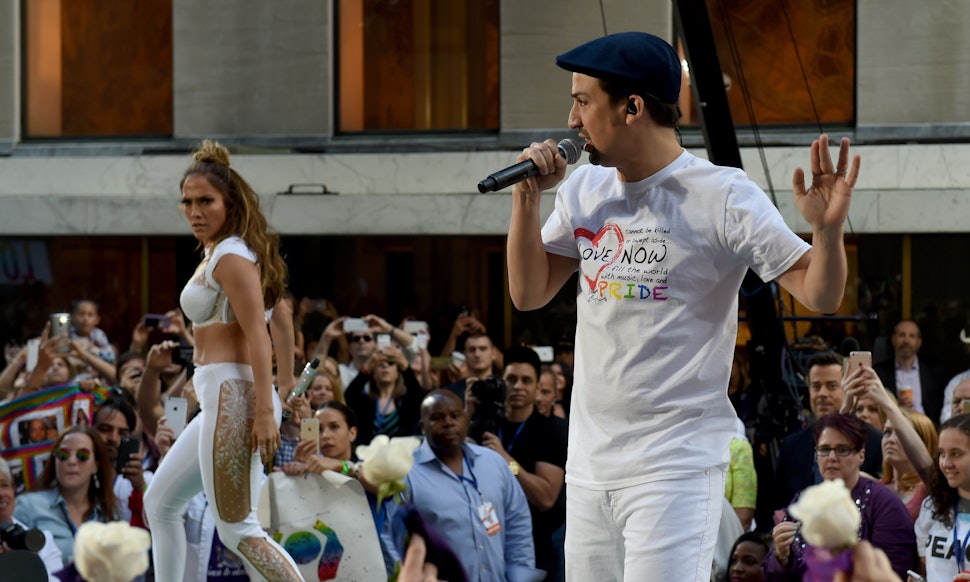 TIMOTHY A. CLARY/AFP/Getty Images
The U.S. is still reeling from the attack in an Orlando night club early in the morning of June 12 that killed 49 people and mentally and physically wounded many more. A live performance of a new song from Jennifer Lopez and Lin-Manuel Miranda on Rockefeller Plaza for TODAY may not seem like much in the wake of such a heavy tragedy, but it's just one small step in helping the country deal — and maybe even begin to heal. After the violence, the world needs some positivity, and Miranda and Lopez's "Love Makes The World Go Round" live performance is a very positive thing. And it's not just the song itself, or the lyrics thereof, that made it so.
In fact, to make matters even more touching and powerful, 50 survivors and family members of the victims of the Orlando tragedy were present in the Rockefeller Plaza crowd for the performance. Though the song (which is all about love) didn't start as an ode to these victims when Lopez originally received it eight months ago, according to her interview with TODAY, "The world needs this right now. The world really needs the message of love being the answer. That's what really matters; that's what really makes the world go round, nothing else. Hate, anger, it's not gonna get us anywhere."
The duo isn't stopping at just giving victims and families tickets to live performances at TODAY. A portion of the proceeds of the song on iTunes will go to the Hispanic Federation's Proyecto Somos Orlando initiative. This initiative will "address the long-term needs for mental health services that are culturally competent and bilingual. Proyecto will enable care to be delivered to those affected directly in the communities in which they live. Beyond emergency assistance, they will be provided with case management, crisis intervention and mental health services, among other needs."
The song is mostly Jenny from the Block crooning as she does best, but samples of Miranda's powerful speech at the Tony Awards ("And love is love is love is love is love is love is love is love cannot be killed or swept aside") were included, as well as a new verse from the Hamilton creator. The Miranda verse really does its best to make the listener feel empowered, with lines like, "A generation of innovators enabled to patiently wait for change 'cause change is what they've been afraid of / the malevolence can wait, raise a level of debate, celebrate, elevate."
There is nothing that we can do to turn the clock back on this tragedy and ensure that it never happened, and a song isn't the same as activism geared toward making sure such a tragedy never happens again. However, it is still nice to know the victims and the families have support in artistic places. As if we couldn't be inspired by Lin-Manuel Miranda enough.
Images: Giphy