Alessia Cara Offers An Inspiring Message Of Beauty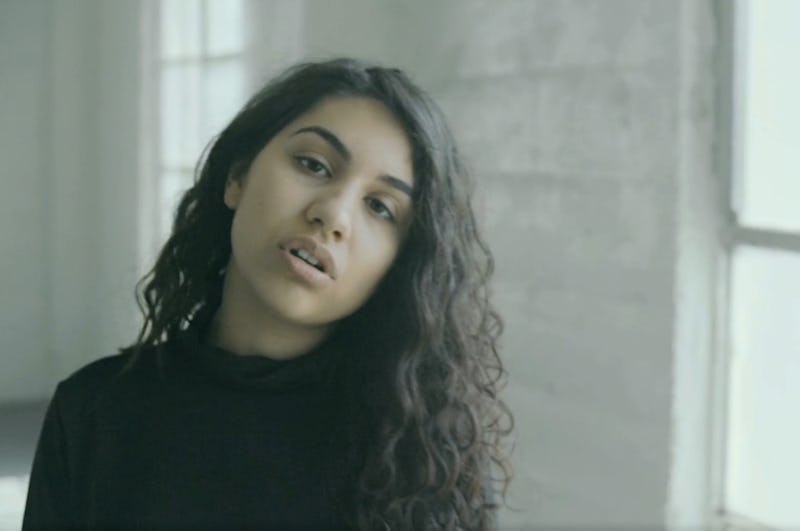 In an appearance-based society, we sometimes crave societal acceptance based on what the media feeds us. Whether it is on TV, in movies, in various articles, or on digital sharing platforms, we come across unrealistic standards of flawless appearances that fall miserably short when it comes to displaying images that represent a full spectrum of beauty: real, unaltered girls of all shapes, races, hair textures and ability. All while editorial articles and celebrity movements encourage women to embrace themselves 'as they are,' the images of conventional beauty displayed on the cover of said magazines or on the Instagram feeds of filtered misconception tell a completely different story. Alessia Cara wants to change that. In her new video, "Scars To Your Beautiful," Cara delivers the powerful message on the celebration self-love and calls out society's perception of unattainable beauty standards for all women.
"There's a hope that's waiting for you in the dark/ You should know you're beautiful just the way you are/ And you don't have to change a thing/ The world could change it's heart," Cara boldly sings in her premiere video of the single. In the five-minute clip, Cara provides a microphone to survivors who have fought through unfair perceptions of their appearance throughout their life: "I never thought I was pretty as the other girls," one voice echoes, while another woman fearlessly unwraps a blue headscarf to reveal a bare scalp. "A lot of people aren't afraid to give their opinions whether they're hurtful or not," beckons another fresh-faced singer, Jojo.
The music video, which is set in a barren sunlit room, showcases the vulnerability of Cara who says this was a video she has wanted to do for a very long time. "It was important to put that in my own words and remind people that they are beautiful no matter what," she said during an interview with Cosmopolitan . "I had this vision of many different cinematic shots of different kinds of people. I wanted all kinds of people — young, old, whatever their situation, whether it's visible scars, non-visible scars… I wanted real shots of real people telling their stories, and showing the story through little vignettes."
"A lot of the time, people don't realize that public figures have these insecurities too. They're always in the spotlight and they may seem like they have it all together, but they don't always have it all together, you know?" the "Wild Things" singer said. "It's actually very difficult to be in the public and to be a female and to feel confident every day with all the social media and all these opinions of people."
By depicting the various voices of individuals struggling to pursue flawlessness from their outward appearance, Cara offers the strong message to raise awareness about a deeper issue many people avoid speaking on. In today's society, the now predominant definition of beauty is images of celebrities airbrushed to unrealistic standards. With images of perfection in the media so constant and utmost intense, women are haunted by a society constantly shouting at them they are never good enough, and Cara reveals, this is dangerous.
"A couple of female artists have done it in the past," Cara says, speaking to the inspiration she received from other iconic, empowerment videos like Christina Aguilera's "Beautiful" and TLC's "Unpretty." "I wanted to put my own spin on it because I feel like you can never have too many reminders and too many songs talking about those things. It was important to put that in my own words and remind people that they are beautiful no matter what...I want people to feel like they're not alone."
And Cara didn't let us. Her powerful lyrics, along with the paramount imagery and testimonials both aid in her message about true happiness. As Cara sings, "She has dreams to be an envy, so she's starving/ You know, "covergirls eat nothing"/ She says "beauty is pain and there's beauty in everything"/ "What's a little bit of hunger?"/ "I could go a little while longer", she fades away/ She don't see her perfect, she don't understand she's worth it/ Or that beauty goes deeper than the surface," pointing to an obsession for virtue that becomes obsession. "So to all the girls that's hurting/ Let me be your mirror, help you see a little bit clearer/ The light that shines within." When you strip away the physical appearance, what truly is important is what comes to the surface: the soul. And that can only be seen with our personalities and how we treat others. Rather than putting so much value on the superficial, we must focus on our beauty from within. Because as Cara pens in white script at the end of the video:
Often times, the world both directly and indirectly tells us that we shouldn't be happy with ourselves if we don't fit certain beauty standards. Scars to your beautiful is a reminder that beauty isn't only one look, shape, size, or colour. It isn't even always tangible. It comes in an endless amount of forms and we need to recognize that.
See Cara's powerful movement and message below:
Images: Alessia Cara/Vevo