10 Prime Day Deals On Electronics You Can't Miss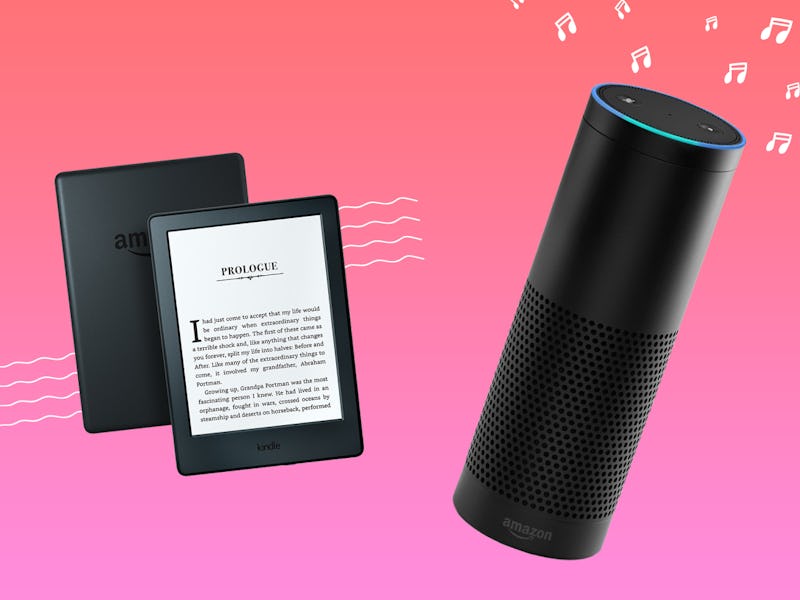 You don't need to wait for Black Friday to score some awesome (and affordable) new gadgets. Right now, there are amazing deals on Amazon Electronics for Amazon Prime Day, June 12th. It's officially time to ready your credit cards, kids. Serious deals await you.
As we speak, the second annual Amazon Prime Day is well underway (the fun started at 12 a.m. PST on Tuesday, June 12th). For a full 24 hours, Amazon Prime Members will enjoy even bigger discounts across all of the website's departments. From Prime deals on discounted makeup, to apparel, to entertainment, and yes (of course) electronics, more than 100,000 products will be deeply marked down. It's one of the biggest shopping events of the year, and you can enjoy all of the deals while procrastinating at your desk.
(Not a Prime member? Sign up for a free 30-day trial!)
Amazon already offers an array of magical gadgets that bring us the internet, television, books, and music. Lucky for those of us who love all those things, these toys are on bonkers sale today. From streaming boxes, to E-readers, to voice-operated speakers and everything in between, here are some of the best deals on Amazon electronics that Prime Day has to offer.
Amazon Echo , $130 (Was $180), Amazon
With the command of your voice, this baby plays any music you want (from Prime Music, Spotify, and more), googles things for your, and controls the light and heat in your house. Perfect for anyone who's main pet peeve is "getting up to do stuff."
Amazon Tap Bluetooth Speaker , $100 (was $130), Amazon
Any person obsessed with music will be obsessed with this bluetooth speaker. Boasting 360-degree speakers, this little baby plays music from any of the big subscribers with just a tap and the sound of your voice. You can even ask it to report the weather or order a pizza for you.
Kindle Paperwhite E-Reader 6" in, $90 (was $120), Amazon
Bury yourself into your summer reading list with the Kindle Paperwhite E-Reader. With a new, ultra high-resolution display, and Wi-Fi connectivity, it's like holding an actual book, if the actual book was a million books at once, and had the added bonus of online shopping.
All-new Kindle E-Reader 6" with Wi-Fi , $50 (was $80), Amazon
This new model of Kindle is even thinner and lighter than the old one, with all the classic features you love. Not to mention, the Prime Day deal makes it super affordable.
Kindle Voyage E-reader, 6" High-Resolution Display (300 ppi) with Wi-Fi , $150 (was $200), Amazon
With a built-in light, page-press sensors, WFfi connectivity and a long-lasting battery, the Kindle Voyage is basically everything you want in an e-reader. Just add the beach, some sunscreen, and you have the perfect summer day.
Amazon Fire TV Stick , $25 (was $40), Amazon
If you're as anxious about being away from your television as I am, never fear! The Amazon Fire TV stick allows you to bring your shows with you anywhere. It connects to your TV's HDMI port, allowing you to access Netflix, Amazon Video, HBO NOW, Hulu, and more.
Amazon Fire TV, $70 (Was $100), Amazon
In addition to its superior picture quality, the Amazon Fire TV streams Amazon Video, Netflix, YouTube, Hulu, and pretty much anything else. You can even operate it with your voice! Consider leaving the house a thing of the past.
Amazon Fire TV Gaming Edition , $100 (was $140), Amazon
This beauty has all the benefits of an Amazon Fire TV (incredible picture quality, lightning-fast streaming) with the added benefit of a 32 GB microSD card to store all your games. Oh, and a game controller reminiscent of your N64 Days.
Amazon Fire TV & Antenna Bundle , $90 (was $110), Amazon
This Fire TV and antenna bundle lets you stream pretty much anything, and gives you access to live broadcasts from major networks like ABC, NBC, CBS, and FOX. Seriously. Why does anyone even bother with cable anymore?!
Amazon Dash Buttons , $0.99 (Was $5), Amazon
From household products, to snacks, to coffee, or pet supplies, the Dash buttons make re-ordering your favorite products as easy as the push of a button. Plus, it's less than a dollar on Prime Day. You literally have no excuse not to.
Don't miss out on all the best deals for Prime Day, today only!
Bustle may receive a portion of sales from products purchased from this article, which was created independently from Bustle's editorial and sales departments.
Image: Amazon (11); Brit Phillips/ Bustle