Pokémon GO Is (GASP) More Popular Than Tinder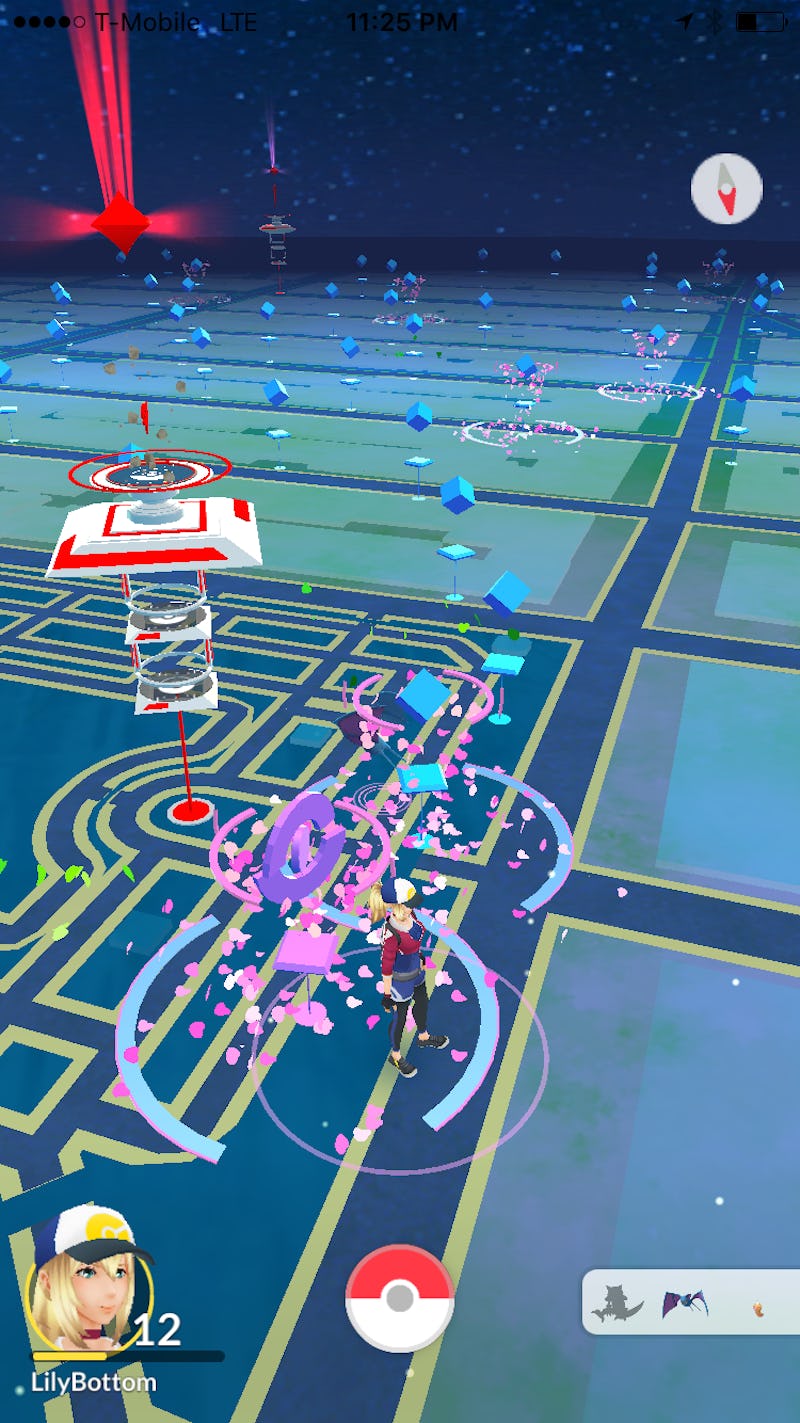 It seems more people are interested in finding a Dratini in augmented reality than finding a hook-up buddy in actual reality, and who can blame them? According to new stats by SimilarWeb reported in Business Insider, the free-to-play Pokemon GO is more popular than Tinder. I don't know about you, but I'd definitely rather spot a super rare pokémon and take over my local gym than message back and forth with some dude whose idea of romance is messaging "wanna eat some pizza and bang?" No, sir, I do not.
The augmented reality behemoth (and catnip to 28-year-olds) has, in less than a week, crushed all popular apps in its wake. Pokémon GO enjoyed a limited release on Wednesday, July 6, when it was made available for download on Android and iOS devices in the US, Australia, and New Zealand. On July 7, the addictive one-day-old game was already installed on more Android devices than Tinder — which was once considered by Forbes to be "the world's hottest app." Within two days, people were throwing pokéballs and leveling up on 5.16 percent of all Android devices in the US, leaving Tinder in the dust, which is currently downloaded on only two percent of Android devices. Both "games" involve swiping on pictures and possibly catching things (STDs? JK JK), but this weekend we added "Pokémon GO and walk around aimlessly" to our "Netflix and chill" lexicon.
True to the "Gotta catch 'em all" tagline, the audience engagement is incredibly impressive as well. Sixty percent of those who downloaded the new app are using it daily (including me — gotta hatch those eggs I'm incubating!). The game is primed to surpass even the mighty social network Twitter in number of daily users, and has already beaten it in sheer number of Android downloads. Twitter is currently on three percent of all Androids, and has 3.5 percent daily users compared to Pokémon GO's three percent. Sadly, there are no stats on how many people are using Twitter to post screenshots of their Pokémon GO expeditions, 'cause that number would be huge.
In its quest to take over the world, and our every waking, breathing moment, Pokémon GO has already easily beaten out other popular time-sucking social apps such as Instagram, Whatsapp, Snapchat, and Messenger in terms of usage time. According to SimilarWeb, as of July 8, the average amount of time people spent catching pokes on the app daily was 43 minutes, 23 seconds.
While Pokémon GO has been the reigning number one download for iOS (gaining the spot five hours after it was release), reliable iOS stats are not yet available. According to Forbes, app marketing intelligence company Sensor Tower, estimates that Pokémon GO has already reached a combined 7.5M US downloads on iOS and Android since last week. Sensor Tower also estimated that the game has generated a whopping $1.6 million in revenue daily for the iOS store alone (the popularity sending Nintendo's stock soaring). I'm hoping Apple and Nintendo release some stats soon so we can finally get a sense of how truly enormous the reach of this app is, we may have to wait for the global rollout to have our curiosity satisfied.
Of course, Pokémon GO (while steeped in that warm and fuzzy '90s nostalgia) is still brand spankin' new. Tinder has been around since 2012, and Twitter is practically elderly at this point — launched all the way back in 2006. While they still enjoy great success and continue to grow, Pokémon GO by blending new technology, with simple tasks, fun goals, social bonding, and nostalgia has captured something truly special.
So what are you waiting for? Grab a pokéball and join the hivemind.
Images: Lily Feinn, giphy