Daisy Ridley Says Goodbye To 'Star Wars' Filming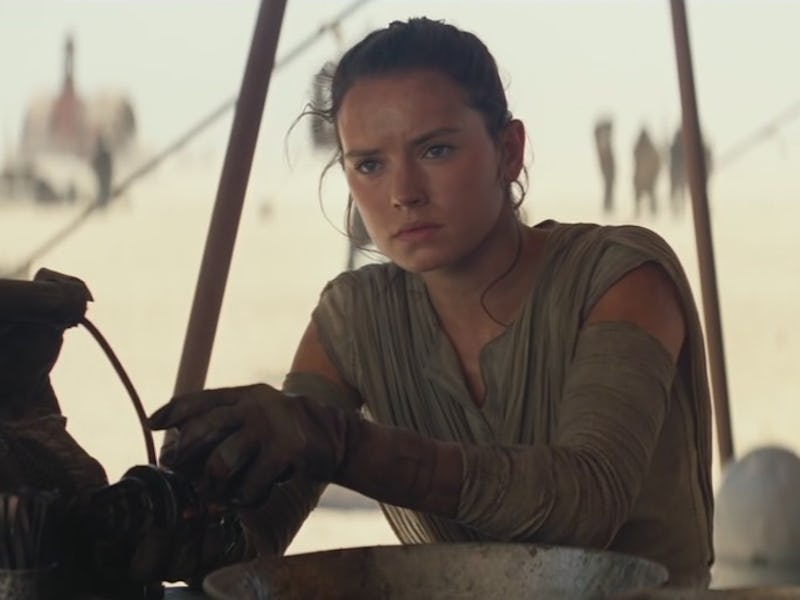 Daisy Ridley is, like so many ladies her age, not just an actor but an active and enthusiastic Instagram user, which makes her Instagram account a rich potential source for plundering Star Wars information from. So what does Daisy Ridley's goodbye message to Star Wars imply? The Instagram still, which shows Ridley with her lightsaber aloft and a look of emotional resolution, was posted on Wednesday, July 13, along with the caption "And that is a wrap on Star Wars Episode VIII. My heart is brimming. #reyout" Which begs the question: are we supposed to read the still as suggestive of Rey's character arc? Or of Ridley's emotional state in wrapping the film? Let's explore.
If it is a wrap, and given the "reyout" hashtag, should we assume that this could be the final shot of the movie? Let's face it, probably not, for the simple reason that movies pretty much never get shot in chronological order. According to GeekTyrant, movies "are shot out of sequence for a number of reasons... renting out locations or studio space, lighting, weather conditions, and most importantly, the availability of an actor." Besides which, Ridley seems too smart to post a spoiler for the ending on Instagram.
But I'd wager that this is still more telling about Rey's character arc than Ridley's emotional state. Look at the composition of that picture: that isn't a candid backstage shot, this looks like a movie still. Rey looks emotionally overwhelmed but also strangely peaceful. No one chills out like that during a battle, so I'd argue this is post-battle and, if she's the last (wo)man standing, then presumably she's also the victor.
I'd argue we can also speculate about the chronology of this fight from Rey's hair. Remember when Ridley posted an Instagram that set the blogosphere alight, stating that, for the sake of secrecy, she has to cover her Star Wars hairstyle with a pillow case while working out?
Since her hair in the first Instagram post looks the same as in the last film, we could assume this is Rey at the beginning of the film. After all, why would she go to all the trouble of attaching a pillow case to her head if her main hairstyle was basically identical?
So here's what we've got: at the beginning of the next Star Wars film, Rey wins a fight — and, purely speculation on my part, but from the framing of the photo, it looks like a one on one fight since characters are typically shot in individual frames in these fight scenes. Which begs the question, who has Rey defeated? I guess we'll have to wait to find out — but with stunning photos like this being published and reminding us why we all got so excited about Daisy Ridley in the first place, it's going to be tricky retaining patience.
Image: Lucasfilm/Walt Disney Motion Pictures